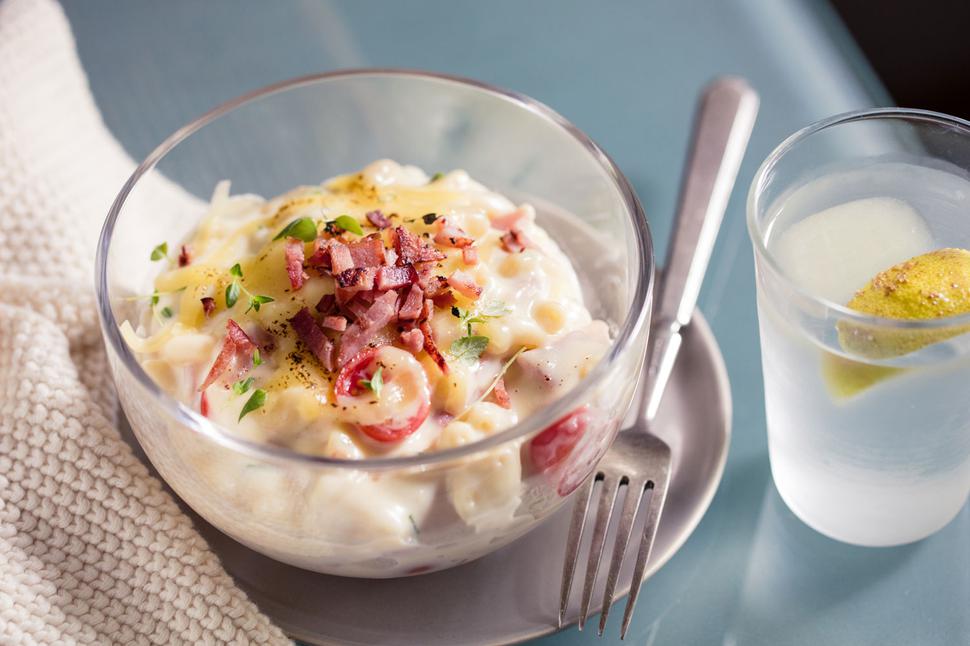 Macaroni Cheese With Lemon, Thyme & Bacon
This soul-warming macaroni cheese recipe is sure to satisfy, without breaking the bank
Friday July 13, 2018
This macaroni served with oozing hot melted cheese and a hint of fresh lemon and thyme, is economical and delicious — especially on a cold winter's day. This is also a great way to use up all those annoying small bits of cheese that get left in the back of the fridge. I also like to add feta or blue cheese to this recipe if there is any around.
MACARONI CHEESE RECIPE 
Serves 4
50g butter
½ onion, chopped finely
1 clove garlic, crushed
4 rashers streaky bacon, diced
¼ cup flour
3 cups milk
2 Tbsp chopped fresh thyme leaves
2 tsp lemon zest
2 cups grated tasty cheese
3 cups cooked macaroni
Extra thyme leaves and bacon to garnish
1. In a medium-sized pot, melt the butter. Add the onion, garlic and half the bacon, cooking for 5 minutes until onions are soft and bacon cooked. Stir through the flour and heat until just frothing but not brown.
2. Add the milk and stir until the sauce thickens. Stir through the thyme and lemon. Remove from the heat and add half the cheese with the macaroni. Place into an ovenproof dish and sprinkle over the remaining cheese.
3. Preheat the oven to 200C.
4. Before serving, place the macaroni into the oven for 30 minutes to brown. The time will depend on whether you have let it cool.
5. Cook the remaining bacon in a small frying pan until crispy.
6. Serve macaroni hot with thyme and bacon.
Share this: