Macaroon Tarts Recipe with Lemon Curd
These gluten-free macaroon tarts are a delicious alternative to pastry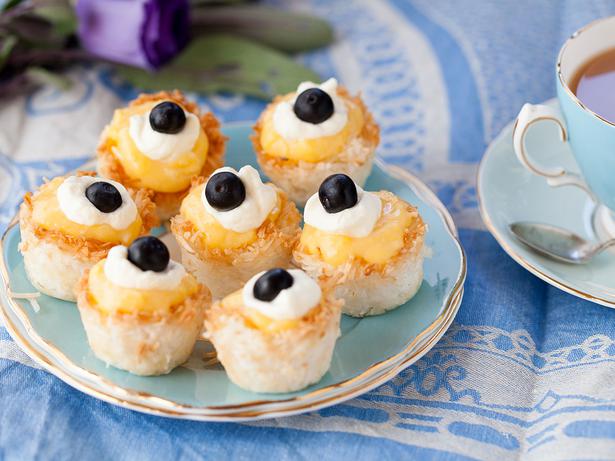 Friday May 6, 2016
These gluten-free macaroon tarts are a delicious alternative to pastry. Make the cases ahead of time and simply fill with home-made lemon curd or buy a good quality one if time is not on your side. Top with a piece of seasonal fruit — here I managed to find fresh blueberries.

GLUTEN FREE MACAROON TARTS WITH LEMON CURD
Makes 12
• 1 ½ cups shredded coconut
• 2 Tbsp caster sugar
• 2 egg whites
• ½ cup lemon curd
• ½ cup whipped cream
• Blueberries to top
1. Preheat an oven to 160C. Line the bottom of a 12-hole mini muffin tin with a disc of baking paper, and grease the sides.
2. Place the shredded coconut, sugar and egg whites in a bowl, mixing well. Take spoonfuls of the mixture and roll into rough balls, then place in the muffin tins, pressing the mixture up the sides to form a case. Bake for 18 minutes: the top will have started to brown. Let them sit for five minutes before removing from the tin. Don't let them go cold in the tins.
3. Fill the tart cases with lemon curd, a blob of whipped cream and a blueberry or your favourite fruit.
Share this:
More Food & Drink / Recipes