Madeira Cakes Recipe with Cream Cheese Icing and Toffee Pears
These morish madeira cakes are a perfect post-dinner treat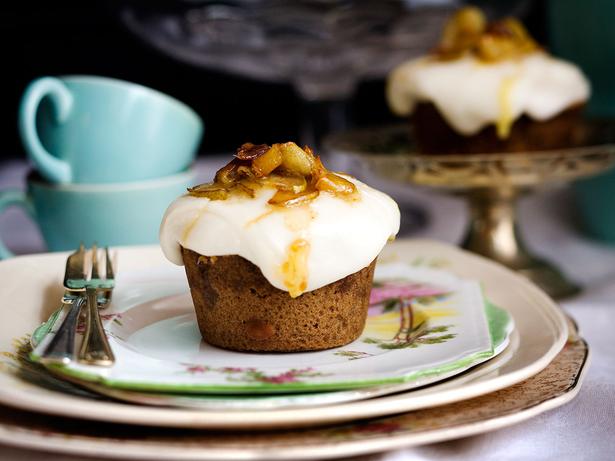 Wednesday Aug. 24, 2011
MADEIRA CAKES WITH CREAM CHEESE ICING AND TOFFEE PEARS
Makes 12
Cake
180g softened butter
3/4 cup caster sugar
1 lemon, zested
1 tsp vanilla extract
3 eggs
1¼ cups self raising flour
½ cup ground almonds
Icing
2 Tbsp softened butter
1 cup icing sugar, sifted
4 Tbsp softened cream cheese
1 tsp lemon zest
Pears
2 Tbsp butter
2 Tbsp caster sugar
2 pears, halved, cored and thinly sliced 
1. To make the cakes, preheat the oven to 180C. Grease 12-hole tins or use baking papers. Cream the butter and sugar until pale then add the vanilla and lemon.
2. Whisk the eggs and add a third at a time, alternating with the flour and ground almonds - folding together gently until the mixture is all combined.
3. Spoon into the moulds and bake for about 15 minutes or until the tops spring back when lightly touched.
4. To make the icing, beat all the ingredients together until smooth, adding more lemon juice if necessary.
5. To cook the pears, heat a frying pan, add the butter and sugar. When bubbling, add the pear slices and cook for 1 minute on each side or until caramelised. Remove and place on greaseproof paper.
6. Ice the cakes generously then top with the pears, before serving with yoghurt or cream.
Share this:
More Food & Drink / Recipes