The Magic Fridge Author Alex Mackay Shares His Kitchen Essentials
Having a selection of pre-prepared sauces, stocks and preserves will help you make magic in the kitchen says chef Alex Mackay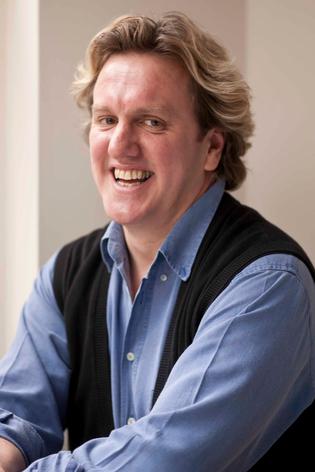 Alex Mackay's new book, The Magic Fridge, sees the British chef collect together 20 of his favourite "basic, prepare-ahead recipes" that can be stored in the fridge or freezer ready to be used at any time. Think stocks and sauces, broths and preserves, and butters and relishes.
Alex, who has cooked at Michelin-starred restaurants in Europe and the UK, ran Raymond Blanc's cookery school, teaching alongside Delia Smith. These days he cooks for Merchant Gourmet, a company that sells wholesome dried grains and pulses, cooked grain pouches and a range of ready-to-add ingredients.
Below, he shares his kitchen must-haves. See his recipe for chicken bone broth here.
What are your pantry essentials?
Pouches of cooked grains and lentils, extra virgin olive oil, dried orange zest, home-made salad dressing, dried porcini mushrooms, vinegars and salt flakes.
Your top three most versatile sauces?
Basil pistou, soy and honey glaze and lemon curd.
How can an everyday cook save time in the kitchen?
By making a selection of amazing sauces, butters, bases and preserves to store in your fridge and freezer.
Do you have any advice for a messy cook?
Absolutely, yes and it is vital! Organisation leads to enjoyment. Have a place for everything and make sure everything always goes back in the same place. This saves you getting messy and also saves you a lot of stress and frustration.
Give yourself space and start with a clear worktop. If you start in a mess you'll cook in a mess and finish in a mess. Clutter around you makes it harder to cook, makes everything take longer and makes cooking less fun. Also, work from a tray. Get all the ingredients for your recipe measured and ready on this tray, before you start. When you get in panic while you cook, it is usually because you can't find something you need when you need it. Line your ingredients up in the order in which you will use them. Put dirty dishes onto this tray so that you don't make mess on your worktop that you then need to clear up.
What's the most important equipment to have in your kitchen?
A dishwasher, a microwave, a good hob, a good pan, a spider [skimmer], a good knife and some masking tape with a Sharpie pen for labelling. But mainly the dishwasher.
How do you get children excited to be in the kitchen?
Get them involved at every stage from shopping to tasting and celebrate their questions. We adults are nuts not to hang on to our magical childish curiosity. Wanting to know why can lead to great fun, great discoveries and great knowledge. There are so many things to find out about in a kitchen, so many questions to ask, some to answer and some that lead to more questions, but when you cook with kids, they all lead to a meal that's a shared experience you have for ever. As well as being magic, cookery is maths, science, art, languages, tolerance, geography, discovery, social skills, safety, medicine, and the most useful of all, practical skills. Children who cook can inspire other children to cook and eat well.
READ: Chicken Bone Broth Recipe
What would you cook to impress friends or family?
I don't cook to impress, I cook to enjoy.
Who is your favourite chef?
I have three, Raymond Blanc, Delia Smith and Justin North.
If you could invite three people to a dinner party who would they be and why?
My boys Jake and James and my god-daughter Casey because they are the magic in my life. Justin North would be a close fourth, because I love him but also he's a much better cook than me and he could do all the work with the boys and Casey while I just sit and smile and love and laugh and taste.
What would your last meal be?
Fluid time travel between Great Milton, Sydney, San Sebastian, St Tropez and Sant'Agata. Everything is cooked with a smile to the soundtrack of my sons' laughter. Supper begins with pintxos on the streets of San Seb. Then to Saturday morning's St Tropez fish market for the bouillabaisse fish, mainly red mullet and rascasse. I make that on a beach like the original. Next Sydney and the Hotel Centennial for Justin North's crayfish. Then, the UK and Le Manoir for Raymond Blanc's pigeon en-croute. Then to Don Alfonso's at Sant'Agata, Italy, under the trees in full sunshine. We eat hot figs and wild strawberries on his hillside. The figs are sweeter than honey. My boys and Casey make it all into a Magic Fridge pavlova bouche with lemon curd. The strawberries stain our smiles and make our lips taste jammy when we kiss goodbye. We lie face forward and look over the sea to Capri. A salty breeze scents the start of this last siesta with my beloved basil. Just before I close my eyes the kids tuck a great bacon sandwich into my pocket for the trip to the unknown. I look around and I eat it before I go to sleep. Just in case I don't come back as me.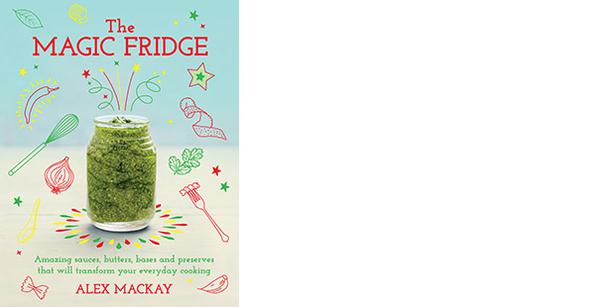 • The Magic Fridge, $40, is published by Bloomsbury.
Share this: