SPONSORED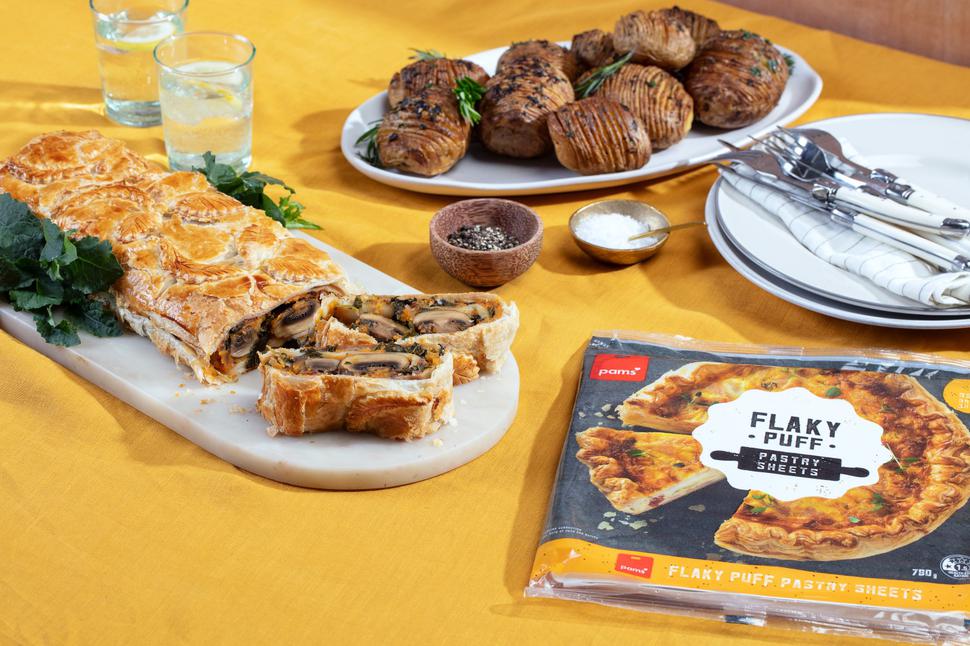 Making The Fundamental Look Fabulous This Holiday Season
A festive feast for a streamlined budget with Pam's Christmas Menus
Thursday Dec. 3, 2020
With a considered menu and savvy planning, Christmas can be relatively low stress. Pams Christmas Menus are designed for fuss-free feasting, here we share three of their most accessible recipes, and you can download the shopping list online to make preparations even more breezy.
KUMARA AND MUSHROOM WELLINGTON
This tasty, flaky kumara and mushroom wellington makes the perfect vegetarian centrepiece for your festive feast. Served with the other tasty meals even your meat-eating guests will love this one.
Prep time: 30 minutes + cooling time
Cook time: 1 hour
Makes: 8 servings
Ingredients
1kg red or orange kumara
2 packets Pams Button Mushrooms
1 Pams Red Onion, diced
1 bag Pams Baby Kale, roughly chopped
3 sheets Pams Puff Pastry
3 Tbsp Pams Whole Grain Mustard
Directions
Prick the kumara with a fork and place on a large baking tray along with the mushrooms, drizzle with olive oil and season well. Place in the oven to bake at 200°C. Remove the mushrooms after 12 minutes, then return the tray with the kumara for a further 20 minutes or until cooked through. Remove and set aside to cool.
Sauté the red onion in some olive oil for 4 minutes, add the kale, season, and cook for a further minute, before removing from heat. Stir in the whole grain mustard.
Peel the skin off the kumara, season well, then mash. Mix the onion and kale mix through the mashed kumara.
On a large piece of baking paper, join together two whole pieces of puff pastry. Cut the last piece in half, and join to the top of your rectangle to create a large square that fits onto your baking tray.
Spread the kumara mix onto the pastry sheet, ensuring to leave space for the ends and sides to seal. Place the mushrooms in two rows from one end to the other, leaving a space either side for the kumara mix to encase the mushrooms when the pastry's rolled. Roll the side up over the filling, sealing the edge with a fork to crimp down the ends.
Brush with some milk, or egg wash, and bake at 200°C for 20-25 minutes until pastry is golden.
Tips
Take your wellington to the next level by adding 2 teaspoons of Pams Crushed Garlic and a small handful of chopped fresh thyme to the onion and kale mix.
Give your mushroom wellington a festive edge by cutting Christmas-themed shapes with extra pastry (like holly leaves) to decorate the top, and finish with an egg wash.
PEA, LEMON AND MINT SALAD
A fresh and flavoursome pea salad is the perfect summer dish as a light accompaniment to your main meal.
Prep time: 5 minutes
Cook time: 3 minutes
Makes: 8 side servings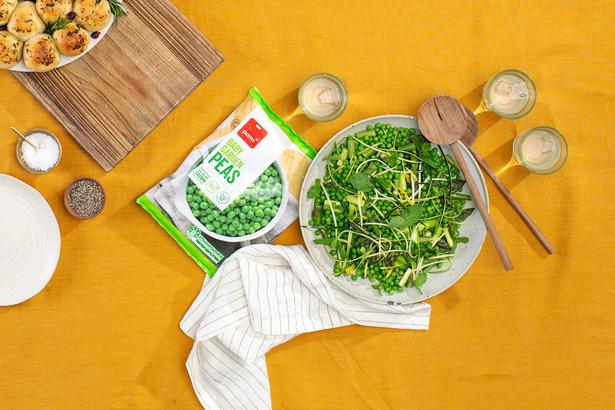 Ingredients
750g Pams Frozen Baby Garden Peas
1 bunch Pams Asparagus, chopped into pieces
1 courgette, grated
1 Pams Lemon, zested and juiced
1 handful mint, finely chopped
Directions
Cook the peas and asparagus in a large pot of salted boiling water. Simmer for 3 minutes, strain, then run cold water over to cool.
When cool, add the courgette, lemon zest and lemon juice. Season with salt, pepper, and a dash of olive oil, then toss well to combine. Finish with the fresh mint.
CHEAT'S CRÈME BRÛLÉE TARTS
These hassle-free tarts are not only super tasty – they're also dairy-free. For a stress-free Christmas day, make the tarts the day before and decorate with toffee shards just before serving.
Prep time: 20 minutes + cooling time
Cook time: 25 minutes
Makes: 8 mini tarts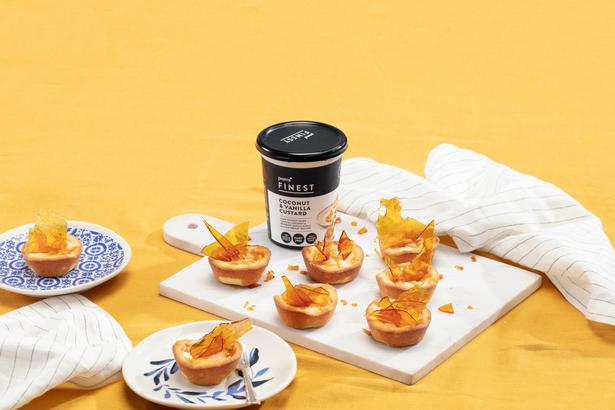 Ingredients
1 block Pams Sweet Short Crust Pastry, defrosted
½ tub Pams Finest Coconut Vanilla Custard
¾ cup Pams Caster Sugar
Directions
Use a rolling pin to roll the pastry out on a lightly floured workbench until it is roughly 5mm thick. Use a cookie cutter to cut small circles for the tart cases. Grease a muffin tray with butter or oil, then line the tray with the pastry cut-outs. Chill in the fridge briefly.
Remove the tart shells from fridge, then place a small bit of baking paper over the top of each tart. Fill with rice, dried beans or baking weights to blind bake. Place in the oven at 180°C for 15 minutes. If the pastry is browning too quickly, cover with a bit of tin foil.
Meanwhile, make your toffee shards. Line a baking tray with foil, then mix the sugar and 4 tablespoons of water in a pot over a very low heat, stirring until sugar dissolves. Once dissolved, stop stirring and increase the heat to medium-high, simmering until golden. Pour onto the tray, tipping to spread the toffee thinly, before setting aside to cool completely. Once cooled, break into shards.
Place the tart shells onto your serving platter, then fill with the custard. Chill in the fridge until ready to serve, then decorate with the toffee shards.
Tips
If you're a dairy fan, try switching it up with Pams Finest Rum Custard if that's more to your liking.
While Making the brûlée shards it's essential to pour out the syrup as soon as it turns golden to avoid burning the toffee. If you're not confident, feel free to skip this step – the tarts taste just as delicious with or without!
Share this:
More Food & Drink / Recipes