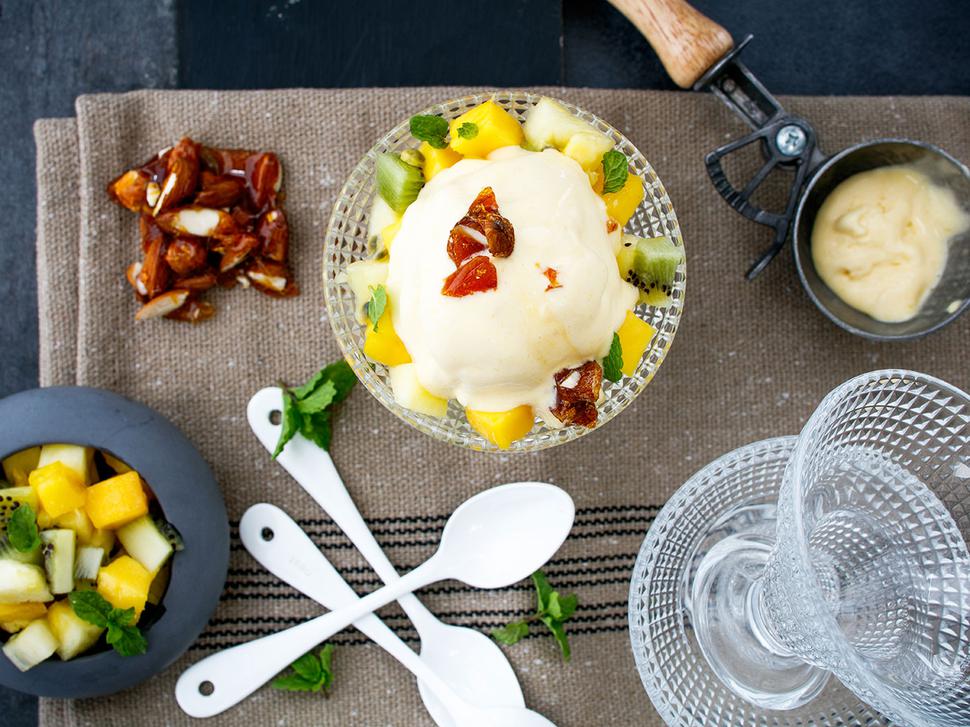 Mango Icecream Recipe
Angela Casley's mango icecream recipe is perfect for a treat on balmy evenings
Thursday Feb. 25, 2016
Try this mango icecream — the texture is sublime. Perfect for a treat on these balmy evenings where we leave the doors wide open in an attempt to cool the house. Cold and delicious, serve it in a cone if in a hurry or with a fresh fruit salad. There will be enough to see you through a couple of evenings. Liquor will only make it better.

MANGO ICECREAM RECIPE
Serves 6
• 2 ½ cups fresh mango (2 large, 3 small)
• 160g caster sugar
• 3 egg yolks
• 400ml cream
• Caramelised nuts
• ½ cup whole almonds roughly chopped
• ½ cup sugar
Fruit salad
• 1 cup pineapple, cubed
• 2 green kiwifruit, chopped
• ½ cup mango, cubed
• Pulp from 2 passionfruit
1. Place the fresh mango and 60g sugar into a blender and mix until smooth. Pour through a sieve, discarding any bits.
2. Beat the egg yolks and 100g sugar until light and creamy. Heat the cream in a small pot until warm. Pour into the egg mixing through, then place into a clean pot. Reheat stirring continuously until it just coats the back of a spoon. Strain and cool. Fold through the mango. Refrigerate for several hours.
3. Churn the mango mix in an icecream maker or freeze for 2 hours, beat again and refreeze.
4. To make the caramelised nuts, sprinkle your chopped nuts on a piece of baking paper. Place the sugar into a heavy-based pan on a low heat and melt until it is a caramel colour. Keep an eye on it or it will burn quickly. Pour over the chopped nuts and allow to cool. Break roughly or, using a rolling pin, crush the nuts into a rough crumble. Keep in an airtight container.
5. When ready to serve, place some fruit salad in bowl, add a scoop or two of icecream and top with caramelised nuts.
Share this:
More Food & Drink / Recipes