Mango Recipes
Herald the start of spring with heavenly mangoes, writes Angela Casley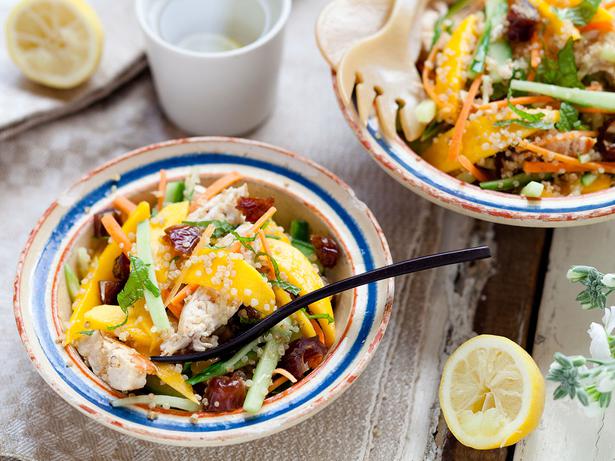 Friday Aug. 19, 2016
As I write this, it is 4 degrees outside. Certainly cold but the bright sun is shining in the window and the bluebells are starting to appear under the trees. It's beautiful and a hint that spring is around the corner. Another sure sign is when the lambs are bouncing around the paddocks, as they were on our travels up north at the weekend.
The turn of the season is the perfect time to lighten up a few meals and introduce those bright spring colours. A favourite right now is mango — colourful, sweet, soft and divine to eat. Indulge while they are on the shelves and a good price (or hunt out frozen mango at your supermarket).
A crisp and tasty combo are these lettuce cups filled with bright prawns and topped with mango salsa and a hint of chilli. Eat with your fingers as a pre-dinner nibble or enjoy a few for a tasty lunch. Buy the prawns raw and cook them for three minutes in salted, simmering water.
Chicken is another great match for mango. Add fresh vegetables, a little quinoa and you have a meal made in minutes. Soft dates add a little sweetness and the cucumber a cleansing freshness.
If you need to bulk this salad out, add a handful of greens and, if there is any left over, this is great the next day.
Sometimes the simplest things are the best. Thick greek yoghurt is great any time of day. I have been making smoothies with mango and yoghurt but decided it looked beautiful layered in a glass. To eat simply scoop your spoon into the slightly sour yoghurt and sweet mango; there is no need to add sugar. Although I have topped it with a little crumbled homemade shortbread and extra fruit and it tastes as good as it looks.
Recipes:
Lettuce Cups with Prawn and Mango
Chicken, Mango and Quinoa Salad
Share this:
More Food & Drink / Recipes