Manuka Honey and Lemon Curd Meringues Recipe
Who can pass up large meringues laden with home-made lemon curd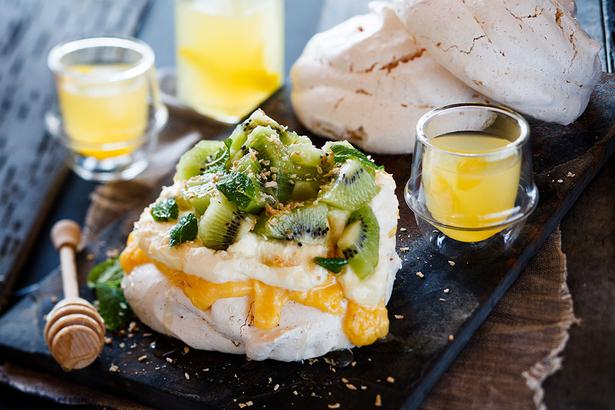 Thursday Aug. 27, 2015
MANUKA HONEY AND LEMON CURD MERINGUES
Makes 6
Meringues
3 egg whites
1 ½ cups caster sugar
1 tsp cornflour
1 Tbsp malt vinegar
4 Tbsp boiling water
½ cup toasted coconut
½ cup lemon curd (find at bite.co.nz under lemon tarts)
Serving
2 kiwifruit peeled and cubed
¼ cup manuka honey for drizzling
1. Set oven to 150C. Line an oven tray with baking paper and draw on 6 even circles.
2. Beat the egg whites, sugar, cornflour, vinegar and boiling water on high for 5 minutes, then turn down and continue to beat for 10 more minutes. Fold coconut through, reserving a tablespoon for decoration.
3. Spoon the mixture into even piles on your circles. Do not spread the mixture out. Place in the oven for 35 minutes, then turn the oven off and leave the meringues to cool, preferably overnight.
4. To serve, plate the meringues, top with lemon curd, cream, kiwifruit and a little coconut. Drizzle some honey over to finish.
Share this:
More Food & Drink / Recipes