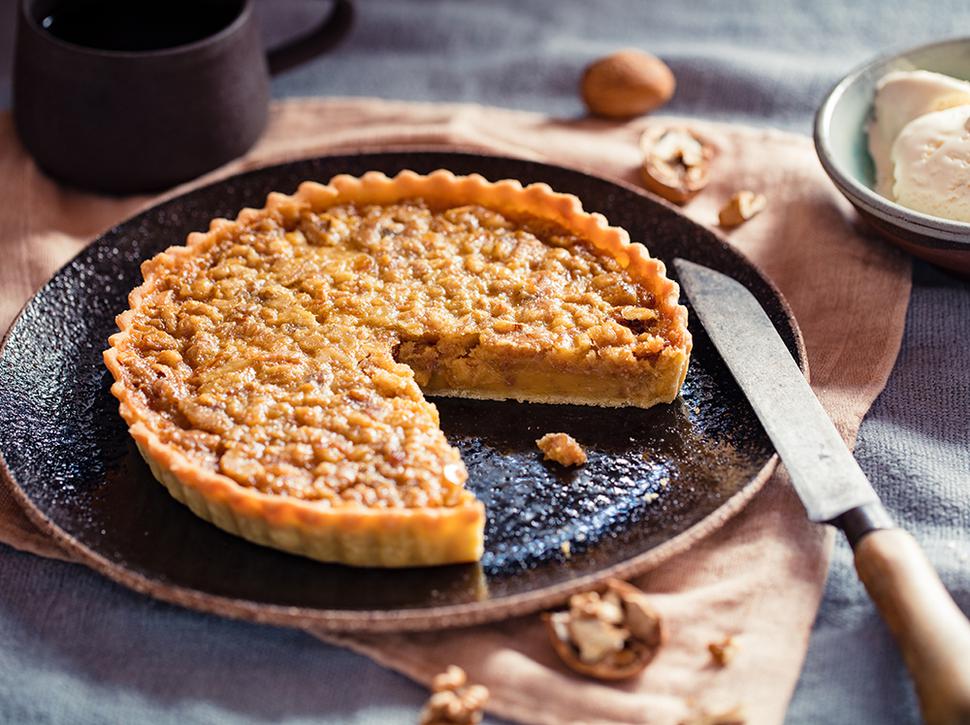 Maple & Walnut Tart
An elegant dessert best paired with a decadent scoop of vanilla-bean icecream
Friday Aug. 31, 2018
An elegant tart, usually made with pecans, is reinvented using walnuts. A good quality vanilla-bean icecream is the must-have accessory for this dish. You can also make this recipe in small individual muffin tins, making tarts that are the perfect accompaniment to after-dinner coffee or to take on a picnic.
MAPLE & WALNUT TART RECIPE
Serves 6-8
150g sweet pastry
Filling
100g butter
100ml maple syrup
100ml cream
2 Tbsp liquor (optional)
150g walnuts, roughly chopped
¼ cup caster sugar
4 egg yolks
Vanilla-bean icecream to serve
1. Preheat oven to 160C.

2. Roll your pastry to fit a 20cm tart tin. Line and refrigerate for 20 minutes. Bake blind for 15 minutes then remove the paper and continue to cook for 10 minutes until the base is cooked and lightly coloured.

3. Turn the oven to 170C.
4. For the filling, melt the butter with the maple syrup in a pot. Add the cream and liquor. Remove from the heat and cool slightly. Stir through the walnuts, caster sugar and yolks. Pour into your tart tin. Place into the oven for 35 minutes or until just set. Cool in the tin. Serve with a scoop of icecream.
Share this:
More Food & Drink / Recipes