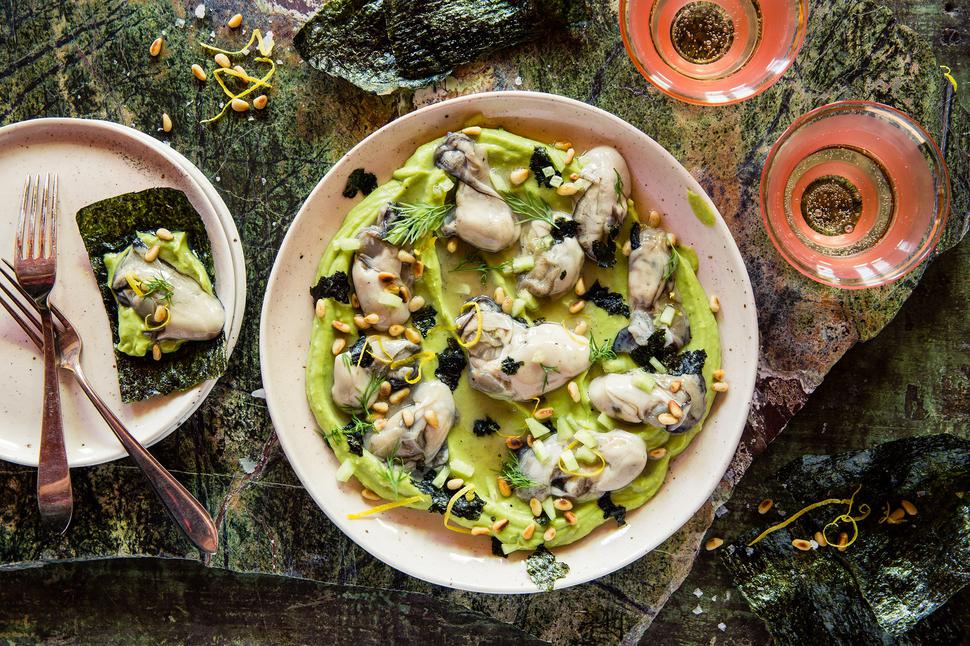 Marinated Oysters With Avocado & Toasted Seaweed
Impress your other half this Valentine's Day with this indulgent dish
Saturday Feb. 8, 2020
Champagne and oysters are the quintessential Valentine's Day indulgence. Impress your other half with this tasty light marinade, and serve your oysters with creamy avocado. Toasted seaweed adds a contrasting texture and a little crunch.
MARINATED OYSTERS WITH AVOCADO & TOASTED SEAWEED RECIPE
Serves 2
1 Tbsp soy sauce
1 Tbsp mirin
1 Tbsp lemon juice
1 dozen pacific oysters, drained
1 avocado, stone removed
2 Tbsp lemon juice
Salt and pepper to taste
2 sheets seaweed
1 tsp lemon zest
1 Tbsp toasted pine nuts
Few dill leaves to garnish
1. In a small bowl combine the soy, mirin, lemon juice and oysters. Place in the fridge while you make the avocado puree.
2. Blitz together the avocado and lemon juice until completely smooth. Season to taste, remembering the oysters are a little salty. Spread mixture on a platter.
3. Toast the seaweed sheets over a gas element for 5 seconds to crisp up, and cut into 12 pieces.
4. Dot the oysters over the avocado, add a little lemon zest and sprinkle on the pine nuts. Add a few dill leaves to finish and one piece of crispy seaweed, broken up.
5. To eat, scoop one oyster with some of the avocado goodness and wrap in a piece of seaweed. Enjoy.
Share this: