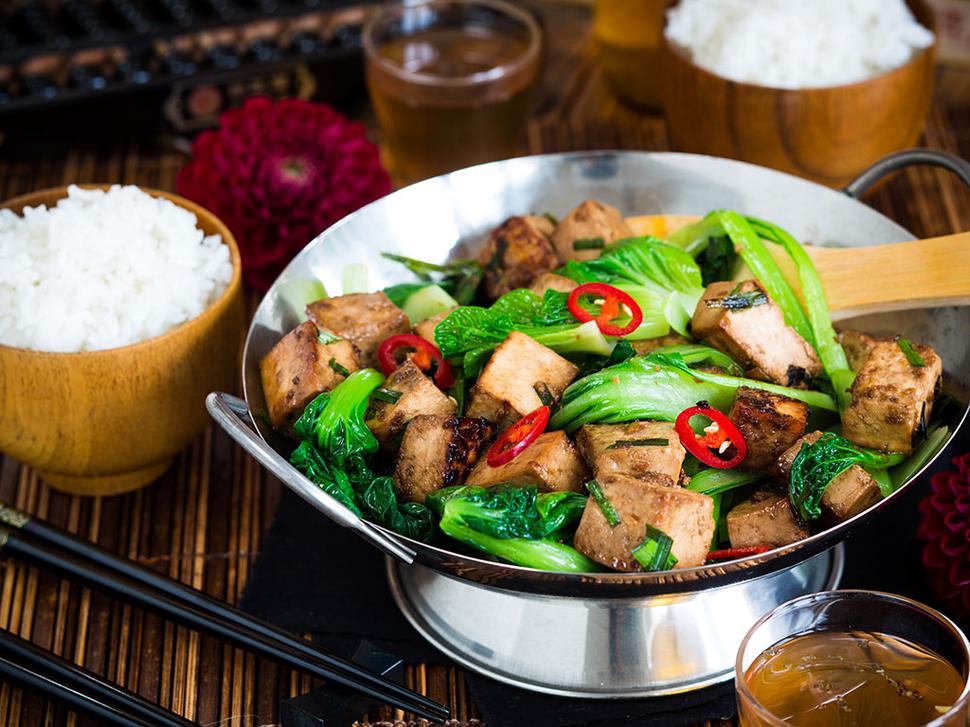 Marinated Tofu Recipe with Asian Greens
Vegetarian meals can be substance too
Friday Jan. 31, 2014
MARINATED TOFU WITH ASIAN GREENS
Serves 4
Marinade
• 1 Tbsp kecap manis (sweet soy sauce)
• 2 Tbsp soy sauce
• 2 tsp grated ginger
• 2 tsp brown sugar
• 250g firm tofu, drained
• 2 Tbsp oil
• 2 shallots, sliced thinly
• ½ chilli, sliced finely
• 2 Tbsp sliced ginger
• 2 Tbsp rice vinegar
• 2 tsp sesame oil
• 300g Asian greens, blanched
• Garnish
• 1 Tbsp sliced chillis
1. In a small bowl mix kecap manis, soy, ginger and sugar.
2. Prick tofu with a fork then cut into bite-size pieces. Toss in marinade, leave for 20 minutes.
3. Heat 1 Tbsp of oil in a wok or frying pan on a high heat. Add shallots, chilli, ginger and rice vinegar. Cook for 2 or 3 minutes. Add Asian greens and cook for 2 minutes, so they stay crunchy. Stir sesame oil through, and remove to a serving plate.
4. Heat remaining oil in the wok to a high heat. Toss tofu with the marinade gently until golden brown all over. Place on top of the greens.
5. Garnish with a few sliced chillis and serve with steamed rice.
Share this:
More Food & Drink / Dinner