Marshmallow Recipe with Raspberry and Passionfruit
A tasty marshmallow recipe to satisfy a sweet tooth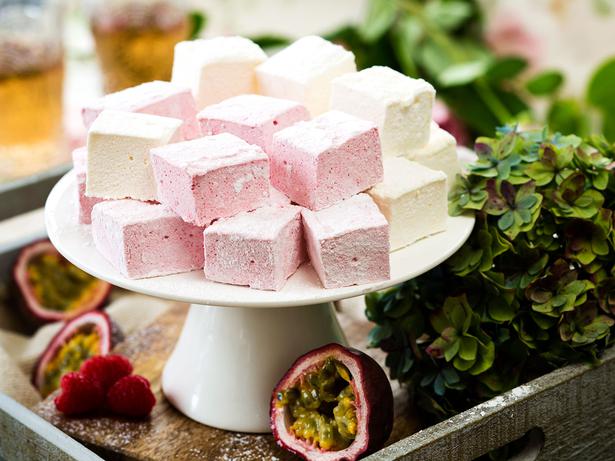 Friday Feb. 14, 2014
MARSHMALLOW WITH RASPBERRY AND PASSIONFRUIT
Makes 40 pieces
• 500g sugar
• 50ml glucose syrup
• 1 cup water
• 25g gelatine sheets, soaked in cold water for a few minutes 
• 150g egg whites
• 2 Tbsp each of raspberry and passionfruit powder
• Icing sugar for dusting
1. Line two 25cm x 18cm tins with baking paper.
2. In a large pot place the sugar, glucose syrup and water. Bring to the simmer and continue to cook until you have a thick sugar syrup. Bring it to 121C if using a sugar thermometer or to the soft ball stage if testing it in a small bowl of water. Remove from the heat. Squeeze excess water from the gelatine and stir through the sugar syrup.
3. Whisk the egg whites until they form soft peaks. Slowly add the sugar syrup in a trickle. Then continue to beat until cool.
4. Now you can add your flavour - place half the mixture in a second bowl. To one bowl add 2 tablespoons of passionfruit and 2 tablespoons of raspberry flavour. Stir until well combined.
5. Pour into your lined tins and smooth the top. Refrigerate for at least 4 hours. Dust a bench surface generously with icing sugar and tip the marshmallow on to it. Peel away the paper and cut into small squares. Dust generously with extra icing sugar.
6. Store in an airtight container.
Share this: