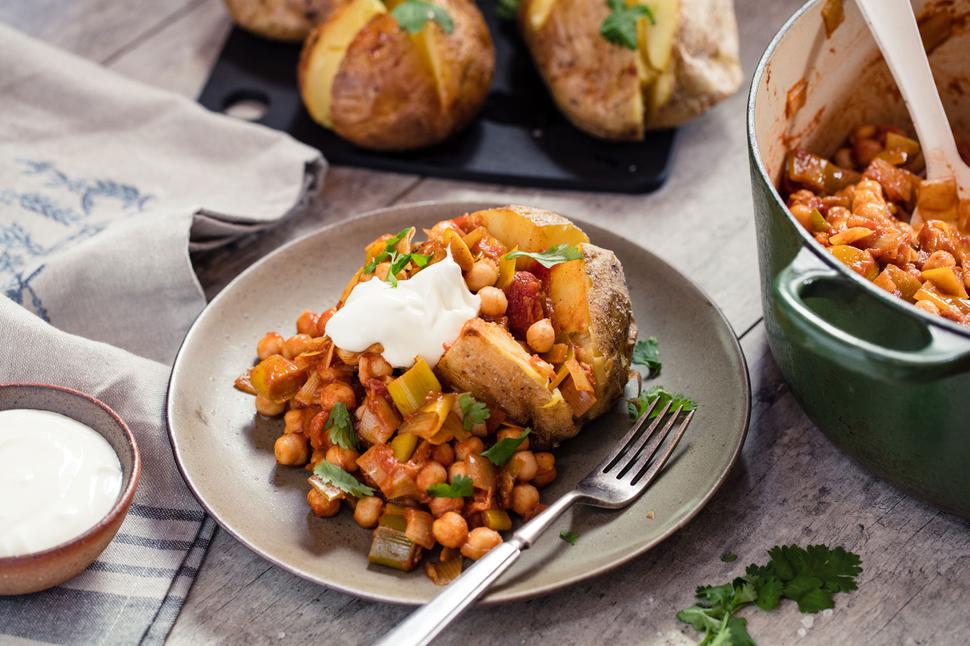 Masala Chickpea Stuffed Baked Potatoes
Enjoy these stuffed spuds straight from the oven or save for a great work lunch on a chilly day
Friday Aug. 3, 2018
We are having a rebirth of the good old baked potato at home. There is nothing quite like a crispy-baked spud and it's so simple to make. In this recipe, I am turning it into the base of the meal with a lightly spiced chickpea curry. The vegetables and chickpeas are a delight on their own or serve with some mini poppadums.
MASALA CHICKPEA STUFFED BAKED POTATOES RECIPE
Serves 4
4 large potatoes
1 Tbsp olive oil
Salt to season
2 Tbsp coconut oil
1 onion, chopped finely
2 cloves garlic, crushed
1 Tbsp grated ginger
1 leek, thinly sliced
50g tikka masala paste
1 tsp garam masala
400g tin chopped tomatoes
2 x 420g tin chickpeas, drained
Zest of 1 lime
Salt and freshly ground pepper to taste
1 cup chopped coriander
½ cup Greek yoghurt, to serve
Extra coriander, to garnish
Lime wedges, to serve
1. Preheat oven to 180C.
2. Rub the potatoes with olive oil and prick with a fork. Season with salt, place on to a baking tray and into the oven for 1 hour or until a skewer inserts easily.
3. In a heavy-based pot heat the coconut oil. Add the onion, garlic, ginger and leek, cooking for 8 minutes or until softened. Stir through the masala paste and garam masala for 2-3 minutes.
4. Add the tomatoes and bring to a simmer. Add the chickpeas and lime continuing to simmer for 20 minutes.
5. Season with salt and pepper. Stir through the coriander.
6. Remove potatoes from oven. Split open and spoon over the chickpeas. Dollop with some yoghurt and extra coriander leaves, serve with a lime wedge on the side.
Share this:
More Food & Drink / Recipes