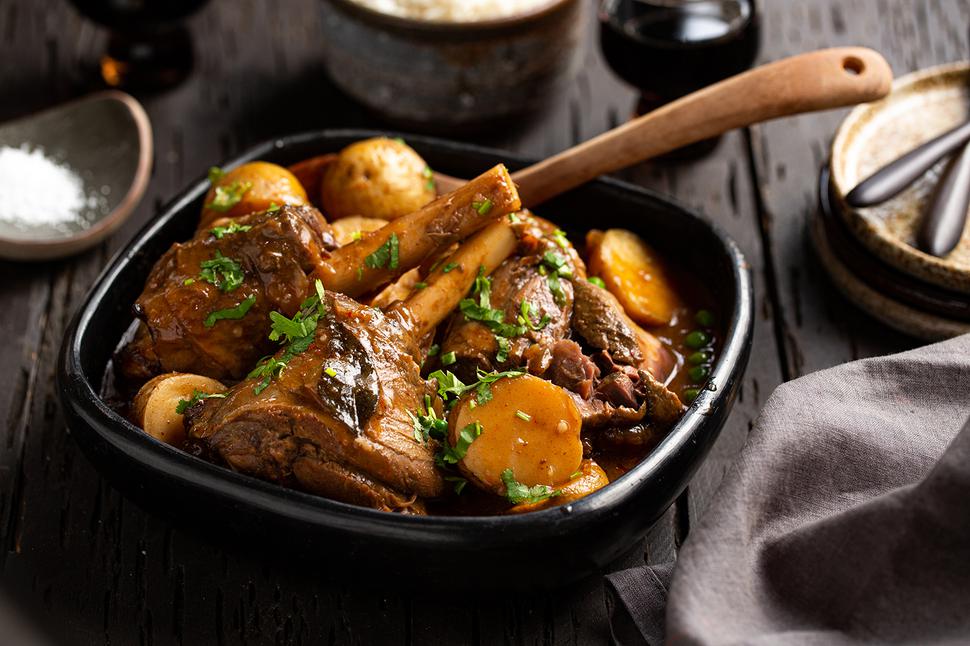 Massaman Lamb Shanks
This fragrant, hearty meal is strictly for weekends, but it's well worth the wait
Saturday July 17, 2021
I like to cook this the day before to the end of step three, then refrigerate overnight. That way, any extra fat will have settled on the top and can be scooped off with a spoon. From there, it's as simple as reheating in the oven.
MASSAMAN LAMB SHANKS RECIPE
Serves 4
4 lamb shanks
2 Tbsp oil
1 onion, chopped
½ cup massaman paste
2 cups beef stock
400g tin coconut milk
2 kaffir lime leaves
2 tsp brown sugar
1 tsp salt
350g baby potatoes
2 Tbsp lemon juice
2 tsp fish sauce
1 cup coriander stalks and leaves, chopped
1 cup peas
Rice, to serve
1. Preheat oven to 200C.
2. Place the shanks in an ovenproof dish and bake in the oven for 40 minutes, allowing the fat to drip to the base. Tip out the fat. Turn the oven down to 150C.
3. Warm the oil in an ovenproof casserole dish. Cook the onions until they have softened. Stir through the massaman paste for 2 minutes. Add the shanks, stock, coconut milk, lime leaves, sugar and salt. Cover and place in the oven for 2 hours. Add the potatoes, cooking for another hour or until the meat is starting to fall from the bone.
4. Remove from the oven and stir through the lemon juice, fish sauce, coriander and peas. Season with salt and pepper and serve hot on a bed of rice.
Share this: