How Mathew Ramsey Created PornBurger
Mathew Ramsey has taken fast food to a whole new level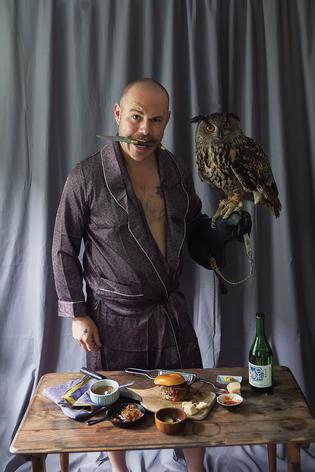 The day Mathew Ramsey went viral was nearly his last. It was March 8, 2014, and traffic to his over-the-top blog, PornBurger, had just gone through the roof after a mention on the technology website Gizmodo.com. As he was sitting at his kitchen table, watching it all happen, he took a bite of a ham sandwich and began to choke.
"I was like, 'I am dead, and everything is about to happen right now'," he says. He was about to self-Heimlich on the back of a chair when he finally coughed the ham out of his windpipe. "I was like, 'Oh my God, my life just flashed [before my eyes] over a stupid ham sandwich'."
If Mathew had bitten the dust, he wouldn't have gone on to invent burger-infused whiskey, or a marijuana-infused burger, or a Cheetos-infused tequila. And he certainly wouldn't have gone on to write his recently released pun-infused cookbook, PornBurger: Hot Buns and Juicy Beefcakes.
The 36-year-old calls himself a burger pervert. He has a full moustache and a home decorated like a Southwestern ranch. His burgers, photographed in lascivious detail, have cheeky names: the Full Mounty, topped with bone marrow poutine sauce; A Fish Called Hitachi Wanda, a trout burger named after a vibrator; Calicornication, which he describes as "some serious hard-core soft-core porn"; and unprintable others. He is the Larry Flynt of burgers. His motto: "Let's get weird."
The catalyst for all this is a word Ramsey made up: "slurst".
"It's a combination of slutty and thirst," he says. "It's so carnal, and your thirst will never be satisfied. That's how it is with burgers sometimes. Like, I don't care how messy my hands get. I just need this in my face."
Mathew's first job was at National Geographic, where he worked as an assistant for reporter-host Lisa Ling and later as a producer for TV shows including Hogzilla, about an enormous wild hog. That's when he learned the true meaning of slurst: he participated in the Slog, a 10-day, 200-mile charity walk with his colleagues to raise money for Sudan, during which participants were not allowed to eat.
"I was able to perceive food in a way I've never ever encountered it, because I couldn't eat it. My brain was just hyperactive; that's all I was thinking about," he said. "I could smell granola bars from distances, I could taste these things that I was thinking of. It was really wild."
He had already been tooling around in the kitchen for hours each weekend. But the 10 days of culinary hallucinations provided the final push: he quit his job and moved to San Francisco, enrolling in a 15-month programme at Le Cordon Bleu.
During culinary school, he apprenticed at a few restaurants and interned for the food section of the San Francisco Chronicle, where he tested recipes, took photos, styled food — he had studied photography in college — and even did a little bit of writing. A 2009 review he wrote of Hubert Keller's Burger Bar cookbook now reads like a premonition: Hubert "takes the classic hamburger, explodes it and meticulously reconstructs it", Ramsey wrote.
A video production job at LivingSocial brought Mathew back to Washington. All the while he was itching to use his culinary degree. In January 2014, he had friends over for dinner and served them a venison burger topped with Spam, Taleggio cheese and quick-pickled beets. "They were like, 'What are you going to call this burger?' And I said, 'I don't know, the Bambi?'"
A blog was born. Mathew decided to make one burger a week as a creative challenge — initially, just for friends. He called it PornBurger as a nod to the love-it-or-hate-it term in the food world for an especially desirable (and well-photographed) dish.
"I think food is very sensual," he says. "It's one of my biggest driving factors in the kitchen: creating sexy, gorgeous food. Food porn, for me personally, it's drippy, it's saucy, it's also obtainable and real."
Initially, he says, the name posed a problem for his parents, who live in Caledonia, Texas. "They'd tell people at church that their son has this site called PornBurger," he said. But they'd forget his URL is PornBurger.me and send people by mistake to the .com version, "which is just a straight-up porn site".
Mathew creates each burger in his basement man-cave of an apartment in Bloomingdale, filled with kitchen gadgetry and watched over by Fred, a mounted antelope head, and Daniel Day-Lewis, a taxidermied squirrel paddling a tiny canoe. ("It's just us boys down here," he said.) He likes to name things: his chef's knife is John Wayne.
Many of the burgers are also brazenly heteromasculine. Some women might be disinclined to make, for example, a peanut- butter-and-jelly-themed burger called the Lolita. "There's a lot of machismo in the cooking world," he acknowledges.
Often, he'd draw the burgers in a sketchbook. Then, late at night and over a glass of fernet, he'd cook his burgers, style them and photograph them in a particular lighting that gives them a sexy glisten.
"Late-night stoner food," he calls it. "Well, some of it's early-morning stoner food." It could be as highbrow as a foie gras gougere burger or as lowbrow as a bacon-wrapped burger in a doughnut (the Wake'n Bacon).
It wasn't long before other blogs took notice. Mathew's photos were picked up by Gizmodo, BuzzFeed and Grub Street, and the opportunities began pouring in. He was contacted by reporters from Norway, Japan and Australia. He got an offer to collaborate on a women's underwear line. He began workshopping a television concept that he says may or may not happen, in which he would travel around the world to discover new ingredients, then make burgers out of them.
It was his first chance to make money from the blog; he had resisted advertising because he thought it would "muddy the creative waters". And he got the book deal. Because he had been making burgers for fun and photographs, he'd never written down many of his recipes, so he had to retrace his steps. There were a few burgers he was never able to replicate.
The phrase "food porn" comes and goes out of style, too, which is the kind of thing that can date a book. But that doesn't faze Mathew. "In a few years, this book will be dated, and all of my puns with it," he said. "But that's the fun of it. You get to keep creating."
Which brings us to wabi-sabi, a word that sounds as if it could be an exotic burger condiment. Instead, it's a Japanese philosophy of life that values austerity and modesty, traits that seem incompatible with PornBurger's excess. But wabi-sabi is the medium-rare middle of Mathew's cowboy exterior: a practice, along with his intermittent study of Buddhism, that drives his creativity and worldview.
One of its tenets is that of impermanence: all things, from art to scientific theorems to the planets and stars, "eventually fade into oblivion and nonexistence," according to one of Ramsey's books on the subject. The key to life is to enjoy things in the moment. Including food.
"As soon as you're done cooking it, it starts degrading. In 10 minutes, it's gone," said Ramsey. "I find there's a beauty in that."
You could say the same thing about going viral. "It's exhilarating," he says. But "I try not to put any stock in that at all. Because it is fleeting, it's so temporary."

— The Washington Post
Share this:
More Food & Drink / Features & Profiles