Meat Lovers Pizza Recipe
Try this all-round favourite meat lovers pizza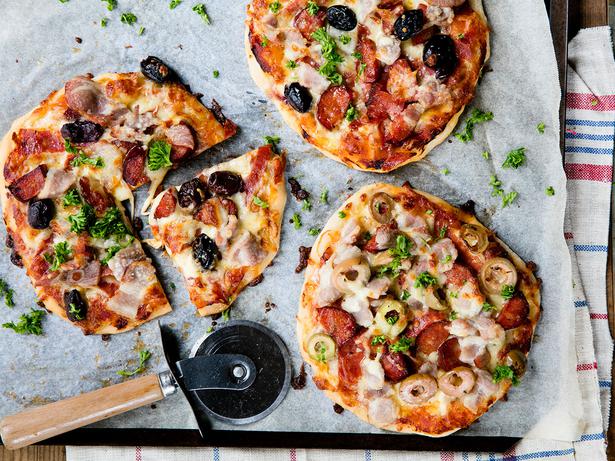 Friday Oct. 28, 2016
If you have a big crowd, you might want to order in pizza - which we did - but making pizza dough is so easy, once you have got the hang of it there will be no going back. You can then create any shape of pizza and finish with a variety of toppings. These are perfect for summer outdoor entertaining. If you double the dough, you can wrap and place extra portions in the freezer ready for the next occasion.
MEAT LOVERS PIZZA
Makes 5 mini pizzas
Bases
3 tsp active yeast
1 tsp sugar
1 cup tepid water
400g plain flour
1 tsp salt
2 Tbsp olive oil
Topping
½ cup tomato paste
1 cup grated mozzarella
1 chorizo, sliced thinly 200g ham, chopped into pieces
100g sliced salami
½ cup mixed olives
Chopped parsley to garnish
1. Firstly make the dough. Combine the yeast and sugar then sprinkle over the water. Leave to rest for 10 minutes in a warm place until frothy.
2. Place the flour and salt in a large bowl. Make a well in the middle. Add the oil to the yeast then pour into the flour, combining well to form the dough. Knead on a lightly floured bench for 5 minutes. Place in a clean, lightly oiled bowl and pop in a warm place for an hour or until it has doubled in size.
3. Preheat oven to 220C.
4. Knock back the dough and divide into five pieces. On a lightly floured bench, roll each into a rough 20cm circle. Place them on two baking trays.
5. Spread each base with tomato paste, sprinkle over the cheese and top with chorizo, ham and salami. Sprinkle over the olives, season and place into the hot oven for 15 minutes until crispy and golden.
6. Serve hot with a sprinkle of parsley.
Share this:
More Food & Drink / Recipes