Meet Lighthouse Gin Distiller Rachel Hall
Tiny Martinborough distillery, Lighthouse Gin, punches well above its weight on the world stage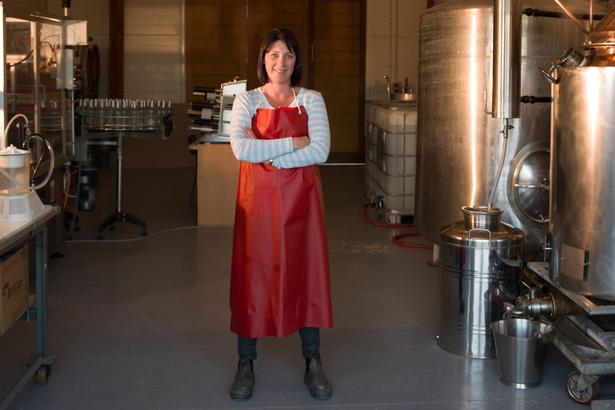 Tuesday June 13, 2017
The lonely lighthouse at Cape Palliser at the rugged and isolated southernmost point of the North Island is the inspiration behind a tiny gin distillery in the charming Wairarapa township of Martinborough that punches well above its weight on the world stage.
Lighthouse Gin is a much acclaimed small-batch hand-crafted product that gets exported to the UK, Australia, Canada and US, where it is stocked by the mega grocery store chain Trader Joe's who put in an order for 500 cases every couple of months.
A look behind the scenes of the distillery reveals that most of its production is remarkably carried out by the hands of one person, Rachel Hall (pictured), who has been in sole charge of Lighthouse since taking over from founder Neil Catherall in 2014.
Neil started up the company in 2005, coming up with a unique blend of nine botanicals — juniper berries, coriander seeds, yen ben lemons and naval orange zest, cinnamon quills, almonds, cassia bark, orris and liquorice root — to create the 84-proof gin.
The gin is made using the same principles as the lighthouse was, Rachel explains — the origins of both lie with careful, labour-intensive hand-craftsmanship.
The result? The clever distiller says the resulting London Dry-style gin is "flavoursome", with lots of juniper and spice and a good amount of citrus that gives it a refreshing and lingering finish.
"We're not trying to be trendy we're just trying to make a classic gin exceptional."

Lighthouse Gin is owned by Foley Family Wines, which also owns luxury Relais & Chateaux lodge Wharekauhau Country Estate at Palliser Bay, and the Te Kairanga and Martinborough vineyards. The company is the New Zealand offshoot of the interests owned by US billionaire Bill Foley, who also has extensive wine interests in Northern California, and recently made headlines after setting up his own National Hockey League franchise in Las Vegas.
Crucial to the final result is the use of water from a natural spring at the base of the Rimutakas on the Wharekauhau estate — Rachel goes through one huge container full a week, and it's a 100km-round trip to get the water back to Martinborough each time.
She distills the liquor every day, and makes a batch every two, using Neil's custom-built 200 litre copper pot still and even relying on an antique Sikes' Hydrometer to measure the alcohol content.
Lids, stickers and neck tags are all applied by hand, and then every bottle is hand-numbered before Rachel — who says she dreams about gin — packages each case up and sends it out into the world
where it sits on shelves next to its mass-produced bretheren.
• Lighthouse Gin and Martinborough Vineyard is at 57 Princess St, Martinborough, and Te Kairanga is at 89 Martins Rd.
Share this:
More Food & Drink / Wine & Drink