Meeting Masu's Nic Watt
Dining at Masu is a theatrical experience, discovers Nici Wickes, but the man behind the Japanese robata-style venue is as serene as he is driven.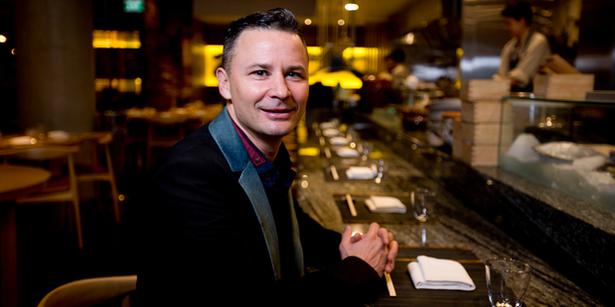 Wednesday Sept. 24, 2014
Has it really been only a year? A mere 12 months since Masu danced so spectacularly and meticulously on to our dining stage, entrancing the dining public and industry alike with its Japanese robata-style dining, sweeping up many of the serious restaurant awards during that short time? The answer is yes and the reason is chef Nic Watt.
Sitting across from this clean-cut, stylishly attired chef, he exudes nothing but energy, clarity and a drive that would be scary if he weren't so serene. As I gulp coffee, he sips peppermint tea. He's on a detox he tells me. Whatever he's doing, he's doing it right because he's needed to be at the top of his game to get through the past 12 months, which saw him open Masu, star in his own TV show (Testing the Menu) and be well down the track with opening his second restaurant.
"This last year has been so much fun. Since Masu opened I've been so humbled because what I wanted more than anything was to bring a style of dining and cuisine that I'd been focused on overseas for the last decade, back to New Zealand and have New Zealanders really love it. And they do."
He's referring to the robata-style of dining that he's introduced to Federal St, where white tablecloths never get a look in, where all food preparation and cooking is situated in the public space - only the chillers and dishes are out back - and where the tempo of the dining room and bar is upbeat, lively and casual, even though the food and service is at the level of fine dining. It's a miraculous balance that he's been able to achieve.
"When I was a kid I was always wanting to push things I did to the limit, which in adulthood means using lasers to make sure our chopsticks are straight. Add in the complexity of me being a bit of a neat freak and you get where Masu is heading. We're only about 60 per cent of where I want to take it to be honest."
What with the laser-beam aligned chopsticks and insisting that the ice for drinks is chipped by hand (from a de-oxygenated block I'm told), I wonder what the remaining improvements at Masu might look like. Uptight? More formal? Not a chance, Watt assures me - the only thing he wants is for the diners to be deeply impressed when they dine at Masu but still have fun doing it.
"I want it to feel like a show but not to be showy. For guests to be able to see the whole goings on of their meal being prepared and cooked - the repeated basting and turning at the robata, the absolute care that the team of grill chefs take and the creativity of the sushi chefs - all of this is theatre and it should be intensely interesting but never intimidating, our staff make sure of that."
Having trained in New Zealand surrounded by water, Watt saw it as inevitable that he would become entranced with Japanese cuisine. "My passion for Japanese cuisine was a very natural transition. Growing up with the Hauraki Gulf and the freshest seafood, I had a love for clean, defined flavours, so as a 23-year-old arriving in Tokyo to study Japanese cuisine ... I thought I had found culinary Mecca."
The turning point was when Watt was interviewed for a position at the Park Hyatt in Tokyo. "Executive chef was Rainer Becker (co-founder of the powerful Zuma restaurant group) and he gave me a brutally hard German interview and I was convinced I didn't have the job. Thankfully, I was wrong."
Watt is a guy not afraid of getting close to the flames, so to speak and Becker saw a spark and level of commitment in the young New Zealander so when he launched his Roka brand, a series of innovative restaurants centred around the robata charcoal grill, it was Watt who he approached for the top position to open restaurants in London, Macau, Hong Kong and America. Watt thrived on the excitement, responsibility and pressure.
You get the impression that unless he's taking on big projects and moving at pace, he'd be bored. When I ask him how he relaxes, he's perplexed. "Relax as a chef restaurateur? It's 24/7, so 'relax' isn't always in the picture. But I have one hour of boxing once a week and it's a way that I cannot think of anything other than the task at hand of speed, power and technique, so I guess that's my hour of downtime, it completely clears my head."
The three words he uses to describe himself are passion, flavour, detail " ... in that order but my wife, Kelly, uses a different three; A- type perfectionist, neat-freak, geeky cool".
He's not sure about that last one but admits that there could be some truth in it given when he moved the family (they have two young children) from their UK base to Auckland he went to the effort of bringing his tandoor oven because "it was a gift from my robata supplier ... I love it ... and it's clearly my best 'cool tool', so to speak - charcoal, traditional cooking method, simply beautiful to cook with!"
No ordinary pizza oven for this boy then.
His latest project is the design of a new 100-seat restaurant, expected to open in January next year, this time in Adelaide, and it'll be themed on another cuisine close to his heart. Madam Hanoi will be the archetypal French Vietnamese bistro, serving French pastries and strong coffee from early morning before offering a full menu of "dishes that highlight that wonderful spicy, salty, sour cuisine".
You can tell that everything about the concept excites Watt: " I had my honeymoon in Vietnam 14 years ago, that was before the two kids and Kelly and I travelled at a grassroots level, without plans, sleeping and eating entirely locally, getting from place to place via foot, river barges and small boats, rickshaws or whatever the local mode of transport was. I've never forgotten it and now I'm recreating some of that old Vietnamese charm with this restaurant."
I try to picture him in shorts and a sweaty T-shirt backpacking through Vietnam, but aside from the colourful string wristband he's wearing, it's difficult to conjure up. It's easier to use words like polished, snappy, formal and restrained to describe his personal style, but there's something ultimately relatable and likeable about Watt, too, and there's not a whiff of arrogance about him.
When I ask him about the part he'll play in Viva's upcoming event at Masu (see below) he doesn't hesitate, "I won't be stiffly 'announcing' each dish. I prefer to pay each table a visit and engage with the guests personally and informally during the night and that way I can answer questions about the food and sake, or just have a chat."
And for him the food, matched with sake, will be the star of the show. Just as they do in Japan, he will herald in spring with an authentic kaiseki menu, a traditional Japanese degustation where multiple courses of immaculately prepared dishes are all themed towards the season, from the ingredients to the ceramics used. But he insists the evening will be playful, fun and one of its kind, in true Masu style.

Join Viva with Nic Watt at Masu for an unforgettable evening on October 8 when the restaurant closes to the public for this exclusive event. Tickets $220 for a Bombay cocktail on arrival, full kaiseki menu with sake matched to each course, and fashion shows from Nom*d, Miss Crabb and Yuka & Tristan. Buy tickets here.
Share this: