Mexican Omelette Recipe
Try this delicious omelette recipe from Angela Casley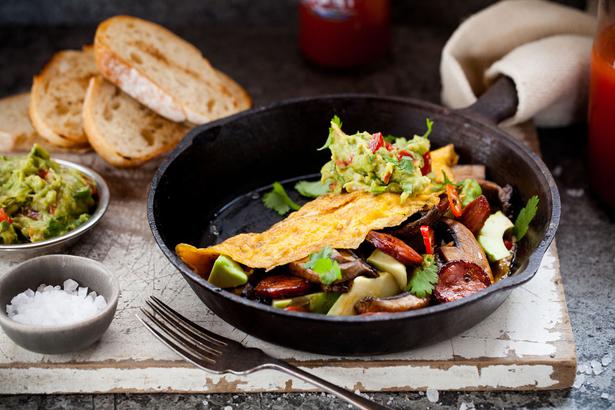 Friday Sept. 9, 2016
One breakfast option — or indeed any time of day — is this mexican omelette recipe spiced up with chorizo, chilli flakes and juicy mushrooms. Eat with fresh bread or crusty toast with lashings of salted butter.
MEXICAN OMELETTE RECIPE
Guacamole
1 avocado
Zest and juice of ½ lemon
2 cloves of garlic, crushed
1 Tbsp chopped chilli
Salt and pepper
1 tomato, diced small
¼ cup chopped coriander
Filling (for 2 omelettes)
1 Tbsp olive oil
½ red onion, sliced
½ chorizo, sliced
2 field mushrooms, sliced 1cm wide
½ avocado, diced
coriander leaves to garnish
Omelette (makes 1)
2 large eggs
2 Tbsp water
pinch chilli flakes
salt and pepper
1 knob butter
1. Firstly make the guacamole. In a small bowl mash the avocado, lemon, garlic and chilli. Season with salt and freshly ground pepper. Then fold through the tomato and coriander. Set aside.
2. Fry the red onion and chorizo for 2 minutes then add the mushrooms and cook for a further few minutes. Keep warm while you make the omelette.
3. In a small bowl, whisk together the eggs, water, chilli flakes, salt and pepper.
4. To make each omelette, heat the butter in a small frying pan until frothy. Tip in the eggs, drawing them to the centre as they start to set for even cooking.
5. Place half the filling on to one side of the omelette along with some diced avocado then flip the other side of the omelette on top.
6. Serve straight on to a plate with a dollop of guacamole. Garnish with a few coriander leaves.
Share this:
More Food & Drink / Recipes