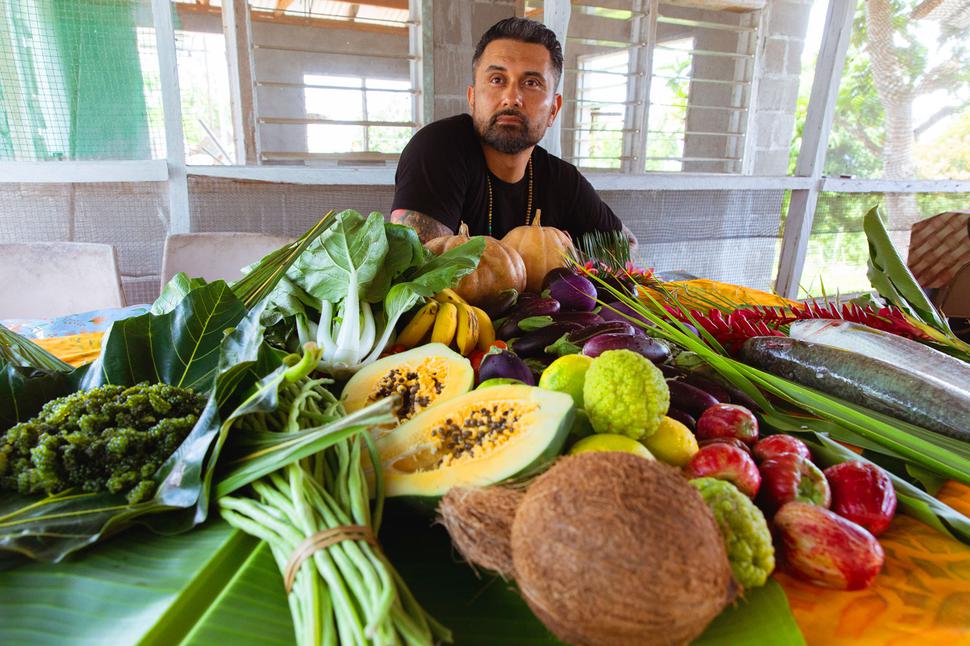 Chef Michael Meredith's Soulful Christmas Meal In Samoa With The Fred Hollows Foundation
The flavours of the Pacific inspire the award-winning chef's Samoan Christmas feast made with love
Wednesday Dec. 11, 2019
Samoa has been in a state of emergency since late October because of the measles epidemic, which has tragically claimed 68 lives, 57 of those under the age of 4.
I was there in September with The Fred Hollows Foundation, a charity with an ambition to help save people's eyesight across the Pacific, where I'm reminded upon reflection of how desperately our friends in the Pacific need better education around preventative measures - for any disease.
New Zealand's 1962 Treaty of Friendship with Samoa runs deep, and over the years the nation of about 200,000 has produced some of the most prolific names in New Zealand sport, music, art, business, politics and beyond.
WATCH: Michael Meredith In Samoa With The Fred Hollows Foundation
In the culinary world, Michael Meredith's name is synonymous with exceptional food.
As the co-founder of Eat My Lunch, an organisation providing meals to pupils in low-decile schools, and consultant chef for Air New Zealand, Michael understands what people want to eat.
That was evident at his fine-dining restaurant Merediths, which was widely respected for its innovative food, and which closed its elegant doors after a decade in 2017.
Early next year, he's preparing to return with a new restaurant in Britomart.
READ: The Champions - Tony Stewart & Michael Meredith
But a recent trip to his homeland of Samoa, where he created a meal to thank medical professionals in Savaii as part of a week-long outreach programme with the foundation, was a sweet reminder of the origins of that passion.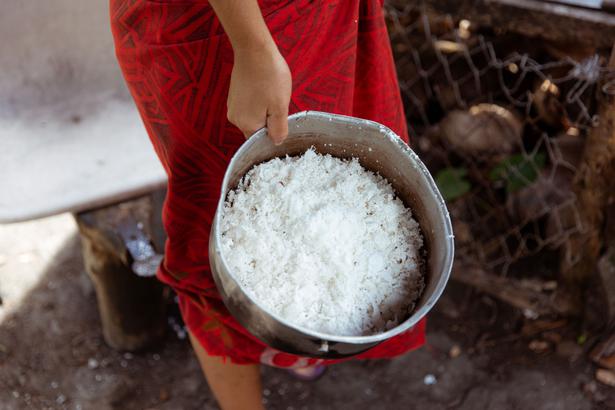 Sharing our personal experiences - my great-grandmother was blind because of diabetes and Michael's aunty had cataracts - it was special to witness first-hand the work the foundation was doing on the ground.
"I grew up in Samoa and my aunt's cataract situation really affected the family structure," says Michael. "We always had to look after her and it changed our family life.
Back then Fred Hollows wasn't around and seeing how a $25 donation can change someone's life, that's meaningful to me.
Michael's first trip to Vanuatu with the foundation in 2018 also involved creating a meal using local ingredients, helping spread the message around healthy eating. Type 2 diabetes is the main cause of blindness in the Pacific.
READ: The Benefits Of Coconuts
"We haven't had a local ophthalmologist in Samoa for a while," explains Dr Lucilla Ah Ching-Sefo, who has been trained by The Fred Hollows Foundation, and is Samoa's only trained ophthalmologist.
"But in recent years, we've been able to start doing surgeries to bring the numbers down.
Some of the teams can only do so much and there are often surplus patients we never get to."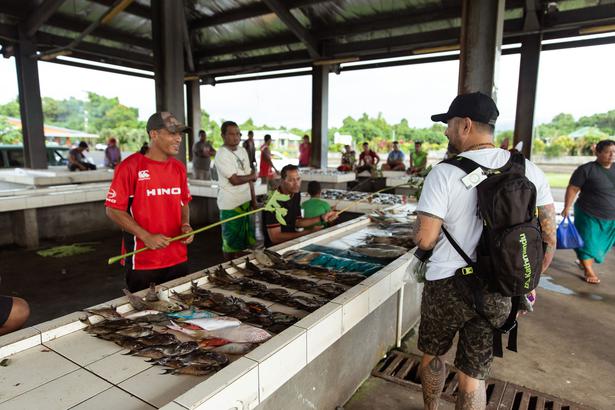 The foundation's medical director, Solomon Island-based Dr John Szetu, was also in Savaii for the week to support Lucilla and the teams. Getting through the week's patients meant long hours and plenty of brainpower.
Michael's special Christmas meal was a welcome respite for the medical team of 12. "Once we prepared the food and set the table, they [the staff] were really surprised," he says.
"It's not usual to have so many dishes in one sitting, so it was great to be able to treat them.
THROWBACK: Why Michael Meredith Is Closing Merediths
Often in Samoa you will find stalls on the side of the road selling produce and we managed to find a big bag of eggplants and coconuts. There was plenty of seafood from the local sea-mart in Salelologa. We ended up with two types of fish, but you need to get there early as it often will sell out by midday."
To accompany the fish, side dishes included wok-fried bok choy, "it grows very well in Samoa", green string beans, pumpkin topped with fresh toasted coconut and spices and a fresh salad made with papaya.
"We grated the papaya into shards and mixed in local tomatoes, freshly grated coconut and some sea grapes, which were in season.
The fish's dipping sauce was another twist on local, with sweet ripe bananas charred on the fire, blended with mayonnaise and soy sauce."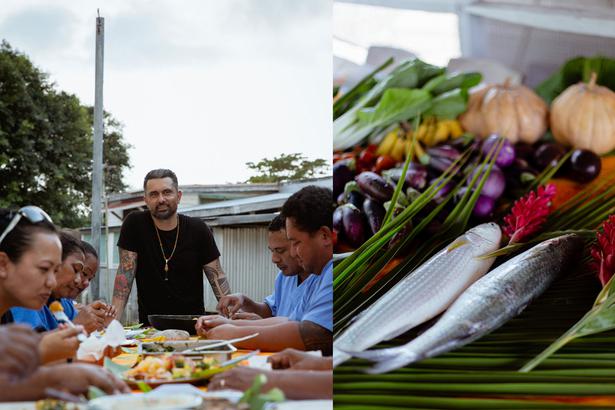 Taking time out of their schedule to enjoy the feast in the hospital garden at tables decorated with fresh flowers, the doctors and nurses are reminded of the limitless potential to find new ways to cook with fresh local produce.
READ: Meet The Team Working Tirelessly To Restore Sight In Samoa
"The lifestyle has changed for Polynesians and there's so much imported food coming into Samoa, some of it unfit for consumption," says Michael.
"This trip shows there's plenty of fresh options available; however, we've come to a point where convenience is overriding responsible cooking."
Wholesome food has also inspired Michael to collaborate with New Zealand yoghurt brand The Collective, as part of its Chefs for Good initiative.
As one of six chefs creating their own flavours, Michael joins a line-up including Al Brown, Sid Sahrawat, Peter Gordon and Josh Emett with his own yoghurt flavour - coconut with passion fruit and a touch of hibiscus.
"It's a great concept, and proceeds of up to $10,000 go towards each of the chef's charity of choice," says Michael, who has chosen Fred Hollows.
"It's my passion to use my knowledge of food and give back where I can. Food has that power to bring people together."
• To give the gift of sight this Christmas and support The Fred Hollows Foundation, donate $35 and receive a special tote bag designed by Viva at Hollows.org.nz/ and Grabone.co.nz
Share this: