Michael Meredith's Air New Zealand Menu
Chef Michael Meredith has created a menu for flying customers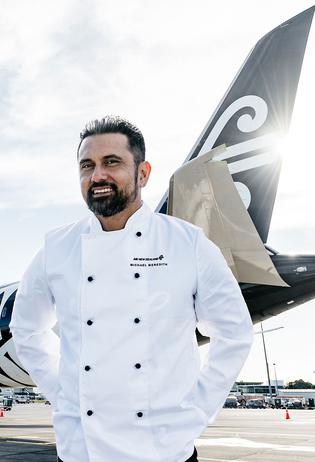 Anyone who has eaten at Meredith's will already know Michael Meredith's food is of another stratosphere. Now the celebrated chef behind such degustation delights as his stunningly pretty smoked duck and beetroot meringue, is adding his name to an even higher accolade, as the new consulting chef for Air New Zealand.
Meredith will work alongside Peter Gordon of The Sugar Club, who has held the position for more than 20 years. Michael's menu will be available to business premier customers from early 2017.
"The food and wine is often the first point of contact for people coming into New Zealand," he says. "So I'm excited and blown away by the opportunity. It's big exposure and expectation."
Michael first worked with Air New Zealand when the airline signed on for Eat My Lunch, the "buy one, give one" initiative that gets him out of bed at 4.30am each day to make sandwiches for Kiwi kids in need.
His high-flying menu, which is still in development, will incorporate elements of his Dominion Rd restaurant's innovative, Pacific-inspired take on cuisine, and emphasise New Zealand's top-quality beef, lamb and seafood. But not everything will make the tray table. Storage, heating and plating must all come into consideration, as there's no cooking done on the plane — and the chef himself won't be there to oversee each dish.
"You've got to be smart about how to get moisture into the food, the right salt content. I'm really big on texture so I'll be making sure to get the textural elements right and ensuring it's well balanced. And, of course, it has to smell and taste delicious."
Share this: