Millennial Pink is Coming For Your Food
Millennial pink continues its Instagram takeover, this time on your plate and in your glass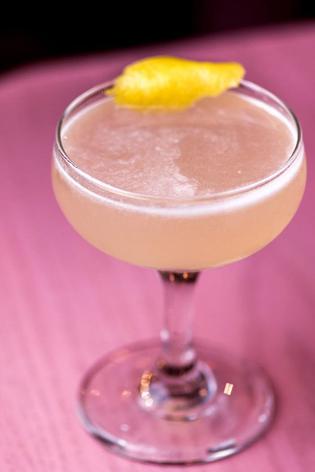 Maybe you'll start your day with a pink smoothie bowl, full of chia seeds and raspberries and other pink fruits. For lunch? A bowl of pink beetroot hummus, maybe garnished with some suddenly everywhere watermelon radish, the perfect shade of fuchsia. Wash it down with a blush-coloured can of La Croix. Dessert? An array of pink macarons. For happy hour, the choices are abundant: pink cans of rosé, pink gin, pink tequila, bottles of wine with such names as Summer Water and Pretty Young Thing, or frozen rosé (frosé).
Food is fashion, and fashion is food, and that's why pink food became gradually, then suddenly, a thing. First, Pantone named Rose Quartz — a muted, dusty pink with the slightest hint of orange — one of its 2016 colours of the year, when it had already been popping up in clothing and accessories. It was more sophisticated than Barbie pink, more cynical than magenta.
Brands like Acne jeans used the colour in their marketing. The colour took on a new name, thanks to the demographic that was most attracted to it: millennial pink. It expanded to include a wider range of shades, from a classic, warmer pink to peachy-beige to salmon.
Pink already had a toehold in the food world well before the Pantone announcement. But one of the real drivers of the trend was the transformation of rosé from a slightly tacky punchline wine to a mark of affordable sophistication, a "lifestyle bevvie" and an expression of female sisterhood. #roséallday! The fact that there is a brand of wine called White Girl Rosé should tell you everything you need to know.
READ: An Open Letter From the Colour Pink
As rosés started to sell swiftly, everyone wanted a piece of the pie. So we ended up with a rosé festival in New York City — La Nuit en Rosé — and rosé everywhere — frosé pops, rosé gummies, and "Slay then Rosé" shirts. The internet went agog over an attractively bottled pink gin (Wolffer Estate Vineyard makes it with rosé). Tequila brand Código 1530's chairman Ron Snyder, the former chief executive of Crocs, says he didn't set out to take advantage of the trend by selling a pink tequila, but when his tequila maker showed him the technique of ageing it in barrels of fine red wine, he realised he had an instant hit.
"Rosés are prob the hottest drink this [northern] summer, so we said, 'This is going to be a very popular tequila for men, women, whomever'," Snyder said. "Everyone's making pink drinks out of it. They add some grapefruit.
"When we get all of our tequilas into a bar or store, you're drawn to the pink."
But it's not just about alcohol. The colour itself came to take on the qualities we associated with rosé — which were, in part, assigned by marketers. Free-spiritedness, casual luxury, youth, popularity: These are all qualities brands would like to associate with their products. They're also inherently Instagrammable: Just look at the more than 13,000 photos with the millennial pink hashtag on Instagram.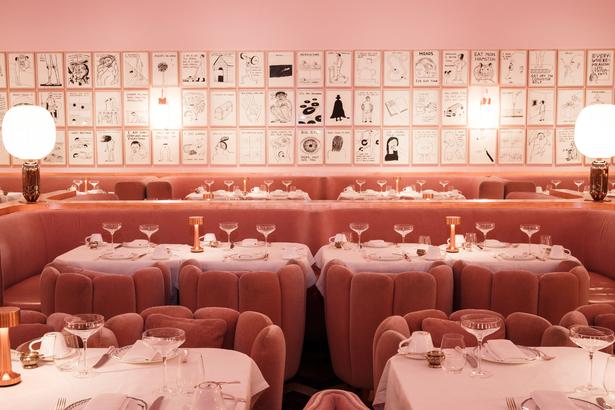 Hence, the all-pink interior of New York restaurant Pietro Nolita, and of the Gallery at Sketch London, New York's Bep Ga and Cafe Henrie. Eater.com points out that New York's Sel Rrose has a pink door, which has inspired people to show up in matching outfits to be photographed for Instagram. According to New York Magazine, the restaurant Dimes had to remove its millennial pink table because too many people were requesting it. In Washington, the restaurant Whaley's has a Rose Garden — just a patio with pink umbrellas and a menu of pink wines — that can command hours-long waits.
So it became obvious, very quickly: Make something pink and make money. You may think you just love pink — and maybe you do! — but also, you're just susceptible to a pervasive marketing trend.
It seems to make food needlessly gendered, too. Many words have been spent explaining that part of the appeal of millennial pink in fashion is that it is androgynous — Drake wears pink sweaters, singer Zayn Malik dyes his hair pink — but that's not how it has played out in the food world. Rosé consumed by men needed its own name, brosé, to give it a harder edge, a distinction that wouldn't be needed if we were truly, as GQ asserts, in an "egalitarian world of gender-fluid beverage consumption". But most pink foods and beverages are unambiguously marketed toward women. Men make only sporadic appearances in La Croix's hyper-feminine Instagram account, which features plenty of flower crowns, millennial pink nail polish and a "La Croix Over Boys" T-shirt.
La Croix's customer base "skews more towards professional women", said a spokesman for the brand, although he said the marketing targets many demographics.
The divide is especially apparent at Pietro Nolita. "We have a few dudes who come to the restaurant, but I think they come with their girlfriends," owner Pietro Quaglia said. "I would love to have more men, but I feel like some men are a little bit insecure about the fact that the place is so pink."
Is all any of this pink stuff as good as it looks? That's in the eye, and taste buds, of the beholder, of course. But pink is here to stay, at least until another colour knocks it off its peppermint-coloured pedestal.
"This is a trend right now, and every trend leaves and there's another trend," Quaglia said. But pink, he believes, is eternal. "This millennial concept, I don't really get it. Yes, it's cool now, but . . . pink has been around longer than that."
What colour will be next? According to industry-watchers, all bets are on purple.
— The Washington Post
Share this: