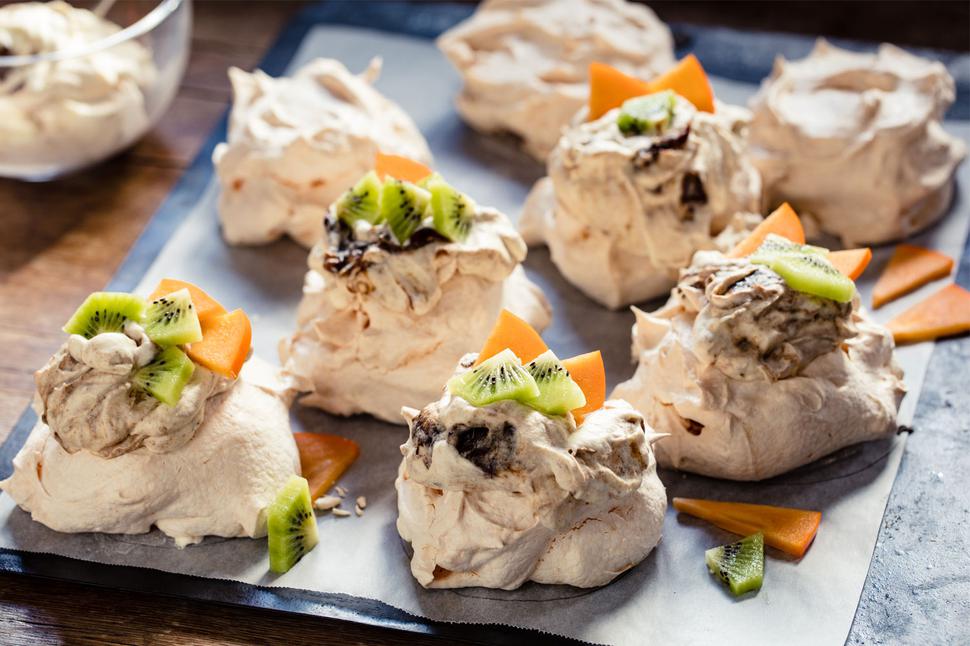 Mini Pavlovas With Date Cream & Fruit
What better way to finish a family meal than with a mouthful of mini pav?
Friday Sept. 14, 2018
For dessert, mini pavlovas are great as you can place them in the oven and forget about them. I've topped them here with date puree folded through lightly whipped cream, a combination I am really enjoying.
MINI PAVLOVAS WITH DATE CREAM & FRUIT RECIPE 
Makes 8
3 egg whites
1 ½ cups sugar
8 fresh dates, stoned and chopped
1/2 tsp cinnamon
1/4 tsp ground ginger
1/4 cup honey
1/4 cup water
200ml cream
Kiwifruit and mango, to decorate
1. Preheat oven to 150C. Line baking tray with paper and draw on 8 x 8cm circles.
2. Beat egg white in a clean bowl until it forms soft peaks. Slowly add the sugar a tablespoon at a time until it has all gone.
3. Spoon mixture on to the circles with a spoon. Place in the oven for 1 hour. Turn off the oven and leave pavlovas in to cool completely — overnight is a good idea.
4. Place the dates, cinnamon, ginger, honey and water in a small pot. Bring to a simmer for 8 minutes, stirring until mushy. Cool completely.
5. When ready to serve (or 30 minutes before) whip cream to soft peaks. Fold through the date puree. Spoon on to the mini pavlovas. Top with fresh fruit.
Share this: