Mini Prawn Tacos Recipe with Chipotle Cream
Try these mini prawn tacos with irresistable Mexican flavours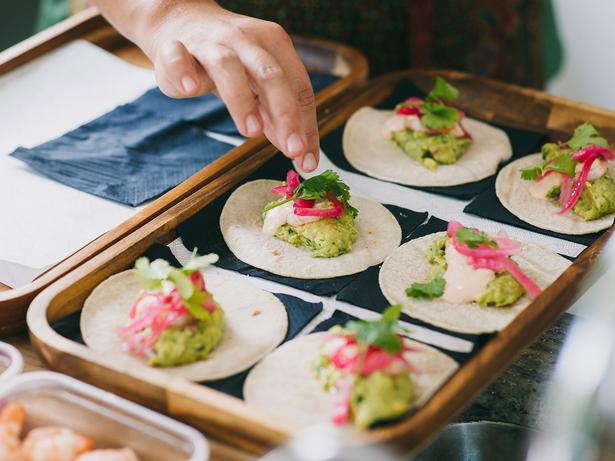 Thursday Feb. 25, 2016
MINI PRAWN TACOS WITH CHIPOTLE CREAM
Makes 12
• 24 frozen prawns, defrosted
• 12 mini corn tortillas
• Juice of one lemon
• 1 red onion, thinly sliced
• 2 tsp of salt
• Juice of two limes
• 2 tsp chipotle in adobo, chillies finely chopped into a paste
• ½ cup of sour cream
• 2 avocados
• A handful coriander, chopped, plus extra for garnish.
1. Poach the prawns in a pot of boiling water mixed with a little lemon juice for 3-5 minutes until cooked through. Drain, toss with a little more lemon juice and allow to cool.
2. To make the pickled onions completely submerge the sliced onion in boiling hot water. Allow to sit for 30 seconds before draining. Toss with salt and the juice of one lime and leave to pickle for about half an hour. Drain off excess liquid before using.
3. Mix together the sour cream and chipotle until combined.
4. Mash the avocados and mix through the chopped coriander, remaining lime juice and a pinch of salt.
5. To assemble, warm your tortillas on a barbecue, stove top, or wrap in tinfoil and leave them in the oven for about 10 minutes.
6. On each tortilla place a spoonful of guacamole, followed by two prawns, a little chipotle cream, and finally some pink onions and a sprig of coriander.
• Recipe by Leisha Jones, honeytrapcatering.com
Share this:
More Food & Drink / Recipes