Mint Pesto Recipe
Fresh and fragrant, this pesto is delicious on bruschetta topped with salmon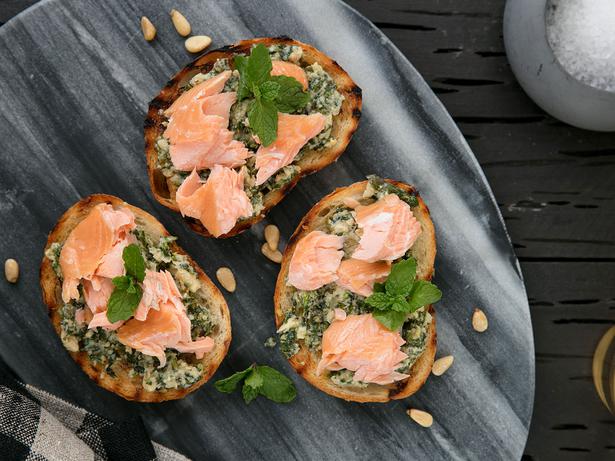 Friday May 12, 2017
Not long ago I was helping my mother weed her garden and the mint was rampant. So, rather than toss it all in the compost, I set it aside to make mint pesto. Fresh, fragrant and versatile serve it alongside lamb, stir through boiled potatoes, add a dollop to a salad or, as I have here, on bruschetta with salmon.
MINT PESTO RECIPE
Makes 1 cup
2 cups mint leaves
½ cup parsley
1 clove garlic, chopped
1 cup grated parmesan
Zest and juice of 1 lemon
½ cup toasted pine nuts
1/3 cup olive oil
Salt and pepper to taste
To serve
Bruschetta
Smoked salmon
Mint leaves
Extra pine nuts
1. Into a food processor place the mint, parsley, garlic, parmesan and lemon. Blitz until finely chopped. Add the pine nuts and olive oil in a slow drizzle until well combined.
2. Season with salt and pepper to taste.
3. Serve on bruschetta with bit of flaked salmon, mint leaves and a sprinkle of pine nuts.
Share this: