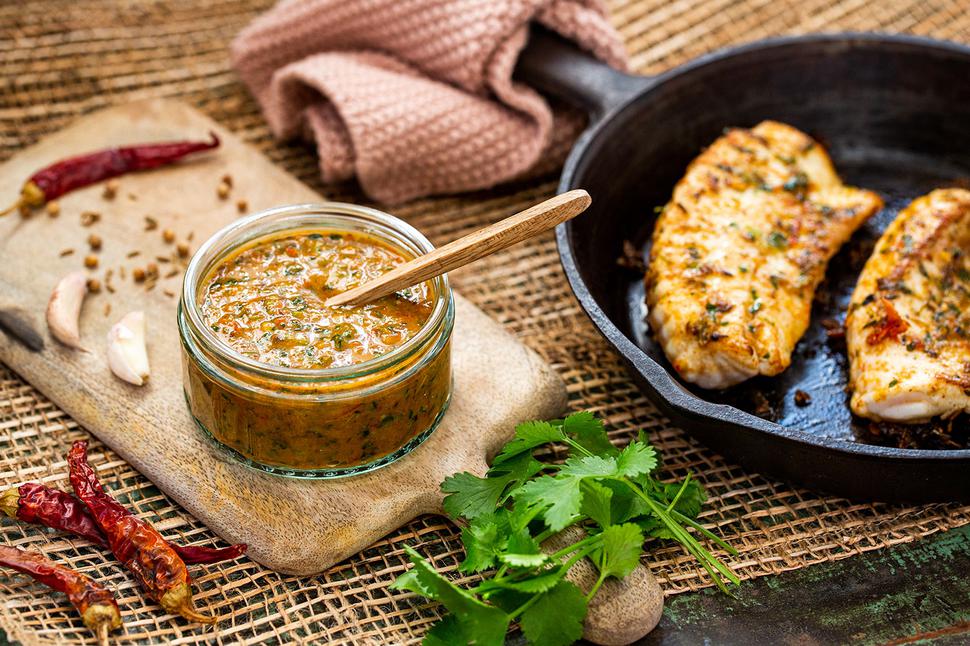 Moroccan Harissa Paste Recipe
Use this paste as a marinade for meat or toss through roast vegetables
Friday July 31, 2020
MOROCCAN HARISSA PASTE
Makes 1 ½ cups
This aromatic paste is addictive, having so many uses. Here, I smothered it on to fresh fish fillets, but it is equally delicious tossed on to roast vegetables and makes a great marinade for meat. If you don't have a mortar and pestle, use the end of a rolling pin to grind the spices.
5 red chillies
2 tsp coriander seeds
2 tsp caraway seed
1 tsp cumin seeds
¼ cup jalapenos
5 cloves garlic, peeled
1 Tbsp brown sugar
½ cup coriander leaves
¼ cup lemon juice
¼ cup olive oil
½ tsp salt
500g fish fillets
Butter to cook
1. Char the chillies either over a gas flame or in a very hot oven until blackened. Peel and discard skin and seeds.
2. Toast the coriander, caraway and cumin seeds in a small frying pan. Grind the seeds to a powder in a mortar and pestle.
3. Place the chillies, ground seeds, jalapenos, garlic, sugar, coriander, lemon juice, oil and salt in a blender, blending to form the paste. Store, refrigerated, in a jar until needed.
4. Smother half a cup of paste on to fish fillets and fry in a little butter until crispy and cooked through.
Share this: