Moroccan Lamb Recipe with Pita and Hummus
Quick chic meals at home don't have to be complicated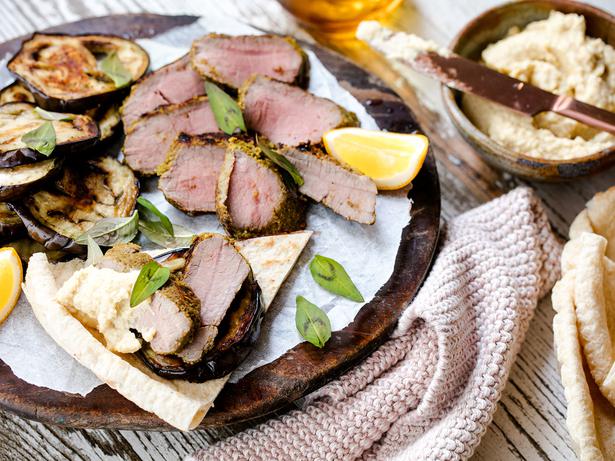 Friday Oct. 21, 2016
Quick chic meals at home don't have to be complicated or made from lists of weird ingredients. In this Moroccan lamb I have used loins, as there is absolutely no waste and no fat, which makes them perfect for quick cooking and slicing straight onto the plate. Aubergines are best well-cooked, and don't skimp on the oil. It is very Mediterranean to have oily aubergine. Making your own hummus is one of the simplest things you can do and it is so handy to keep in the fridge to add to sandwiches or eat with crudites.
MOROCCAN LAMB WITH PITA AND HUMMUS
Serves 4
2 lamb loins
2 Tbsp Moroccan spice
¼ cup oil
1 aubergine, sliced 1cm thick
Salt and freshly ground pepper
To serve — pita bread, hummus, and mint leaves
1. Rub the lamb loins with Moroccan spice and set aside.
2. Heat 2 tablespoons of oil in a frying pan and cook the aubergine for 4 or 5 minutes on both sides until soft and cooked through. You may need a little more oil. Set aside.
3. In the same pan heat 1 tablespoon of oil. Sear lamb on all sides and continue to cook for 5-8 minutes, depending on thickness. Season with salt and pepper. Rest for 5 minutes.
4. To serve, warm the pita bread, top with sliced lamb and aubergines and add a good dollop of your favourite hummus. Garnish with mint leaves.
Share this:
More Food & Drink / Recipes