Viva's Most Popular Recipes of 2017
Try some of our most popular - and tasty - recipes of the year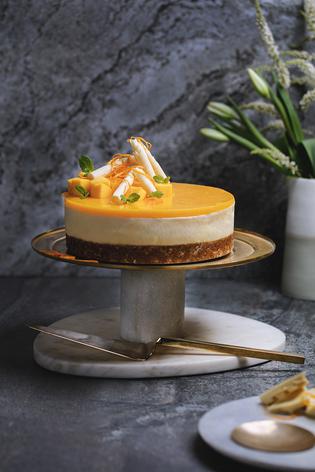 Gluten-Free White Chocolate, Orange and Mango Cheesecake
Velvety with a hint of orange zest, this white chocolate cheesecake is guaranteed to win over your guests or family. Puree mango to put on the top for decoration - if they are not available, fresh or frozen berries will look just as gorgeous.

Chocolate and Rum Cake
Flourless rich chocolate rum cake served with lashings of whipped cream.

Chelsea Winter's Fresh Ginger and Pear Loaf
From Chelsea's book Eat, you can either serve this loaf as is, with butter, or as a dessert warm with ice cream (and a little syrup and orange zest).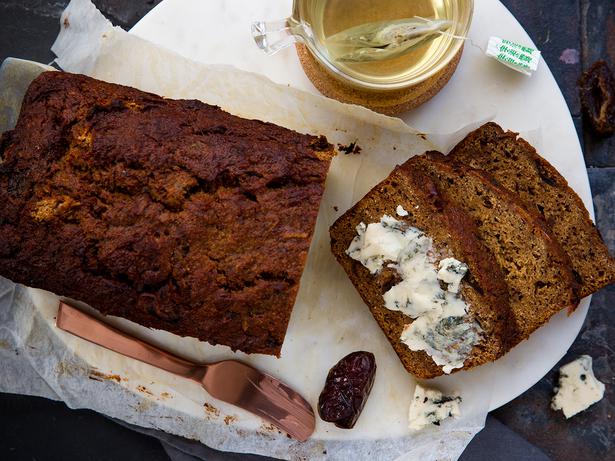 Date loaf. Picture / Babiche Martens

Date Loaf
Delicious sliced and toasted, the blue cheese acts as a spread and is divine, and the hint of fresh ginger is a spicy surprise.


Dr Libby's Six Quick Breakfasts
Dr Libby Weaver shares wholefood recipes that look tasty and are simple to make too — try one of her fast, healthy and nutritious breakfast recipes.


Raspberry Yoghurt Pancakes
Earmark this yummy raspberry yoghurt pancake recipe for a simple breakfast. Everybody needs a perfect recipe for pancakes in their life.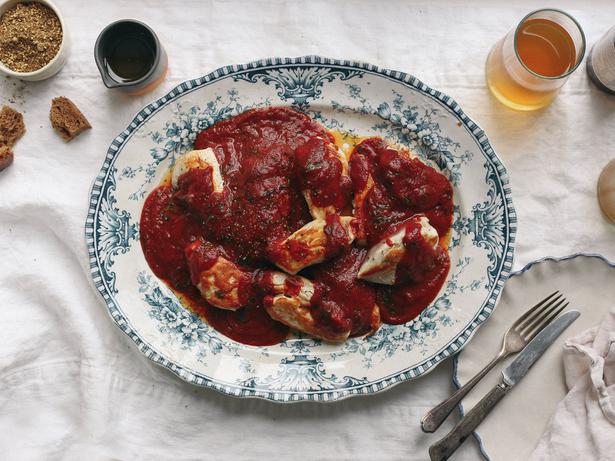 Balsamic and basil sauce. Picture / Eleanor Ozich

Eleanor Ozich's Buttery Balsamic and Basil Sauce
This is one of those sauces where you can taste every ingredient, with each component working together beautifully. It's very straightforward to make, with hardly any pfaffing involved. Season generously, and serve with grilled chicken, fish, chickpeas or your favourite pasta.


Healthier Swedish Meatballs Recipe by Jess' Underground Kitchen
Nothing beats a meatball smothered in a creamy sauce - these are even healthier because they're dairy-free.


Chocolate Mousse Cups
Dense, yet delicate and smooth, it is the perfect way to end a meal - include pomegranate seeds for colour and crunch and don't forget a dollop of cream.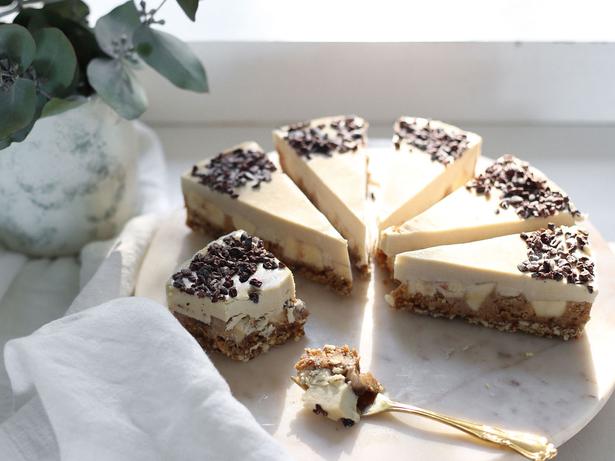 Raw banoffee pie. Picture / Eleanor Ozich

Eleanor Ozich's Raw Banoffee Pie
Full of all things irresistible, it's easy to understand why banoffee pie is such a popular dessert. Eleanor gives it a slightly healthier makeover, but it's so delicious, you'd almost never know. Its nutty-date base is topped with salted almond butter caramel, sliced bananas and a decadently luscious vanilla cream filling. The result is an ultra-lush dessert that I'm sure you'll love.


Salted Chocolate and Buckwheat Slice
You'll be happy to know that this salted chocolate slice is sensationally delicious, as well as healthy. The filling contains the magical ingredient of avocado, creating a sensuously rich ganache that's not overly sweet. There's also no cooking required, just good, pure ingredients.


One-Pan Moroccan Chicken
In an extract from her new cookbook One Pan Roasts, Molly Shuster shares a recipe for Moroccan chicken - a recipe that will simplify your life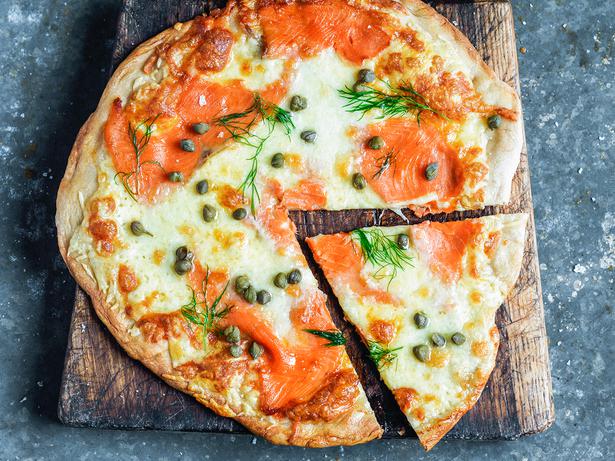 Salmon pizza. Picture / Sarah Tuck

Sarah Tuck's Salmon Pizza for One
No pressure to make your own pizza bases for this if you can't be faffed, thin ones from the supermarket are totally fine!

Homegrown Kitchen's Double Chocolate Raspberry Puddings
New Zealand chef and wholefood expert Nicola Galloway shares a tasty dessert recipe for decadent double chocolate raspberry puddings.

Deceptively Simple Cardamom Chocolate Cake
A chocolate cake with a deeply rich, and pleasing texture.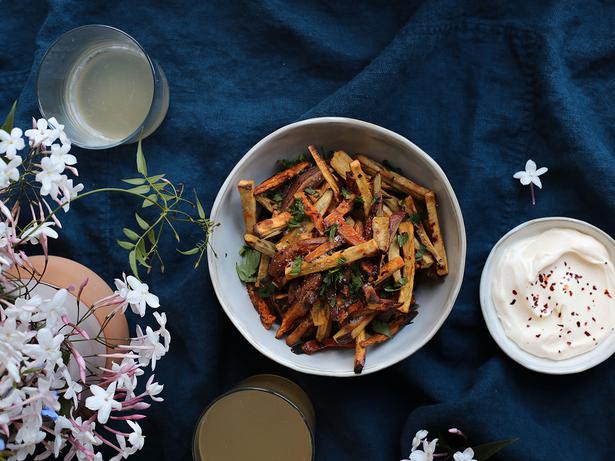 Crisp sweet potato chips. Picture / Eleanor Ozich

Perfectly Crisp Sweet Potato Chips
The perfect sweet potato chip is tricky to master, but these tips will help you make the tastiest, crunchiest chips you've ever eaten.

Cheesy Savoury Scrolls
For a delicious morning tea or snack, these ham and feta scrolls are always a favourite and are best when still slightly warm from the oven. Who, after all, doesn't like the smell of a savoury dough baking?

Zucchini Oat Muffin
Lightly sweetened, flecked with zucchini, and made with healthy oil, whole grain flour and rolled oats, these muffins have a wholesome sensibility and hearty texture that pulls them away from the dessert realm into the daily sustenance category, in a good way.

Banana Cake with Caramel Walnuts
A moist banana cake recipe that will become a favourite in your house. Caramel walnuts add a little decadence and the lemony cream cheese icing is a tried and true icing on any banana cake. Be sure to use very ripe bananas for a sweeter flavour.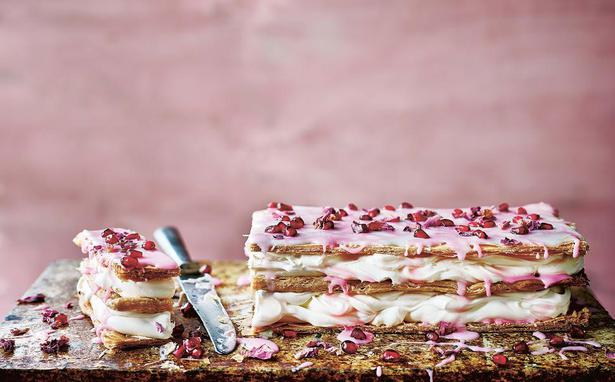 This mille-feuille is a modern take on the classic French custard slice, flavoured with pomegranate and rosewater. Picture / Supplied

Pomegranate & Rosewater Mille-feuille
Moroccans love mille-feuille, the classic French custard slice. This version is slightly more modern, flavoured with pomegranate and rosewater, and made with a mascarpone cream instead of the custard. This really is a stunning centrepiece for an afternoon tea, or swanky dinner party.

Corn and Courgette Fritters
At the height of the season, courgettes are aplenty and at their best flavour-wise. When combined with in-season corn, they make fantastic fritters. Add fresh coriander to the fritter mix for fresh herbaceous flavours.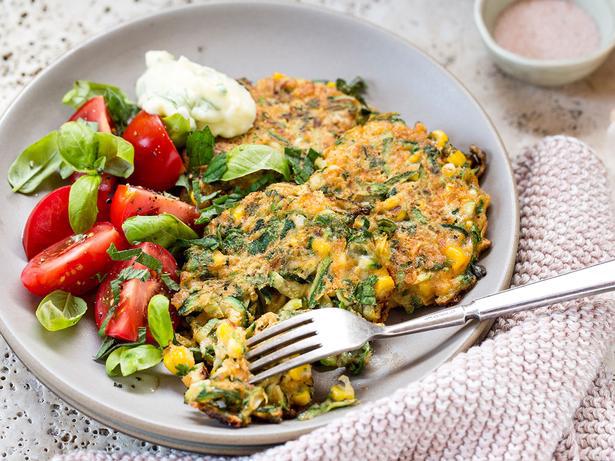 Corn and courgette fritters. Picture / Babiche Martens
Share this:
More Food & Drink / Recipes