All Aboard the Moustache Milk & Cookie Bus
After closing the original shop, Moustache Milk & Cookie Bus has finally hit the road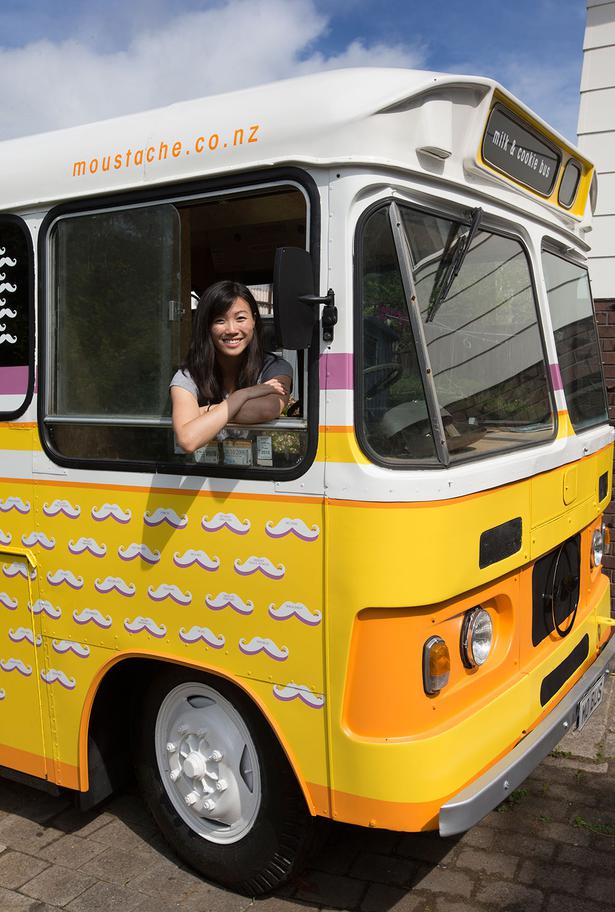 Wednesday Feb. 10, 2016
There's a lot to be said about persistence, and Deanna Yang, founder and owner of Moustache Milk & Cookie Bar, has needed a lot of it.
The highs and lows of the 25-year-old's cookie-creating journey have been well-documented: the successful opening of her inner-city shop three years ago, the forced closure of the shop because of rent hikes, and a crowd-funding campaign that raised more than $90,000 to create an alternative way to sell the delicious snacks.
After finally closing the doors at the original Wellesley St store last month, Deanna this week launches the highly-anticipated Moustache Milk & Cookie Bus, a 1978 school bus that she and brother Justin have repurposed to mix, bake and sell cookies from.
"The whole idea behind Moustache is not necessarily just about the milk and cookies, it's also about the whole experience — that nostalgia of eating milk and cookies when you were a kid," says Deanna.
"There's a full commercial kitchen in the back of the bus pumping out freshly baked cookies, while in the front half, people can pile inside the bus, so it's more of an immersive experience as opposed to standing outside a truck and then leaving."
The new truck still offers the full range of Moustache flavours, including eight staples, one rotating gluten-free flavour and one special edition flavour.
Minnie, as the bus is fondly called, will be parked in Aotea Square from today until Sunday, then for the next three months will be located just outside Sylvia Park. After that, Deanna is looking outside Auckland. "Maybe we'll send her down to the capital? Or to Christchurch? Who knows."
• Visit Facebook.com/moustachenz to see when the Moustache Milk & Cookie Bus will be in your area.
Share this:
More Food & Drink / The Latest