Muesli or Granola - what's the difference?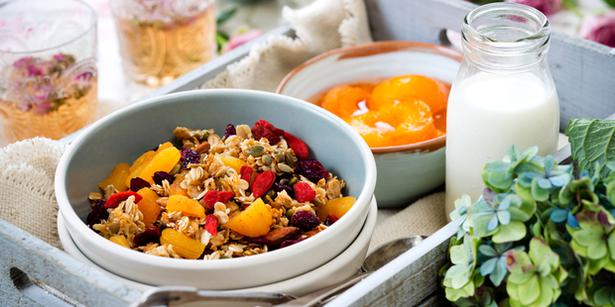 Monday July 7, 2014
Lately, muesli has surpassed its unimaginative breakfast roots and turned fancy.
Rosewater and coconut-infused cafe concoctions are viable egg competitors, and boutique brands and flavours are emerging regularly. But with this growth in popularity comes the slightly disturbing appearance of the word "granola", and the unusual raw version "grawnola".
I've always been under the impression - after months of eating granola at an American summer camp - that it was the American word for "muesli", like jello for jelly or soda instead of soft drink.
Although this is partly true given its origins, a little more research suggests granola usually refers to the baked, sweetened variety and muesli is the natural style made from raw, rolled oats.
Granola, or "granula" as it was named, was developed in 1863 by Dr James Caleb Jackson for a New York health spa. Later in the century, another granula was designed by John Harvey Kellogg of Kellogg's fame. It had to be renamed granola because of obvious trademark issues.
Muesli, similarly invented for health purposes, was designed in the early 20th century by Swiss physician Maximilian Bircher-Benner. His was what we now label a "Bircher muesli", rather than the dry style more often associated with his name.
Here in New Zealand these distinctions have become rather loose, with many packaged mueslis being baked and sweetened. And, with the influx of all things American, and our constant craving for new buzzwords, the names have become somewhat interchangable.
Word vent aside, we must admit we are liking the increasingly gourmet offerings around town.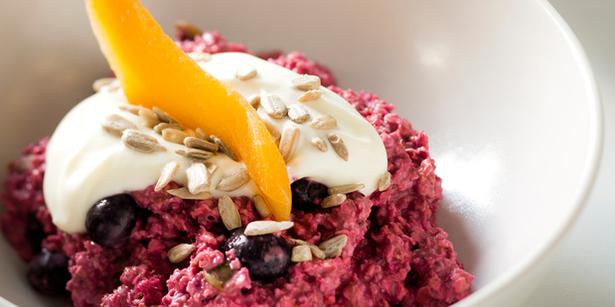 Enjoy the humble breakfast food with these new options:
1. Try one of the more unusual Bircher flavours on offer, like this beetroot option, (pictured right) from Giles Luncheonette.
2. Like the muesli at your local cafe? Clever places like L'oeuf in Mt Albert and The Little Oven Foodstore in Hillsborough are bagging theirs, so you can purchase and take home.
3. Design your own muesli with Muesli and Co or newcomer The Muesli Hub. You can pick and choose from gourmet ingredients, then have it delivered to your door.
4. Muesli without oats? It's actually pretty good. Try Prettydamngoodforyou, a new grain-free, gluten-free and sugar-free option from Angela Merrie, who runs thehealthy-living blog and Instagram of the same name. Stocked at the Simon James Concept Store in Herne Bay.
5. Try uncooked "grawnola" from Little Bird, in awesome flavours like fig and ginger, and macadamia and berries.
6. Try making your own, find Angela Casley's recipe for the muesli pictured at tophere.
Share this:
More Food & Drink / The Latest