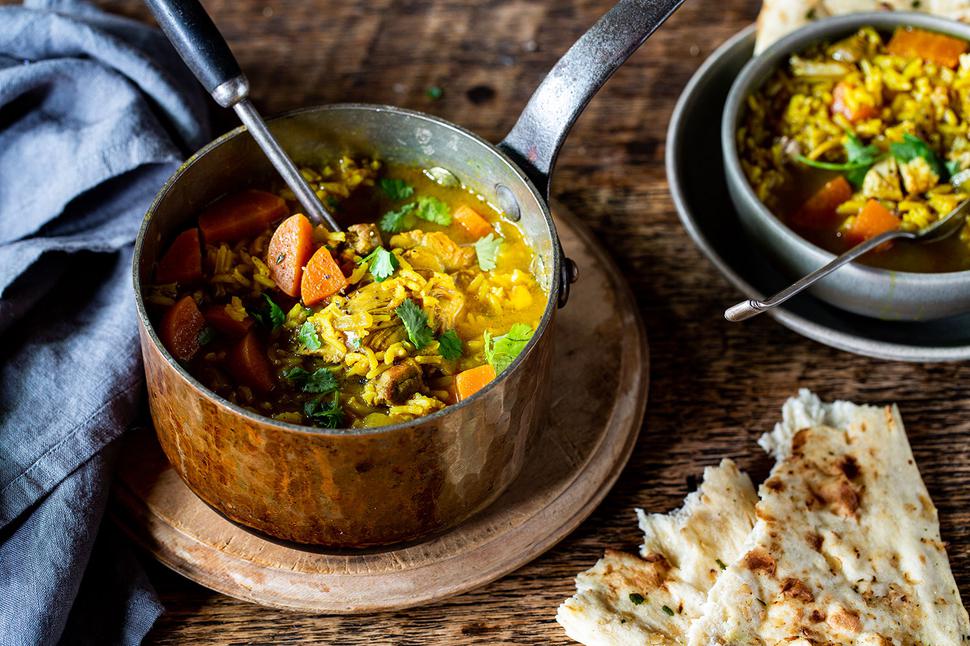 Comforting Mulligatawny Soup Recipe
Heartwarming and full of goodness, this fragrant soup is a comforting meal in one bowl
Thursday Aug. 20, 2020
Heartwarming and full of goodness, this soup is a comforting meal in one bowl. Leaving the bones on the chicken thighs adds to the flavour. Add some chopped spring vegetables to change it up or make it go a little further.
MULLIGATAWNY SOUP
Serves 4
2 Tbsp olive oil
1 onion, chopped
2 cloves garlic, crushed
2 carrots, chopped
1 Tbsp curry powder
3 cups chicken stock
4 chicken thighs, bones in
1 cup basmati rice
Salt and pepper to taste
½ cup chopped Italian parsley
Warm pita pockets
1. Warm the oil in a large pot. Add the onion, garlic and carrots, cooking for 10 minutes to lightly brown and soften. Stir through the curry powder for 1 minute, then add the stock and chicken thighs, bringing to a simmer for 10 minutes.
2. Stir through the rice, simmering for a further 12 minutes until cooked through. Season with salt and freshly ground pepper. Stir through the parsley and serve hot with warmed pita pockets.
Share this: