Sweet Muscovado Roasted Leek and Potato Soup Recipe
Each Thursday Eleanor Ozich of Petite Kitchen will share her thoughts on healthy eating, with recipes and more.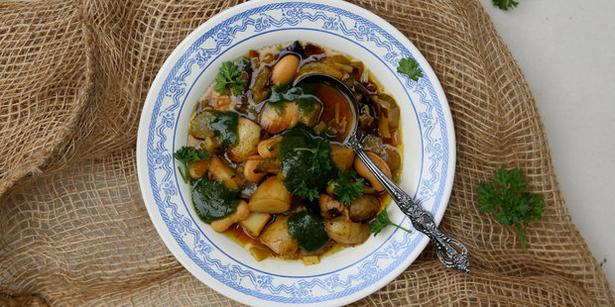 Thursday March 20, 2014
With autumn well and truly upon us, our bodies are starting to crave comforting fare, nourishing meals that make us feel as though we are ready to battle the crisp, cold days ahead. This last week, in particular, I have been feeling naturally inclined to prepare simple, wholesome and warming meals that warm from the inside out.
This nostalgic version of the classic leek and potato soup fits the bill perfectly. To add a tremendous depth of flavour, I roasted the leeks and potato along with plenty of garlic, thyme and a sprinkle of muscovado sugar to caramelise.
To serve, I topped the soup with a dollop or two of the most fantastic pistachio herb pesto. I feel the dish is perfect as it is without any need for bread - it is hearty enough.
SWEET MUSCOVADO ROASTED LEEK & POTATO SOUP WITH PISTACHIO HERB PESTO
Serves 4
Soup
• 2 leeks, sliced lengthwise then roughly chopped
• 4-5 large potatoes, washed and cubed
• 1 bulb of garlic, skins removed and roughly chopped
• Large glug of extra virgin olive oil
• 3 Tbsp muscovado sugar, or honey
• Large handful of thyme and sage, roughly chopped
• 4 cups good quality chicken or vegetable stock
• Sea salt
• Pepper
Herb pesto
• Large handful of parsley
• ¼ cup pistachios
• ½ cup extra virgin olive oil
• Juice of half a lemon
• Sea salt
• Pepper
1. Preheat oven to 180 C.
2. Place prepared leeks, potatoes and garlic in a large roasting tray. Drizzle generously with olive oil, and then scatter muscovado sugar and herbs on top.
3. Roast in oven for 45 minutes or until the potatoes are cooked through, crispy and slightly caramelised.
4. Transfer vegetables to a large casserole or soup pot, and add stock. Bring to a soft boil, and simmer on low for 10 minutes. Season to taste, then leave to cool slightly.
5. To prepare pesto oil, add all ingredients in to a blender or food processor. Blend until smooth, and then season to taste.
6. To serve, ladle soup into bowls, and top with a dollop or two of the pesto oil.
*Gluten free
*Dairy free
*Vegetarian
Share this: