Mushroom Tarts Recipe with Poached Eggs
If you've got an egg in the house, you've got a meal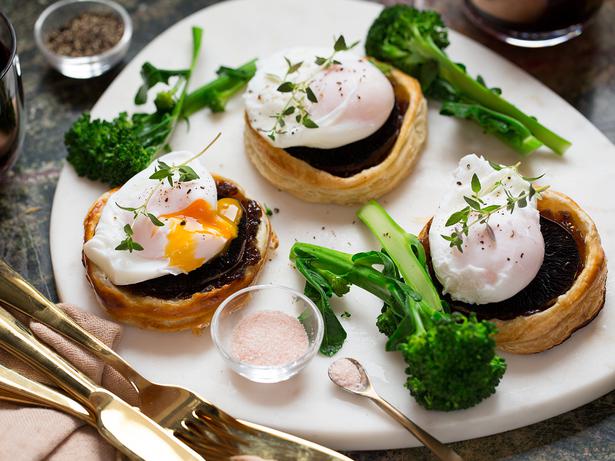 Friday Sept. 1, 2017
Top anything with a poached egg and it becomes a simple meal. These mushroom tarts are no exception. Light and crisp flaky pastry forms the base for these sweet and savoury treats of onion jam (use a bought option for convenience) and mushrooms.
MUSHROOM TARTS RECIPE WITH POACHED EGGS
Makes 6
6 x 10cm rounds puff pastry
¾ cup onion jam
6 portobello mushrooms, peeled
¼ cup thyme leaves
Salt and pepper
6 eggs for poaching
3 stems broccolini
1. Preheat an oven to 200C. Line a baking tray with paper.
2. Place the pastry rounds on to the baking tray.
3. Spread 1½ tsp onion jam on to each pastry round leaving a 1cm border. Top the jam with a mushroom. Sprinkle with thyme leaves, season with salt and pepper. Bake in the oven for 20 minutes until the edges of the pastry and puffed and golden.
4. When the tarts are removed from the oven poach the eggs and cook the broccolini.
5. Place an egg on the top of each mushroom, season and serve with a side of broccolini.
Share this: