Mushroom Tarts Recipe
Try this recipe for quick-to-prepare mushroom tarts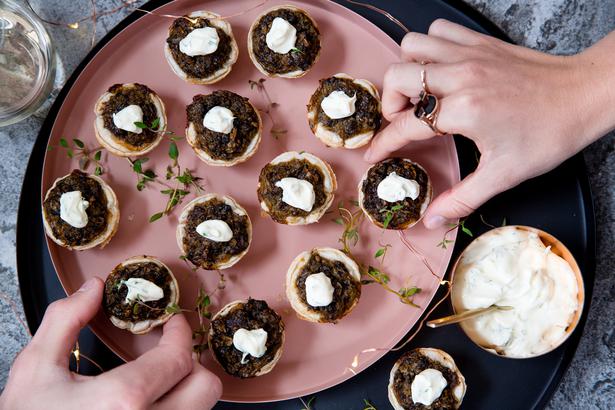 Friday Nov. 4, 2016
There are few things I enjoy more than these quick-to-prepare mushroom tarts. I have been making them for years, and they always impress. Serve warm with a small dollop of sour cream on top. You can also make this recipe into a large pie to serve with a salad for lunch or take on a picnic.
Mushroom Tarts
Makes 20
400g flat mushrooms
2 cloves garlic, crushed
1 Tbsp olive oil
2 egg yolks
½ tsp Dijon mustard
2 Tbsp sour cream
1 Tbsp chopped fresh dill
½ tsp salt
freshly ground pepper
2 sheets ready rolled puff pastry
2 Tbsp sour cream mixed
with 1 tsp chopped dill, to serve
1. Preheat oven to 180C. Line an oven tray with baking paper.

2. Slice mushrooms, place on the tray and sprinkle with garlic and oil. Toss to combine and bake for 20 minutes until softened. Remove and cool.

3. Place the mushrooms, eggs, mustard, sour cream, dill, salt and pepper in a food processor. Whizz until finely chopped and well combined.
4. Grease 18 holes in two mini muffin trays. Cut 18 x 5cm circles from the pastry sheets and press into the tins. Fill with the mushroom mixture. Bake for 15 minutes until the pastry is crispy and golden. Remove from the oven and leave for two minutes then lift the tarts carefully from the tins.
5. Serve warm with a small dollop of dill sour cream.
Share this:
More Food & Drink / Recipes