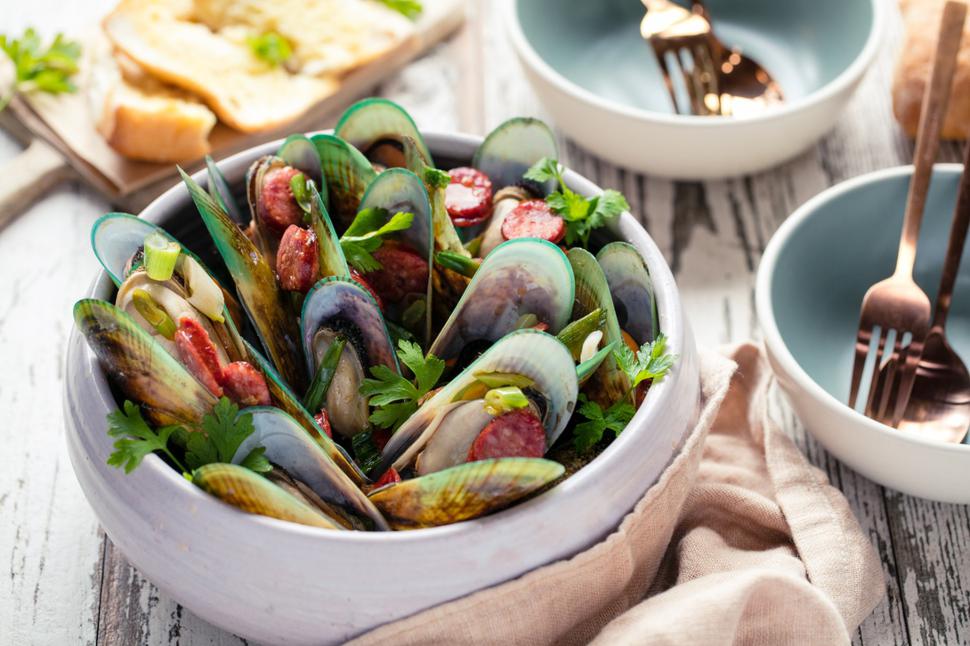 Mussel Bowls With Chorizo, Garlic & White Wine Recipe
An impressive pot of mussels fried with some spicy chorizo and spring onion for extra flavour
Friday May 29, 2020
Mussels are always impressive. You can buy them fresh from the supermarket and they take little effort to prepare. In this recipe, I have fried some spicy chorizo with spring onion to add extra flavour. Don't forget to use all the juice from the pan.
MUSSEL BOWLS WITH CHORIZO, GARLIC & WHITE WINE
Serves 2
INGREDIENTS:
½ cup wine
2 cloves garlic
18 mussels, washed
2 Tbsp olive oil
1 chorizo, sliced
1 spring onion, chopped
½ cup Italian parsley
METHOD:
1. Place the wine and garlic in a pot and bring to a simmer. Add the mussels, place the lid on and steam until they are all open. A good shake is advisable halfway for even cooking. Drain, reserving the juice.
2. Heat the oil in a frying pan. Cook the chorizo until crispy, then toss through the spring onion to soften. Add¼cup Italian parsley.
3. Serve the mussels in bowls with chorizo sprinkled over, along with the oil from the pan and a little of the reserved juices. Garnish with extra parsley.
4. Serve hot with some warm, crusty bread.
Share this:
More Food & Drink / Recipes