Mussel Soup Recipe
Try this warming mussel soup with a piece of chewy sourdough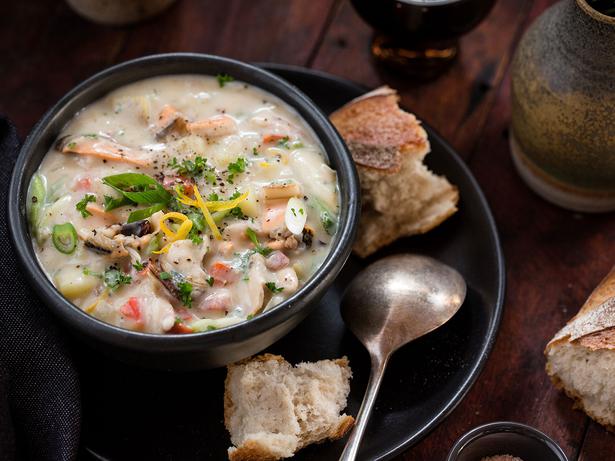 Friday June 9, 2017
A piece of chewy sourdough alongside this mussel chowder makes it a meal on its own. If you add the mussels to the broth too early they will become tough, so remember that it's a last-minute job. If you are reheating this soup, bring it to the boil then turn it off, season to your liking and enjoy.
MUSSEL SOUP
Serves 4
2cm water
25 mussels, scrubbed
20g butter
1 onion, diced
2 cloves garlic
3 rashers bacon, chopped finely
1 red pepper, diced
2 potatoes, diced
2 Tbsp flour
1½ cup milk
1 cup liquid from cooking mussels
Salt and pepper to taste
2 spring onions, sliced
¼ cup chopped parsley, plus extra to garnish
1. Place 2cm water into a large pot and bring to a simmer. Add the mussels and cover. Cook for 5 minutes or until they are open. Remove from the heat and drain, reserving the liquid. Remove the mussels from the shells, then discard the shells.
2. Melt the butter in a medium-sized pot. Add the onion and garlic, cooking for 4 minutes to soften. Add the bacon, red pepper and potatoes and cook for 5 minutes until the bacon is done.
3. Add the flour and stir to cook for 1 minute. Pour in the milk and 1 cup of liquid from the mussels. Bring to a simmer and allow to thicken slightly. Season with salt and pepper.
4. Just before serving bring the soup to the simmer, add the mussels, roughly chopped, spring onion and parsley.
5. Serve hot in bowls with a side of bread.
Share this: