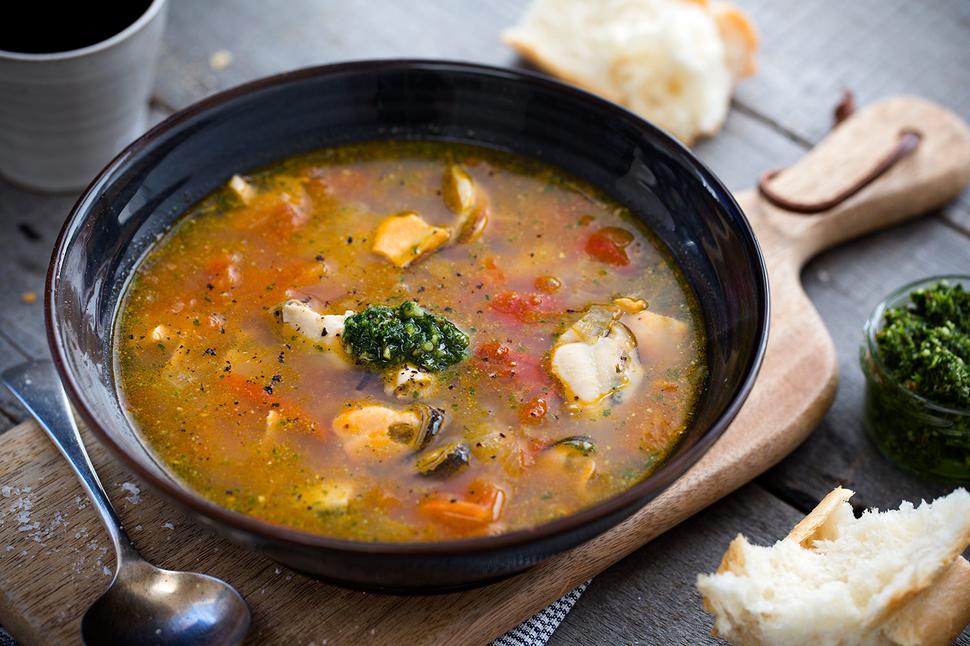 Quick Mussel Soup Recipe
For a quick and light meal try Angela Casley's mussel soup
Wednesday June 10, 2015
QUICK MUSSEL SOUP
Serves 4
Parsley Pesto
• 1 cup chopped parsley
• Zest and juice of 1 lemon
• 1 clove crushed garlic
• ¼ cup olive oil
• Salt and pepper, to taste
Soup
• 2 Tbsp olive oil
• 1 onion, chopped
• 2 cloves garlic
• 6 chopped fresh tomatoes
• 1 cup wine
• 20 mussels in their shells
• Bread to serve
1. First, make pesto. Place parsley, lemon, garlic and oil in a blender and whizz until mixed. Season with salt and pepper.
2. In a large pot heat oil. Fry onion and garlic for 2 or 3 minutes to soften but not brown. Add tomatoes and wine. Simmer for 8 minutes to completely soften tomatoes.
3. In a separate large pot, cover mussels with ½ cup water and bring to boil. Steam mussels until they have all opened. Strain through a colander, reserving liquid. Re-strain liquid through a sieve to ensure there is no grit. Remove mussels from shells and chop roughly, reserving a couple for garnish.
4. Add the strained liquid to tomatoes, bring back to a boil, add mussels and heat through.
5. Serve with crusty bread and a dollop of parsley pesto.
Share this:
More Food & Drink / Quick & Easy Meals