Mussels with Rosemary, Lavender and Lime Recipe
Flex your mussels with this recipe from Erin French's cookbook, The Lost Kitchen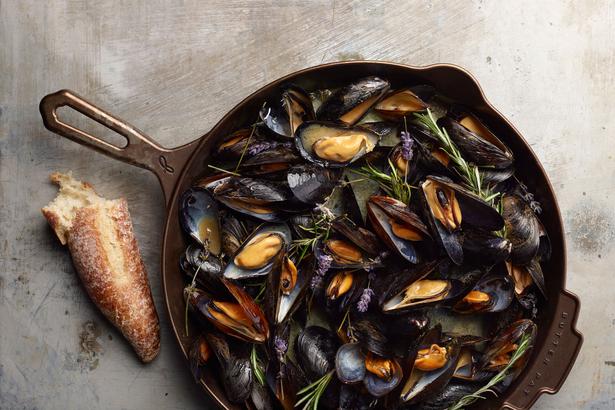 Monday Oct. 9, 2017
A reservation for Erin French's 40-seat restaurant in the US state of Maine is harder to snag than the attention of a waiter in the weeds, but you can make the chef's simple and sexy mussels at home. The recipe is from her first cookbook, released in May, called The Lost Kitchen: Recipes and a Good Life Found in Freedom, Maine.
Yeah, they're sexy. Just five ingredients, two of which combine forces to release a seductive and heady aroma. The high heat of an uncovered pan opens the bivalves' shells, and a toss of sizzling butter and lime juice coats the juicy, almost roasty-tasting mussel meat. Erin suggests sharing them straight out of the pan.
SKILLET MUSSELS WITH ROSEMARY, LAVENDER AND LIME RECIPE
Serves 2
Choose a variety of culinary lavender that has complex floral notes — find fresh at farmers' markets or plant nurseries, or order dried lavender (on the stem, for easy removal) online. Make sure you have some crusty bread for sopping up the pan juices.
Ingredients
1kg mussels, impeccably fresh and debearded*
4 sprigs fresh rosemary
1 small handful fresh lavender
6 Tbsp salted butter, cut into ½-inch cubes
2 limes, each cut in half
1. Heat a large, dry cast-iron skillet over high heat. Once it's quite hot, add the mussels, spreading them in a single layer. Scatter the rosemary and lavender over the mussels. Cook, undisturbed and uncovered, for 1½  to 2 minutes, until the mussels' shells begin to open.
2. Toss the cubes of the butter around the pan; as soon as you hear them sizzling and see them foaming, shake the pan to distribute the melted butter. Continue to cook for 1 to 2 minutes, moving the pan, until the mussels have fully opened. Remove from the heat.
3. Squeeze the juice from the lime halves over the mussels. Serve right away, in the skillet, discarding any that have not opened.
* The mussels you buy should be glistening. Immerse them in a bowl of water and ice cubes for 30 minutes before you cook them; lift them out of the water to avoid reintroducing any grit. If you're not going to cook them right away, rinse them in very cold water and refrigerate in a loosely covered bowl. Chilled mussels should be shut tightly; if any of them are not, or have broken or cracked shells, discard them.
— The Washington Post.
Share this: