Why You Shouldn't Obsess Over Food
Internationally acclaimed chef and blogger Emma Galloway talks about why people shouldn't fear food
Thursday Feb. 11, 2016
Emma Galloway is relishing a rare week offline. The hugely popular food blogger (her internationally acclaimed mydarlinglemonthyme.com has received such accolades as Saveur magazine's 'readers choice' award and column inches on Oprah.com) has just relocated to her hometown of Raglan after five years living in Perth and it's taking a while for the internet to be connected.
"It's nice that it's coincided with the school holidays", Emma says laughing. Anyone who reads her blog knows that the mother of two (children Ada and Kye are nine and a half and eight years old) has a dogged determination to balance it alongside family. She often pulls back when the workload gets too much, as is often the case with the online world and its constant crave for content and social media accompaniment. "I try not to obsess over it," she says. "It's really easy to get crazed watching the numbers go up but to be honest I just don't care".
Emma has watched friends work "really hard" to increase their traffic and notes, "when I find myself getting caught up in all that I just have to remind myself why I started. It wasn't to have heaps of followers on Instagram and it wasn't to have companies throw stuff at me".
Emma grew up in Raglan in a vegetarian household where the majority of produce came from the garden. Obsessed with food from a young age she worked in a cafe kitchen while still at school and completed chef training once finished. After working as a chef for eight years she left the profession to focus on her two children, who at around the same time were diagnosed with gluten and dairy intolerances.
Trialling and researching new family friendly recipes led Emma to borrow Heidi Swanson's book from the Raglan public library ("she's my hero"). Through that she discovered her blog, 101 Cookbooks, which led her towards a handful of other blogs. All these ingredients added up to an inevitable main course dish — the launch of My Darling Lemon Thyme in 2009.
As Emma puts it, back then food blogs weren't common. When she first started "naively" she thought she was the only food blogger in NZ. "And I had to explain to my friends what it was. No one understood." Soon after, Emma and her young family moved to Perth where she was welcomed into the Australian wholefoods fraternity.
Ask Emma about the current "trend" towards Instagram click-friendly food and the subsequent plethora of "wholefoods" and "wellness" food bloggers currently surfing the ether and she looks visibly exasperated. "I don't agree with a lot of what's out there and being pushed in the wellness and real food industries," she admits. "But I just try and stay focussed on what I'm doing."
She points out that her message hasn't changed since it was instilled in her by her parents during childhood, and that message stays true throughout her blog. "Eat real food", she emphasises. "Avoid the overly processed ones, don't obsess over everything you eat, enjoy eating with those you love, eat for your body, grow your own vegetables and move often."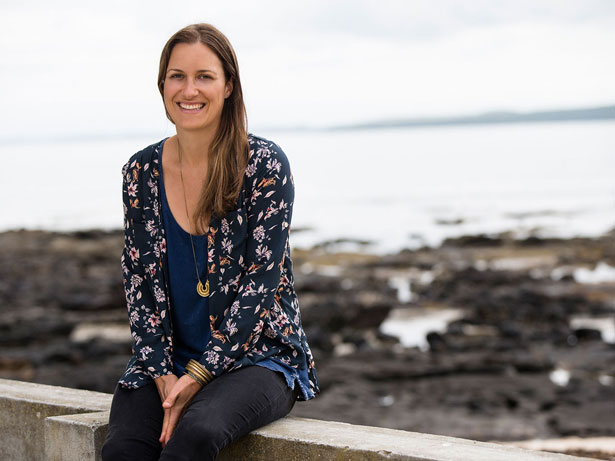 Emma Galloway of My Darling Lemon Thyme. Picture / Guy Coombes.
And with this message she dismisses much of what you find online from the newer wave of bloggers coming through. "I have a friend in Australia who's a nutritionist and she has a large number of people coming to her clinic who are just terrified of food."
Emma believes that rather than creating healthy people who are well-balanced in their approach to food, it's got to the extreme where people are feeling guilty if they have a piece of cake. "While I don't think you should eat like that every day I wouldn't turn it down if someone's made it lovingly for me. It's just horrible," she grimaces. "No young girl should have to obsess in that way over food. As if being a teenage girl isn't hard enough."
The dissemination of information remains a large problem, as Emma agrees. "The knowledge needs to come with it as well, I think that's the bit that's struggling a lot of the time." She cites as an example the current craze for kombucha and certain "gorgeous and healthy-looking" bloggers declaring it should be guzzled by the litre. "Kombucha doesn't agree with everyone," she points out. "Most people shouldn't drink in excess of 100ml a day and I would never give it to my children."
Emma says she would love to speak to the first wave of food bloggers (she considers herself second wave) to see how they feel about these rapid changes to their industry, where plagiarism of recipes and photos along with undeclared advertising are rife. Her approaches are staunch and old-school. She has largely chosen not to monetise her blog.
"I do sponsored posts occasionally. But I'm super-picky about who I will work with and how I will do it. It's taken many years for me to feel comfortable doing them." She admits that when she was first approached, a couple of years back, "I was so flattered and thought, wow this is a nice way to get paid for the amount of work I do. And then it got to the point where I thought, actually, I just look like one big walking advertisment — for other people."
This led Emma to the reminder that her Instagram feed and blog are to promote her own work and to educate and encourage people in her own particular philosophy. "So I'm very careful about who I partner with and, in fact, I can't actually remember the last time I did it."
One way Emma can make a living from her blog is through booksales. Her first book, My Darling Lemon Thyme: Recipes From My Real Food Kitchen, was a best-seller in NZ and Australia, and was recently released in the United States, her biggest market. Her second book is out through HarperCollins in April.
Emma is loving embracing the laid-back Kiwi lifestyle and enjoying watching her kids grow up on the same land she did. She plans to run cooking classes later in the year and enjoy life in her hometown to grow her New Zealand readership. After all, we're so much savvier in the world of food blogs since the last time she was here.
Share this: