Nasi Goreng Recipe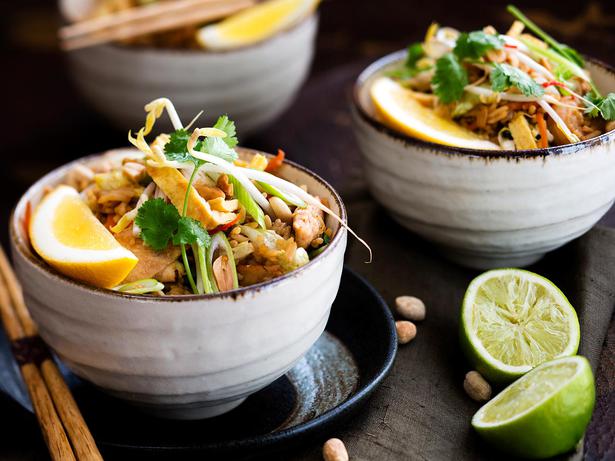 Tuesday June 24, 2014
NASI GORENG
Serves 4
4 eggs + 1 tsp soy sauce, whisked together
2 Tbsp peanut oil
2 Tbsp sunflower oil
1 onion, chopped finely
1 stick celery, sliced thinly
2 cloves garlic, sliced thinly
1 carrot, cut into thin sticks
1 red chilli, chopped finely
1 tsp curry powder
1 tsp shrimp paste
200g chicken breast, sliced thinly
200g raw prawns
2 Tbsp sweet soy sauce
2 Tbsp soy sauce
2 Tbsp water
2 cups rice, cooked and cooled
2 cups shredded chinese cabbage
1 spring onion, sliced thinly
1 cup bean sprouts
¼ cup chopped roasted peanuts
Coriander, to garnish
½ cup pineapple pieces (optional)
1. Heat 1 Tbsp of peanut oil in a frying pan. Add whisked eggs and cook on one side, flip and cook on other side. Slide on to a plate and roll like a pancake. Set aside.
2. Heat remaining oils in a large frying pan or wok. Add onion, celery, garlic and carrot and cook until softened and lightly browned.
Add chilli, curry powder and shrimp paste and cook for 2-3 minutes.
3. Push vegetables to one side and toss in chicken and prawns. Cook until cooked through - about 4 minutes. You may need a little extra oil.
4. Combine soy sauces and water and pour into the pan. Toss everything together.
5. Add cabbage and pineapples if using and cook until wilted. Slice omelette into rounds and add to heat through.
6. Serve immediately topped with spring onions, bean sprouts and peanuts.
Share this:
More Food & Drink / Recipes