SPONSORED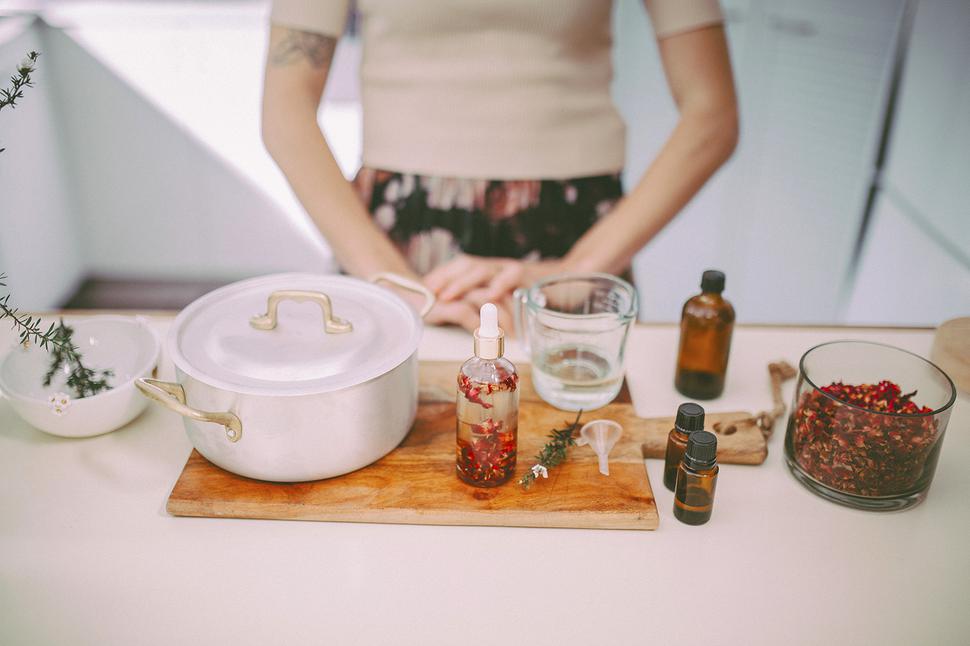 Natures Tonic: Self-Care With Ti Ora Tea
Carve out a moment for serenity with this botanical recipe by Eleanor Ozich and Ti Ora
Wednesday Aug. 5, 2020
Award-winning cookbook author

Eleanor

Ozich shows you how to make a Manuka infused body oil. Watch the

 

second

 

recipe in the Ti Ora video series.
Small, sharp-tipped green leaves, masses of white and blush-pink flowers, and an earthy, citrus-meets-juniper fragrance – mānuka is so distinctive to New Zealand. It grows across the country providing shade and shelter for slower-growing native plants. Its iconic appearance and nostalgic scent are the backdrop to many New Zealanders' memories of summer holidays spent in nature, camping trips and long walks in the bush.
Ti Ora, a nature-loving tea brand from Aotearoa, and Eleanor Ozich, a bestselling author, photographer and long-time Viva contributor had mānuka's special traits in mind when they came together to create a series of recipes using New Zealand native botanicals.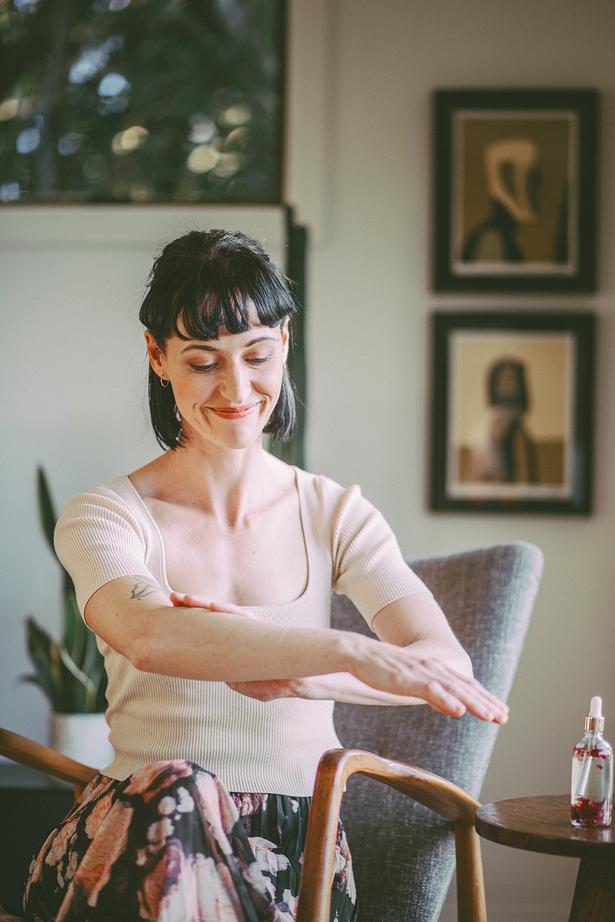 Mānuka and lavender infused body oil, see recipe right, is one of three botanical recipes created by Eleanor and Ti Ora aimed at inspiring mindful moments and a chance to reconnect with nature. Each recipe contains a New Zealand native – mānuka, horopito and kawakawa, which are also found in Ti Ora's range of tea blends. Mānuka was used extensively by Māori and later early European settlers for its various herbal remedy functions, which continues today. Mānuka is a prolific pollen and nectar producer, beloved by bees which produce highly valued mānuka honey. It's also delicious in leaf form in tea blends.
Captain Cook gave mānuka the name "tea tree" and wrote, "The leaves were used by many of us as a tea which has a very agreeable bitter taste and flavour". For this botanical recipe, Eleanor enlists fresh mānuka to make nourishing and aromatic body oil. "I love making my own homemade body oil," she says. "It's so simple to make, you won't believe how easy it is."
Combining the beautiful aromas of ylang ylang essential oil and lavender with mānuka-infused almond oil "smells absolutely incredible", she says. The almond oil is steeped in a sprig of mānuka for eight hours, allowing the ingredients to gently infuse. "Almond oil is so soft and gentle," says Eleanor, "and mānuka has been known to help the skin appear rejuvenated. It feels so luxurious and beautiful on the skin."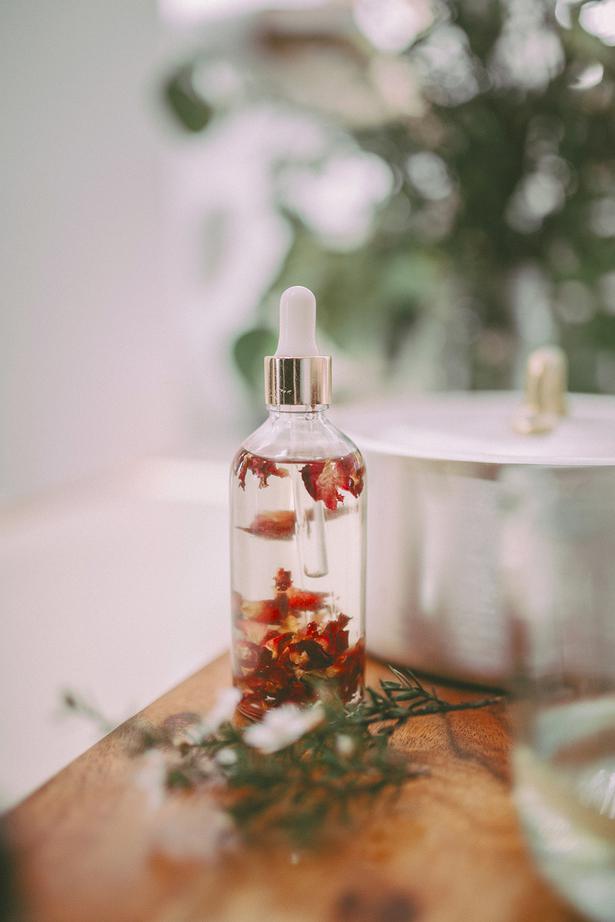 Eleanor's unique approach to cooking, writing and photography has gained her many fans since she started her blog almost a decade ago. She favours simple, natural, whole foods to create nourishing recipes for the body and mind. A self-taught cook, Eleanor and her family live in a beach house in Piha, west Auckland, surrounded by native bush. She has written three cookbooks, including My Petite Kitchen and My Family Table and her most recent book Homemade, which won the NZ Booklovers Award for Best Lifestyle Book 2020.
In it she shares clever, eco-conscious recipes that are easy to make at home. Ti Ora means 'tea of wellbeing', and encourages mindful moments by crafting teas that taste good, smell delicious, and look beautiful. For Eleanor, drinking tea is a ritual that grounds her whole day. "My ideal mindful moment is sitting and enjoying a cup of tea. There's a chair in the lounge right next to a full window and when the sun is shining in there in the afternoon it's my favourite spot to sit and have a moment to myself." When it comes to mānuka's use in tea, its relatively strong, distinctive flavour means care needs to be taken with the amount included in tea blends.
It is particularly suited to blending with black teas and complements fruit teas well, especially those with a more intense flavour profile. Ti Ora uses New Zealand mānuka in its Summer Fruits and Forest Fruits blends, and its Camomile, Lemon & Honey. The latter is Eleanor's favourite Ti Ora blend, "It has a beautiful hint of mānuka in there". Just like brewing a beautiful cup of tea, creating this nourishing oil is a way to slow down and focus on self-care, which is what Ti Ora and Eleanor aim to inspire with this recipe series.
Making and applying the mānuka-infused body oil "is such a beautiful ritual that you can do for yourself" accompanied of course with a cup of beautiful Ti Ora tea, says Eleanor. Now to find some fresh mānuka…
Mānuka and lavender-infused body oil
Discover the nourishing properties of native mānuka with this blissfully beautiful homemade body oil. Its heavenly aroma of lavender and ylang ylang is incredibly luxurious, the star ingredient, however, is the New Zealand native mānuka which may help your skin appear rejuvenated.
100 ml almond oil
5 fresh mānuka leaves
20 drops lavender essential oil
10 drops ylang ylang essential oil
Dried rose petals
Place the mānuka leaves and almond oil in a small saucepan over extremely low heat. Warm for about one minute. You want the oil to be almost steaming, not overly hot. Turn off the heat and place the lid on top.
Infuse for at least 8 hours or overnight. Once cool, you can remove the mānuka leaves.
In a 100ml dropper bottle, combine the infused almond oil with the remaining ingredients, and turn upside down a few times to disperse the oils.
Visit Ti-ora.nz to find out more about Ti Ora's tea blends.
Share this:
More Food & Drink / Recipes