Nature's Winter Warmer: Spice Up Your Tea With Ti Ora
This botanical recipe by Eleanor Ozich celebrates the spicy, peppery qualities of New Zealand native horopito, which is found in some of Ti Ora's tea.
SPONSORED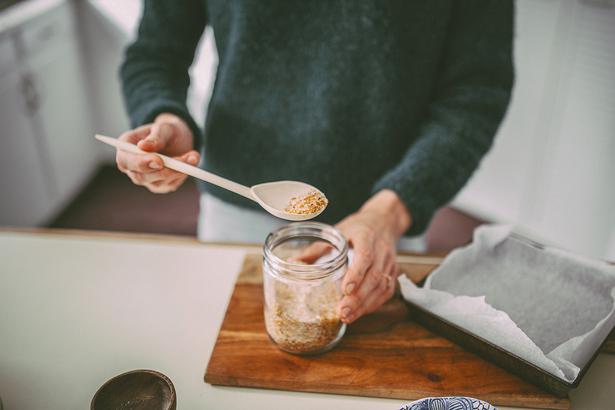 Wednesday Aug. 19, 2020
Award-winning cookbook author Eleanor Ozich shows you how to make a horopito-infused citrus salt. Watch the third recipe in the Ti Ora video series.
Hot, fiery, peppery — horopito is a New Zealand native that imbues a unique flavour profile to cooking or tea. No wonder it's commonly referred to as 'pepper tree', celebrated for its spicy taste and subtle tongue-numbing qualities. Horopito grows throughout Aotearoa, excluding the far north, and is abundant in mountainous forests. Its light green elliptical leaves are mottled with drops of deep red that give them a rusty effect. It usually grows as a shrub but can reach 7-8 metres tall. In spring, greenish-white flowers bloom, followed by black berries in autumn.
Horopito's leaves have a chilli, citrusy taste, which pack a powerful punch and make the ideal seasoning, like a New Zealand-grown alternative to black pepper. It adds an unmistakable earthy note to cooking and is used by Kiwi chefs to add depth and provenance to contemporary New Zealand cuisine. Horopito has a long list of traditional and medicinal uses too, and many New Zealand M?ori continue to use these old remedies today.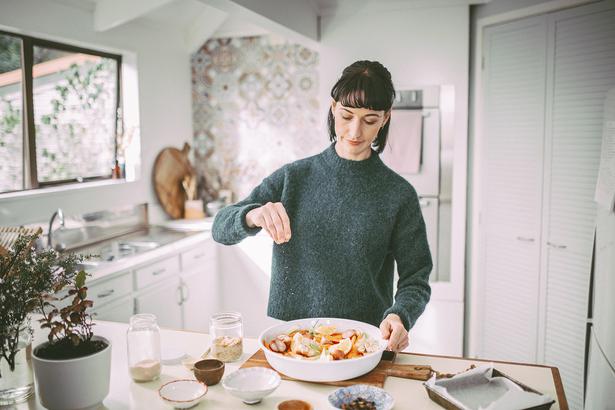 Ti Ora, a nature-loving tea brand from New Zealand, and Eleanor Ozich, a food writer, cook and long-time Viva contributor, had horopito's unique qualities in mind when they came together to create a series of three recipes celebrating New Zealand native botanicals. Each recipe draws on the unique qualities of kawakawa, m?nuka and horopito, which are found in Ti Ora's range of tea blends.
Eleanor favours natural wholefoods in her cooking to produce simple, beautiful flavours "exactly as nature intended it". For this recipe, she's used wild horopito and paired it with complementary aromatics to create a seasoning, which not only smells amazing, but "is fantastic for enhancing all kinds of dishes from fish, to chicken and roasted lamb".
Fresh horopito leaves are dried for two hours in a low-heat oven and blended with sea salt, oregano, garlic and dried citrus zest to create a salt blend with "amazing colours. I love how rustic it looks", says Eleanor.
Combining horopito with these flavours creates "a really punchy and bright seasoning that you can use in so many different dishes." Horopito is also delicious infused in olive oil, or added to sauces and marinades. Blended into salt and added to roast vegetables, horopito "creates a really beautiful, herbaceous wintery dish," says Eleanor. Horopito's warming, peppery qualities also make it the perfect addition to flavoured black tea.
"Horopito is nice and spicy which is why you can find it in Ti Ora's Chai and Cinnamon tea.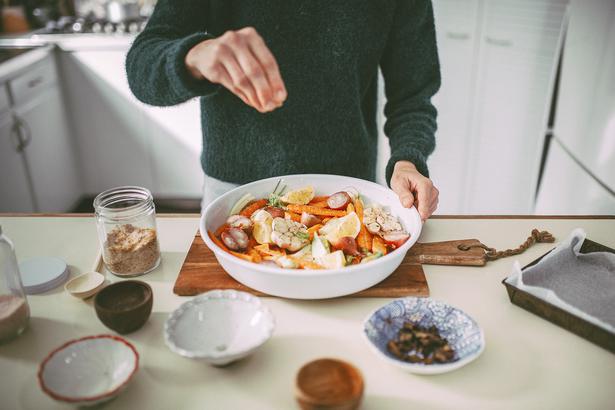 It really packs a punch and I love its unique flavour," says Eleanor. Ti Ora, a New Zealand tea brand, holds nature close to its heart. It believes Aotearoa's beautiful botanicals deserve to be shared with others, which is why each of its teas is uniquely blended with large cut-leaf pieces of New Zealand natives.
Its teas are specially crafted to promote mindful moments, which is what this recipe series aims to achieve by bringing a bit of nature into the kitchen. Eleanor, who lives with her young family in Piha, west Auckland, finds nature a powerful inspiration.
"The sounds of nature really inspire me. I love to hear all the beautiful native birds around our home, the sound of waves crashing on the beach, the wind. I love being able to hear all of those beautiful sounds. Just getting my feet in the sand and walking along the waterfront is just the most simple therapeutic thing I can do."
It's the New Zealand way to care about the earth, which is why Ti Ora's tea leaves are ethical and sustainable, and its blends are carbon neutral.
Ti Ora partners with New Zealand-based non-profit EKOS, which offsets emissions through zero carbon projects, such as growing indigenous forests in Aotearoa and the Pacific Islands. Ti Ora is also part of 1% For The Planet, a global collective of businesses, nonprofits and individuals working together to support a sustainable planet.
Every cup of Ti Ora tea supports Kiwis for Kiwi — a not-for-profit working to reverse the decline in kiwi numbers, a bird Ti Ora heroes on its brand logo. Plus, the green and black tea in Ti Ora's blends are from Rainforest Alliance Certified Farms, which means blends are grown on farms that meet environmental, social, and economic sustainability criteria.We're all part of nature.
The simple act of pouring a botanical-infused cup of tea, or appreciating the special qualities of New Zealand natives for a quick and satisfying recipe is a wonderful way to reconnect with the living world. It's the smallest things that can make the biggest difference.
Wild Horopito-Infused Citrus Salt
Horopito is the native equivalent to pepper, and its hot, spicy flavour makes it brilliant for seasoning all manner of dishes. In this salt rub, I've combined it with dried citrus zest, oregano and garlic to create a bright and punchy seasoning. It's perfect for enhancing roasted vegetables, fish, chicken or lamb.
1 cup coarse pink sea salt
Zest of one lemon
Zest of one orange
5 fresh horopito leaves
2 Tbsp dried oregano
1 Tbsp dried garlic granules
Place the fresh horopito leaves, lemon and orange zest in a shallow dish, and place on a warm windowsill for 1 week, or until completely dried out. You can speed up the process by placing the ingredients in a small baking tray, and drying out the oven for 2 hours at 80 C.
Once you are ready to make the infused salt, add all ingredients to a food processor and pulse until you have a coarse salt with flecks of herbs throughout. You can also do this by hand in a pestle and mortar if you have the patience.
To use, sprinkle the seasoned salt over roasted vegetables, meat or fish.
Store in an airtight jar or container.
If you missed episodes one and two & you can watch them here: Episode one: Create Moments of Calm With Ti Ora's Botanical Recipe Series Episode two: Natures Tonic: Self-Care With Ti Ora Tea
Visit Ti-ora.nz to find out more about Ti Ora's tea blends.

Share this:
More Food & Drink / Recipes