Neenish Tarts Recipe
Try these tasty bite sized neenish tarts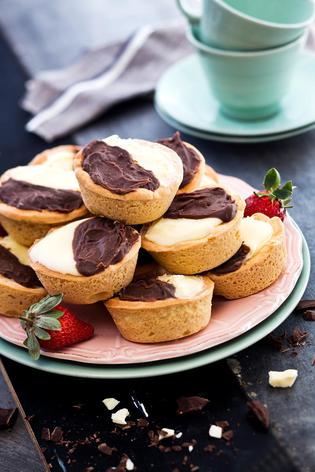 NEENISH TARTS
Makes 12
125g butter
125g caster sugar
1 egg
225g self-raising flour

Filling
75g butter
½ cup icing sugar
½ cup sweetened condensed milk
2 Tbsp lemon juice

Icing
50g each white and dark chocolate
¼ cup cream

1. Beat butter and sugar until light and creamy, add egg and beat again. Mix in flour and combine until you have a ball of dough. Roll on a lightly floured board. Cut 12 circles to fit tart tins. Refrigerate for 30 minutes.
2. Preheat oven to 170C. Prick base of the pastry with a fork. Bake for 15 minutes. Remove from tins when cool enough.
3. For the filling, soften butter, add icing sugar, condensed milk and juice and mix well. Even filling out into pastry cases and chill.
4. Melt white chocolate with half the cream, and dark with remaining cream. Stir each until smooth. When cool enough, ice the tarts, one half dark and the other half white.
Share this:
More Food & Drink / Recipes