12 New Reads For Food-Lovers
Step out of the kitchen and devour some of these inspiring books over the holidays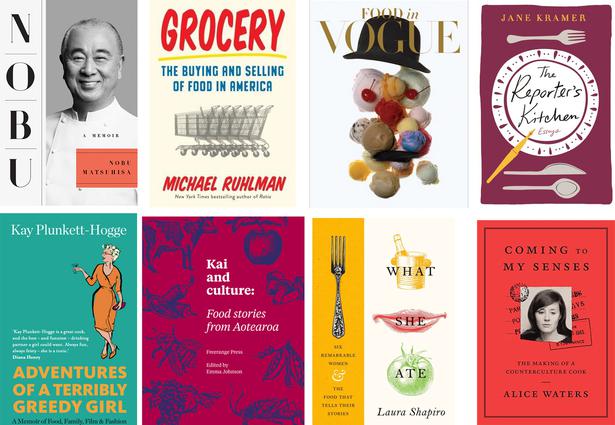 Wednesday Jan. 3, 2018
The Reporter's Kitchen by Jane Kramer
Journalist Jane Kramer shares 13 of the best food pieces she wrote as a European correspondent for The New Yorker. The book is filled with a mix of fascinating chef profiles (including Rene Redzepi and Yotam Ottolenghi), personal and historical essays, that all contain the warm voice and sharp insights she's known for. 
Nobu: A Memoir by Nobu Matsuhisa
Nobuyuki 'Nobu' Matsuhisa, the acclaimed Japanese chef and restaurant-owner, shares the ups and downs of his life story in this new memoir. Learn about his inspiring perseverance and the philosophies that underpin everything he does, including the immense respect he gives to his entire team of staff. This book is filled with wise lessons and ways of thinking that you can apply to any aspect of your life as we head into a new year.
Kai and Culture: Food Stories from Aotearoa edited by Emma Johnson
Chefs, winemakers, journalists, researchers, photographers and restaurateurs are brought together to examine the way food and culture interact and ask how a 'New Zealand food culture' might be defined. Driven by bright minds and ideas, this book takes a close look at what's currently happening in Aotearoa's food landscape, while also looking to the future, at how the biggest global issues facing the industry apply locally.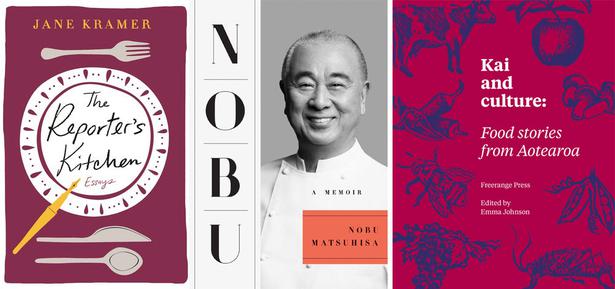 Coming to My Senses: The Making of a Counterculture Cook by Alice Waters
Chef, food activist and owner of the famed American restaurant Chez Panisse, Alice Waters tells an intimate story of her early life and upbringing. It maps the ingredients that came together to form the opening of her influential restaurant and is made up of recipes, letters, photos and stories. A must-read for anyone passionate about championing seasonal, locally sourced food, sustainability, and farm-to-table cooking. 
Food In Vogue by Vogue editors
Look back on decades worth of the best food photography and writing that has featured in the pages of Vogue. A collection of essays, interviews, chef portraits, and photographs, this book celebrates the talent of critic Jeffrey Steingarten, photographer Irving Penn, editor Phyllis Posnick, and writers Tamar Adler and Oliver Strand
Salt, Fat, Acid, Heat: Mastering the Elements of Good Cooking by Samin Nosrat
This is so much more than a cookbook but might become the only one you'll ever need. Learn how to master the science of cooking and watch as your dishes flourish. Michael Pollan has written a foreword to the book, as he's among the many people who Samin has taught to cook — and you're next.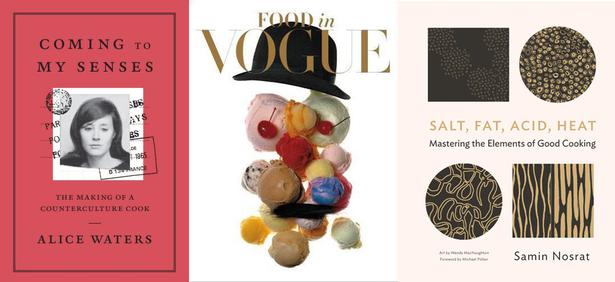 Pictures / Supplied

What She Ate: Six Remarkable Women and the Food That Tells Their Stories by Laura Shapiro
It's easy to forget even the most famous people have to partake in the same daily rituals we all do, including eating. While many biographies don't speak about their subject's relationship to food, this book seeks to fill that gap, depicting the 'food stories' of six different women. The eclectic collection of women includes Dorothy Wordsworth, Rosa Lewis, Eleanor Roosevelt, Hitler's mistress Eva Braun, novelist Barbara Pym, and Helen Gurley Brown, a former editor of Cosmopolitan.

I Hear She's a Real Bitch by Jen Agg
Canadian restaurateur Jen Agg doesn't shy away from sharing any part of her personal or professional journey of how she "fought her way through the patriarchal service industry". While the book has been criticised for being excessively self-centred, while others say it marks a step towards changing an overbearingly masculine restaurant culture. 

Grocery: The Buying and Selling of Food in America by Michael Ruhlman
If you're looking for some substantial food for thought these holidays, Michael Ruhlman's latest book investigates modern ways of producing and consuming food, using the ever-familiar supermarket as a starting point. Described as a combination of "reportage and rant, personal history and social commentary" you'll never look at your weekly shop the same way again.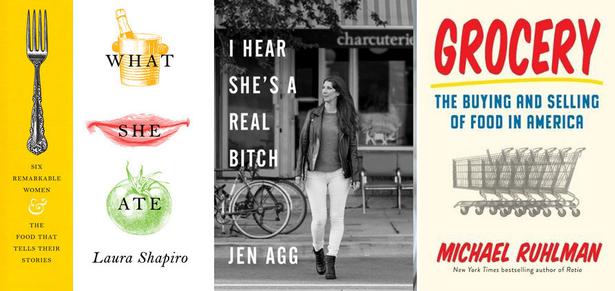 Champagne: A Secret History by Robert Walters
This book will see you looking at your glass of bubbles in a whole new light, as it explores the many myths and rumours that have prevailed about Champagne. The journey begins at the moment when writer Robert Walters' "conditioning and assumptions about Champagne came peeling away like old wallpaper" and allowed him to begin appreciating Champagne more fully, all thanks to a bottle pulled straight from a friend's cellar. He travels to France to discover the true history of Champagne, delving into every aspect of the wine-making process. It delivers enough sparkling insights to impress everyone at the next celebration you attend.
Adventures of a Terribly Greedy Girl by Kay Plunkett-Hogge
If you're thinking about a change of direction in the new year, food writer Kay Plunkett-Hogge's latest book might contain the inspiration you need to dive head-first into your next stage. In it, she tells the story of how she fell from the world of film anf fashion into cooking and writing and all the life changes that came about through "happy accidents". Follow Kay across the world, learning from her mistakes, wit and wisdom along the way. 
Capsicum Capsi Go by Toby Morris
Capsi's off on holiday — see what he gets up to on his intrepid adventure. Whether you have a young foodie to keep entertained over the break or are young at heart yourself, this book by much-loved New Zealand illustrator Toby Morris will make you smile.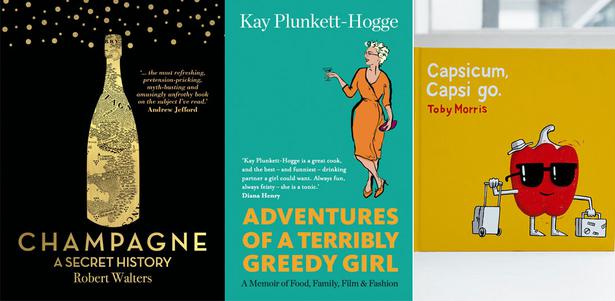 Share this: