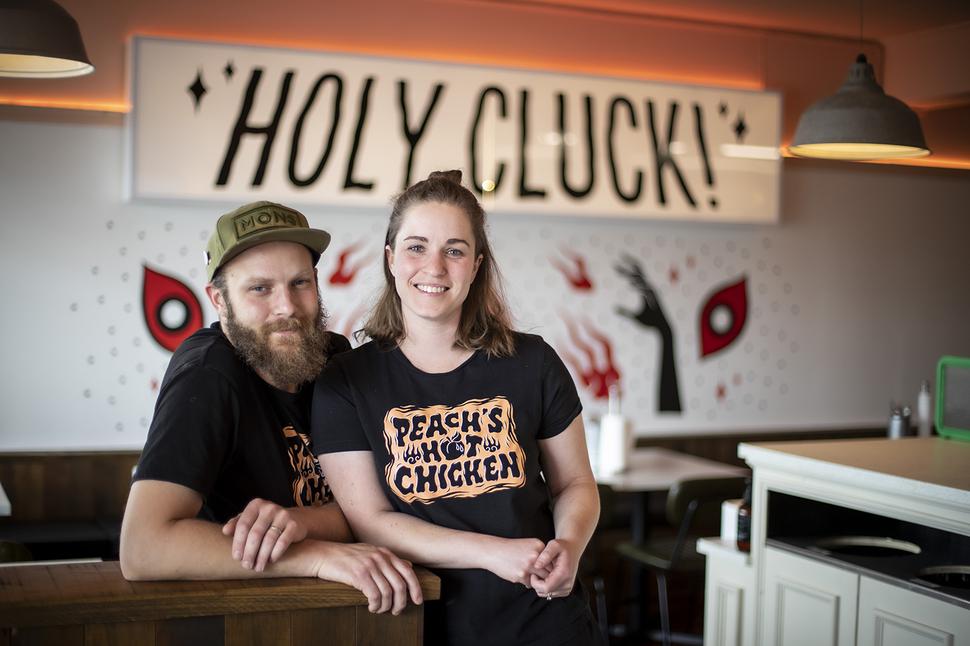 New Opening: Peach's Hot Chicken Opens In Panmure
The food truck favourite has opened its first bricks and mortar restaurant in East Auckland
Thursday Nov. 21, 2019
Alex George says he makes a "mean fried chicken" — and we'd tend to agree. In the two-plus years since his and wife Olivia's retro caravan, Peach's Hot Chicken, hit the road, their Nashville hot chicken has reached cult status on the Auckland food truck scene.
Made using Alex's Tennessee family recipes, the juicy fried morsels are always worth the wait in their usually long queues. And with the first permanent location now open in Panmure, they're destined to make even more fans out east.
READ: Restaurant Review: Paris Butter Is A Must-Visit If You Take Food Seriously
Alex has worked in hospitality all his life and Olivia is a pastry chef by trade. After moving to New Zealand, they saw a gap in the market for Nashville hot chicken.
"Nobody was doing that when we started the truck so we decided to give it a go," he says. "I don't think we were expecting it to be as popular as it was." 
The couple says they've got a "soft spot" for Panmure with their first flat in Auckland just down the road from their new site. 
"A lot of new openings are either in the city or the west side, so we're giving the eastern suburbs a little bit of love," he says.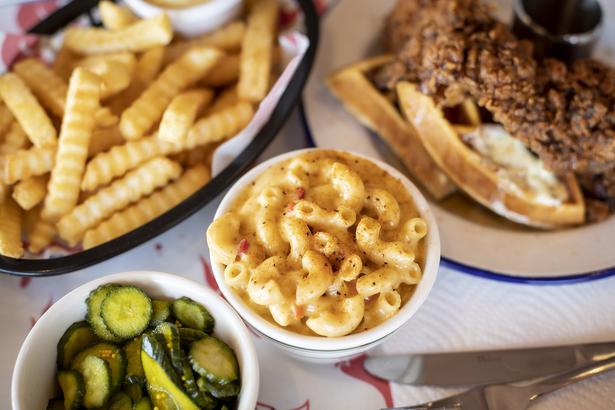 They say the decision to open a permanent site fulfils a long-held dream and comes as a relief. 
"I love the food truck and street food but it's really nice being able to wash all of your dishes as you go," says Alex. 
You can't miss the new chook joint, a bright pop of painted pink on the main road. The interior fit-out by Gerrick Numan of Mille (Williams, Umu Pizza) is a nod to the classic style of American diners with retro light hangings, padded seating, and a black-and-white photo wall. There's one of the couple's big day, married in Las Vegas. 
A mural and lightbox by Marcus Watson emblazoned with 'Holy Cluck' completes the look.
"I wanted to feel like going into your grandma's house for fried chicken," says Alex of the space. "It's inviting and comfortable but grandma's also kind of a hipster so there's hip hop playing."
It seats up to 39 but they're hoping to add outdoor tables in time for summer.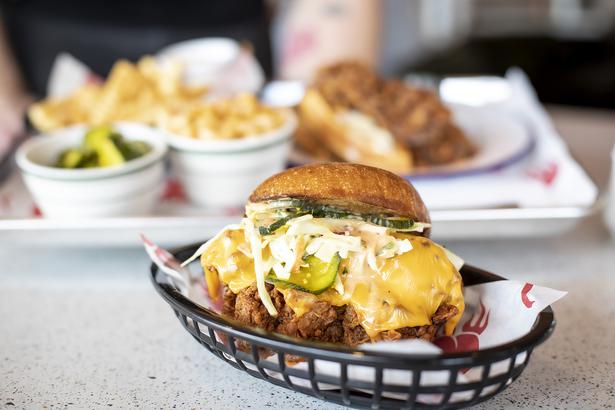 The food is kept simple, and generous, much the same as the food truck. A crowd favourite is fried chicken thighs on brioche buns with house-made pickles and aioli. Their chicken and waffles are also on the menu, plus sides such as mac 'n' cheese, braised greens, and a "really comforting" hash brown bake. 
READ: Restaurant Review: Inca Is Better Than Any Mall Food You've Ever Eaten
Desserts too, like banana custard pudding and key lime pie. To wash it down, there's Hallertau and Behemoth on tap, plus more beer from New Zealand craft breweries, wine and iced tea.
As for the road life – their retro food truck will be back on the streets next year. Their first event is booked in for Laneway Festival. 
• Peach's Hot Chicken is now open Tuesday-Saturday at 1/100 Queens Rd, Panmure.

Share this: