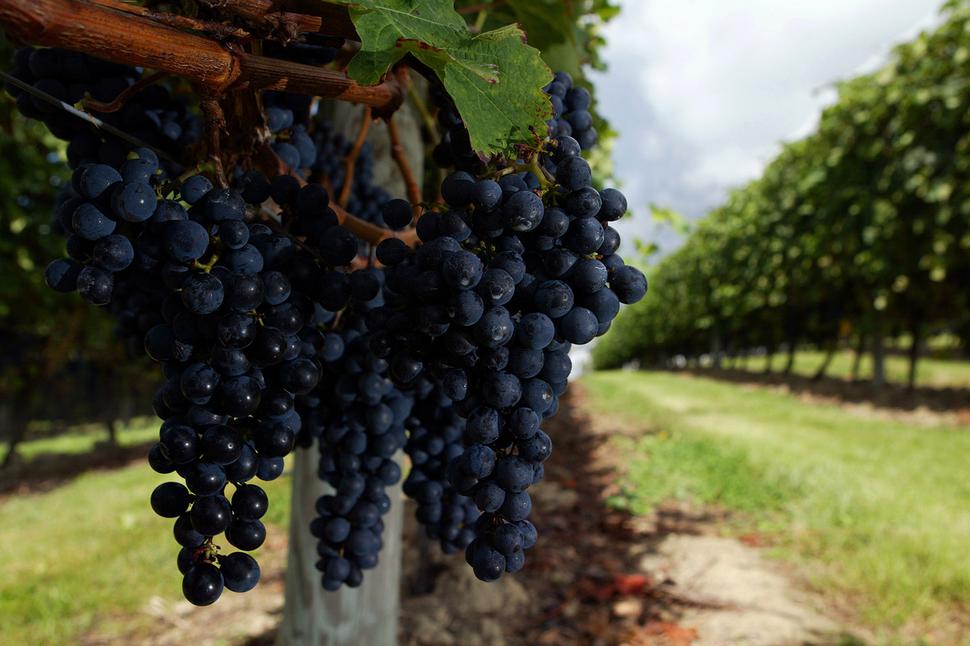 How The New Zealand Wine Industry Has Changed In The Past 20 Years
Jo Burzynska mulls over changes in New Zealand's wine industry and gives a taste of the vinous future
Tuesday Sept. 18, 2018
Back in 1998, there were still people popping potentially mouldy corks on local Muller Thurgau. Today, New Zealand is recognised as a benchmark producer of a number of wine styles, with our screwcaps being cracked open around the world. But what of the 20 years to come? Could sauvignon be supplanted or climate change see grapes growing in Gore? I pondered the prospects with some leading figures in the wine industry.
All agree New Zealand wine has come a long way in 20 years. We've got vines in places they've never been before — from a completely new region like North Otago's Waitaki Valley, to the expansion of existing territory such as Marlborough's southern Awatere Valley. This has grown from a handful of vineyards to becoming the country's second largest wine region. New areas offer the possibility of new flavours, styles and grape varieties.
Giesen's Marcel Giesen recalls how the ground-breaking move to screwcaps was spurred by a particularly bad batch of cork sent here in 1998. Reaction helped force the cork industry to clean up its act, and prompted New Zealand winemakers to switch closures, meaning the bulk of our wine is now capped. It has also switched from being mostly drunk locally, to wine becoming the country's fifth largest export, forecast to hit $2 billion by 2020.
KEEPING SAVVY
With sauvignon blanc leading export growth and wine industry body New Zealand Winegrowers working to expand sales in Asia, new plantings are still coming on stream. But could we be nearing peak sauvignon?
"The sauvignon blanc bubble will burst, and given that 85 per cent of exports are sauvignon this will cause some major challenges," says Churton's Sam Weaver. On the upside he considers this will lead to the kind of 'quality pyramid' found in long-established regions such as Burgundy and Bordeaux, with "a good base of workman-like wines offering good value, then, at the top, exceptional wines from exceptional sites at a good premium".
Even if we run out of land to plant enough sauvignon in Marlborough to satisfy demand (one scenario proposed by Pernod-Ricard's Patrick Materman), we'll need to see greater diversity in the coming decades — to keep things fresh for wine drinkers and profitable for the industry.
In sauvignon, we'll find more serious styles, which can age well and hail from single special sites. There's certainly room for greater quirkiness alongside the consistency that's been key in sauvignon and beyond, so we may see the emergence of unusual blends, as well as alternative varieties like the highly promising Albarino — although nothing looks set to challenge sauvignon's supremacy… yet!
Chardonnay will continue its exciting trajectory. And in pinot noir, increasing vine age and winegrower experience will make for even more distinctive expressions.
FUTURE TERROIR
Wines that express the individuality of the place where they're grown, their terroir, will play an important part in diversity.
"While I doubt we will ever go down a classification system like Burgundy, there will be individual sites and specific areas within sub-regions that will become increasingly renown for consistently producing more distinctive wines," says Felton Road's Blair Walter.
As these differences become increasingly defined, regional names — 18 of which are currently registered — will be protected by the New Zealand Geographical Indications (Wine and Spirits) Registration Act. Some industry players also feel regional quality must be safeguarded for the future; especially now 39 per cent of New Zealand wine is exported in bulk where authenticity and quality can be compromised.
To set themselves apart from a trend considered incompatible with a premium reputation, a group of Marlborough wineries recently launched Appellation Marlborough Wines (AMW). Its certification means wines are 100 per cent grown and bottled in Marlborough and meet other quality criteria.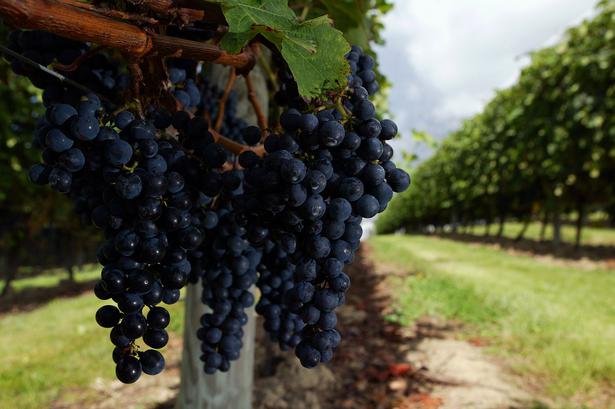 An important industry-wide initiative is Sustainable Winegrowing New Zealand, covering 98 per cent of our vineyard area. The scheme has seen the country's wineries embrace more sustainable environmental practices and acted as a stepping stone into organic winegrowing. Organics could well be the norm rather than the exception in the future, along with more 'natural' and less interventionist winemaking.
"With increasingly health conscious consumers I think we will see a movement towards the use of only plant-based additives, less preservatives, and growth within the lower alcohol wine category," says Emma Marris of Marisco, one of a new generation joining the wine industry.
The move to better environmental practices could see us drinking wine from different vessels. That could mean wine from kegs in bars and restaurants, or wine in a can. Chris Archer of Joiy, who is championing canned wine, points out that "cans are approximately half the weight and size of glass giving a 50 per cent reduction in fuel", have a lower energy footprint when recycled and an improving shelf life.
Climate change will also reshape the wines we're drinking and where they are grown, especially the cool climate varieties. "In my 25 years or so in the industry, I cannot [before] remember consecutive warm wet seasons," says Loveblock's Erica Crawford. "We will plant different varietals and Gore will be part of a new wine region, perhaps the 'Far South' growing pinot and sauvignon."
PINOT PREDICTIONS
New Zealand's godfather of pinot, Larry McKenna — who started his own Escarpment Vineyard venture in 1998 — shares his thoughts on the progress made by our most important red variety and where it's headed.
"Education, experience and the development of overseas markets," have been the main developments in pinot, according to Larry McKenna, whose role in establishing annual pinot noir winemaker workshops for sharing information, helped the country's producers progress.
"Vine age, winemaker experience and experimentation have been the most important factors," he says. "The expansion of plantings, particularly in the South Island, and with new sites being discovered, is key to the overall success.
"It's certainly a tough world out there for small-to-medium wineries. After being a young business hit by the global finanical crisis, he knows those struggles well and earlier this year sold his Martinborough vineyard to Australia's Torbreck. He remains with the company and thinks that "tourism, direct sales and diversification of the offering" are the only way for smaller wineries to survive.
"Minimal, organic winemaking is certainly here to stay," says Larry, who considers future demand for "real" wine will change approaches. "The 'natural' wine movement has done the perception of wine no end of good. It has expanded the horizons of what is perceived as wine dramatically, allowing younger audiences especially to enjoy wine.
To develop further, New Zealand pinot noir will need to continue and increasingly define its commitment to a sense of place, he says. "Part of this will be the discovery of new sites, which will to some extent be influenced by climate change. The future market is going to demand more detailed assurances of where and how the fruit is grown and made, and the philosophy behind why it was made in a particular style."
SIX WINES TO CELLAR
Wines worth savouring in a decade or more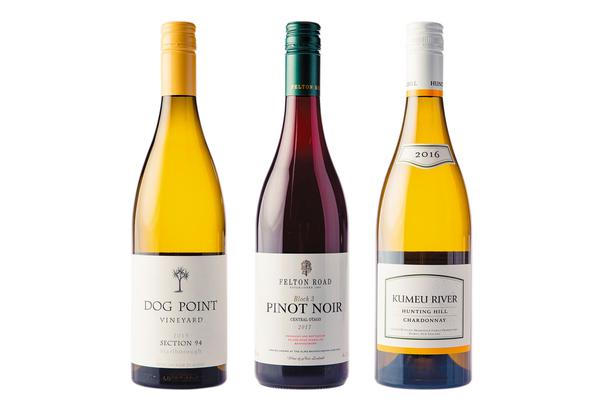 Dog Point Sauvignon Blanc; Felton Road Pinot Noir; Kumeu River Hunting Hill Chardonnay. Photos / Supplied
Dog Point Section 94 Marlborough Sauvignon Blanc 2015 $37
Twenty years ago there were virtually no age-worthy sauvignons. This barrel-fermented example is a keeper, powerful, with a textured palate of flint, grapefruit
and gooseberry.
Felton Road Block 3 Central Otago Pinot Noir 2017 $110
Twenty-five-year-old vines provide the depth of this southern star's plush black cherry fruit, joined by notes of herb, spice, smoke, and mineral, framed by fine velvety tannins.
Kumeu River Hunting Hill Chardonnay 2016 $60
Intensity and finesse characterise this classic chardonnay with its notes of white fruits, grapefruit and nutty oak coiled around a tight flinty core.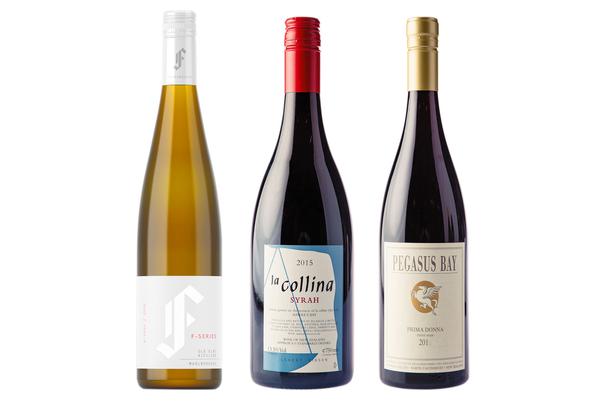 Framingham F-Series Old Vine Marlborough Riesling 2017 $45
A first-rate drier style riesling with layers of crisp apple and citrus, inotes of honeysuckle and ginger, atop a stony mineral base.
Bilancia La Collina Hawke's Bay Syrah 2015 $120
Fantastically fragrant and richly redolent, this is a leading example of rising star syrah. Think black pepper, star anise and cinnamon, and elegant plum fruit encased in silken tannins.
Pegasus Bay Prima Donna Waipara Pinot Noir 2015 $95
Grand Cru Kiwi Pinot with richness and refinement. Dense dark fruit is overlaid with earthy notes of roast spice and cocoa and a powerful line of acid and mineral.
A TASTE OF THE FUTURE
What we'll be drinking at Viva's 40th Anniversary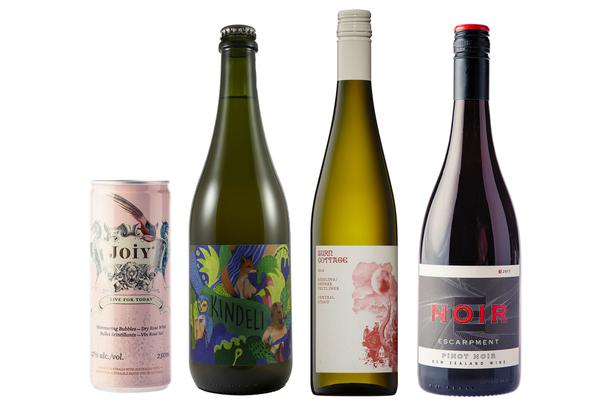 Joiy Rose; Kindeli Blanco Nelson; Burn Cottage Riesling; Escarpment Noir. Photos / Supplied
Joiy Rose (250ml can) $6.50
Gently off-dry rose spritz with red berry fruits and notes of crisp citrus. Proof good wine can come in a can, of which we're likely to see more.
Kindeli Blanco Nelson 2017 $27
A "natural" and unusual blend of sauvignon and chardonnay that's golden hued and highly fragrant with notes of grapefruit laced with honey, fennel and a hint of herbal bitters.
Burn Cottage Central Otago Riesling Grüner Veltliner 2016 $55
The usual suspects will be joined by new varieties, such as the Grüner Veltliner in this fresh white-fruited blend with its notes of bergamot and green peppercorn wrapped around a chalky mineral spine.
Escarpment Noir Martinborough 2017 $24
Wines will be made increasingly naturally, as in this bright and juicy cherry-fruited pinot, with perfumed notes of violet, herb and peppery spice and a gentle grip on the finish — made in an amphora with zero wine-making additions.
Share this:
More Food & Drink / Wine & Drink