The No-Frills, Very British Way to Host An Afternoon Tea
Do it like the Brits with this five-point plan for serving up the perfect afternoon tea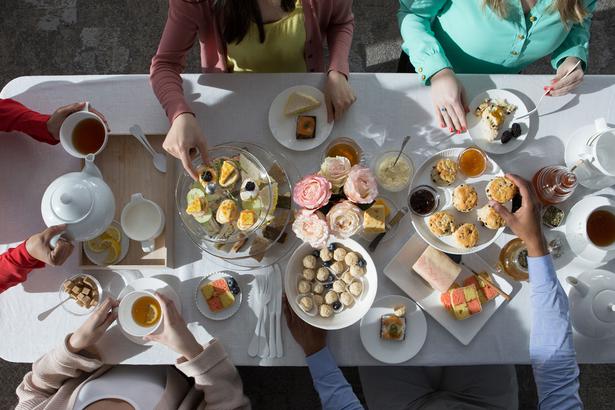 Tuesday April 18, 2017
I am an unapologetic Anglophile: Downton Abbey marathon watcher. Jane Austen action figure on my desk. Believer that everything sounds better with a British accent.
But, oh, the tea.
I'm not just talking about a properly brewed cuppa — though even that, by some accounts, is losing ground to coffee — delightful and rejuvenating as it is.
What I'm referring to is afternoon tea, that convivial tradition of scones, sandwiches and pastries that bridges the hangry gap between lunch and dinner. In fact, the story goes, that's exactly why Anna Maria Russell, Duchess of Bedford, supposedly began the practice in the 1840s. It's not that I relish the daintiness of it all: My clumsiness makes me nervous around fine china, and frankly I'm more likely to be swiping my pinkie through a cloud of clotted cream rather than holding it aloft as I sip from a teacup.
READ: Happy Birthday QE II: 15 High Tea Recipes
I love the leisurely pace, the treat-yourself mentality and the sheer variety of bite-size foods. I simply cannot get enough.
I have taken two week-plus trips to England in the past few years, and on each vacation my husband and I went to three afternoon teas. Back at home, we have patronized many of the hotels offering their posh takes on the practice around Washington, including visits to some of the more relaxed tea rooms in Annapolis and Ellicott City, Maryland.
Unfortunately, swanky hotel teas and transatlantic airfares can add up. So I decided to pursue a way to host an afternoon tea at home, combining some of the best features of the British tradition with a more laid-back approach. (Just please don't call it high tea, the term reserved for the heartier fare that was traditionally eaten by working-class folk at a normal-height table, as opposed to the lower side tables and couches favored by the upper classes in their dressing rooms.)
It's the perfect kind of party for bridal or baby showers, Mother's Day or just about any time you want to gather a group of friends.
"Everyone's happy when they're coming for afternoon tea," says Shael Mead, head pastry chef at London's Ham Yard Hotel, whose baking I fell in love with during her earlier stint at another London tea spot, the Dean Street Townhouse. "It's something special that people cherish, and that's why I always put a lot of heart and soul into it."
Here's my five-point plan:
1. If nothing else, your afternoon tea must have scones
Mead says scones are the very essence of afternoon tea. She and her team went scouting fancy London hotels for research and were "appalled" when scones were an extra at one tea service, costing an additional $16.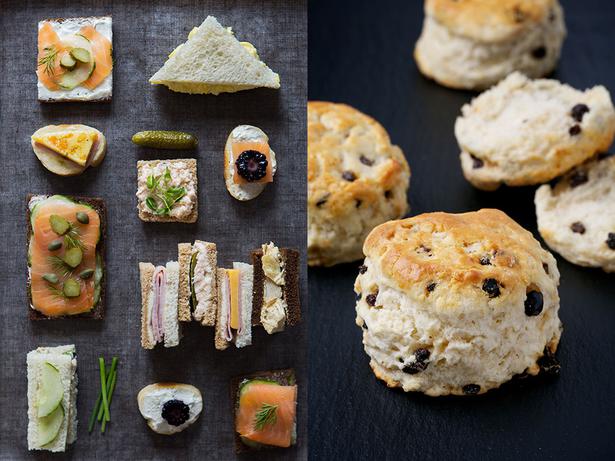 Mead says her ideal scone is a bit crusty on the outside and very soft on the inside. It's not flaky, and closer to an American biscuit than the heavy, huge and overly sweet triangles you'll find in coffee shops here. Thankfully, "they're pretty easy to make," says Nicola Willis-Jones, a British native and chef at Pure Pasty Co. in Vienna, Virginia. Keep them on the small side, and for less mess Willis-Jones suggests cutting them in half right before your guests arrive.
Serve scones with strawberry jam — homemade is great, even if it's just a quick stovetop version, Mead says — and clotted cream, a British specialty akin to a cross between butter and whipped cream.
2. Include a mix of pastries
Afternoon tea typically features a selection of sweets. Try to include one showstopper (attention, Great British Baking Show fans), such as a gorgeous tart or layer cake. My personal favorite: the Battenberg Cake, a pink-and-yellow checkerboard creation that may or may not have been created to commemorate the marriage of Queen Victoria's granddaughter Victoria to Prince Louis of Battenberg in the 1880s. It consists of a delicate spongecake wrapped in marzipan. The cake is an afternoon tea staple, and despite its impressive appearance, it isn't too hard to make.
Think about a mix of textures and flavors, Mead says. Fudgy brownies, fruit jam tarts and airy meringues or macarons are good building blocks. I'm a fan of infusing white chocolate with Earl Grey tea for delicately aromatic truffles. Willis-Jones suggests making miniature desserts, which look nice and allow your guests the privilege of "sample size" tastes.
3. Offer real tea
Give your guests a few options to choose from: English Breakfast and Earl Grey (I also love a good Lady Grey, such as from Twinings) are classics. Make your third selection something a little different, maybe fruity or floral, Mead says. One of my favorites is Paris from Harney & Sons, which is an easy-drinking black tea flavoured with black currants and vanilla. Or consider a tisane.
Whatever you choose, take care in how you make it. "There is a true art to the brew," according to The Cook Book by Tom Parker Bowles (4th Estate, 2016). The book was written in conjunction with London's Fortnum & Mason, a luxury department store and food emporium that operates a glamorous tea salon.
A few tips from Parker Bowles: "Loose leaf will always give the better pot." Also, use fresh water, but boil twice as much as you need so you can use half to warm up the teapot. Most teas brew in four to five minutes, although greens are more in the one-to-three-minute range; overbrewing will make your tea bitter. And if you want to use milk, add it first to the cup; this gradually warms the milk and may also protect your teacup from cracks. Figure on two to three cups per person.
READ: Throwback Thursday: Tea Time
4. Do as much as you can in advance
Good advice for any gathering, really. A lot of the aforementioned desserts (brownies, meringues, even layer cakes and cupcakes) can survive just fine made at least a day ahead of time, or frozen for longer. Scones are best served freshly baked, but feel free to stash unbaked dough rounds in the refrigerator or freezer.
Assembling sandwich fillings can be early work as well, so you can put them together at the last minute, or up to an hour or so before your guests arrive. Slice cucumbers or cheese the morning of your tea.
Go for a nice, but not too frilly, presentation. No doilies. Instead, consider the popular vintage-chic strategy of mixing and matching plates and cups you can pick up at antiques markets and secondhand shops — that's the way you'll find afternoon tea served at little cafes around England, Mead says.
If you want to introduce a traditional element into your setup, spring for a traditional three-tiered caddy you can use to display the food (or at least some of it). It doesn't have to be expensive, either — check sites such as Etsy. Mead says you can justify the purchase by using it for more than tea, whether in lieu of your typical fruit bowl or for other parties. If you're finding vintage flower patterns too froufrou, you can search out a modern tiered server with white or glass plates.
If you have a good tablecloth with napkins, this might be the time to use it, Willis-Jones said. Decorate the table simply with flowers from your back yard, or pick up a casual bouquet from the farmers' market.
After all, most of us don't have sprawling formal gardens on grand estates in the English rolling hills of Kent or Surrey. But with a little imagination and draped in the sunny warmth of an afternoon tea amid clinking cups and good friends, I'm happy to pretend, at least for a little while.
BRITISH SCONES
Makes 17-20 2-inch buns
These scones are chockablock with dried currants, but the scones are just as nice without them. You'll need a 2-inch biscuit cutter. If you don't have a stand mixer, you can quickly work the butter into the flour mixture by hand or with a pastry cutter. Serve with — what else? — clotted cream and jam.
Make ahead: The dough needs to rest at room temperature for 30 minutes. The scones are best eaten freshly baked, but the rounds of dough can be refrigerated overnight or individually wrapped (unbaked or baked) in plastic wrap and frozen in a zip-lock bag for up to a month or two. Defrost before baking or reheating; for the latter, tent loosely with aluminum foil and warm through in a 180C oven.
Adapted from Shael Mead, head pastry chef at London's Ham Yard Hotel.
INGREDIENTS
4 cups flour, plus more as needed
¼ cup plus 2 Tbsp sugar
2 Tbsp baking powder
8 Tbsp chilled, unsalted butter, cut into ½-inch cubes
1 cup dried currants (optional)
1 cup) whole milk, plus more for brushing
3/4 cup heavy cream
METHOD
1. Combine the flour, sugar and baking powder in the bowl of a stand mixer or handheld electric mixer. Beat on low speed just to blend. Add the chilled butter; beat on low speed for 4 or 5 minutes, until the mixture starts to look crumbly with some large chunks. Stop to scrape down the bowl.
2. Add the currants, if using; beat on low speed until evenly distributed.
3. Pour in the milk and heavy cream; beat on low speed for several seconds, just until the liquids are incorporated, to form a soft dough.
4. Lightly flour a work surface. Transfer the dough there and pat it to an even thickness of about 1 inch. Cover loosely with a clean kitchen towel; let it rest for 30 minutes.
5. Preheat the oven to 200C. Line a baking sheet with parchment paper or a silicone liner.
6. Flour the edges of your biscuit cutter, then use it to cut out 17 to 20 scones (straight down, without twisting), arranging them at least 1 inch apart on the baking sheet as you work and re- flouring the cutter each time. Try to reroll the scraps no more than once as the subsequent rounds of dough may not rise as much in the oven.
7. Lightly brush the tops of the scones with milk. Bake (middle rack) for about 16 minutes, turning the sheet from front to back halfway through, until lightly golden.
8. Transfer them to a wire rack to cool for a few minutes before serving, or cool completely before storing.
— The Washington Post
Be inspired by the good things in life. Sign up now to receive emails from Viva, and twice a week you will be sent the latest news, profiles, videos, fashion shoots, competitions and more.
Share this:
More Food & Drink / Morning & Afternoon Tea