Northward move pays off for winemaker
Winemaker John Kavanagh brings his magic to Te Kairanga. He talks to Jo Burzynska.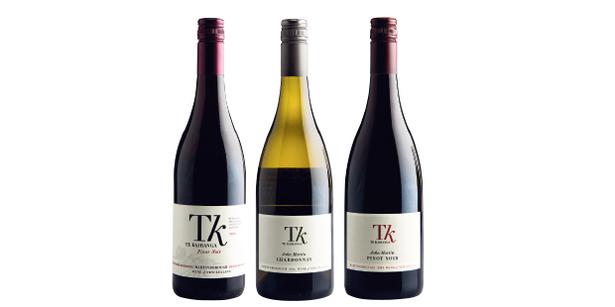 Friday Sept. 19, 2014
Leaving a job at one of the country's most prestigious boutique wineries to take over the winemaking helm at a struggling label requires a major leap of faith. John Kavanagh made that jump when he joined Martinborough's Te Kairanga (TK) in 2012 and as the full line-up of wines under his full control from last year were revealed at a recent launch, it was clear he's already managed to propel the range into an exciting new territory.
"The reason I came to 'TK' was that I thought it had great possibility that had never been completely achieved," is how Kavanagh explains his decision - that some found surprising - to leave his position as chief winemaker at Nelson's revered Neudorf Vineyards.
"There was a question of whether my wife Nessa and I could do it, but we had good company support and Dave [Shepherd, Te Kairanga's viticulturalist] in the vineyard knowing how great the vineyards could be.
"I came back to Martinborough to make great pinot noir: it's always been pinot noir that's driven me," Kavanagh says.
"This is my 20th vintage after doing my first here in Martinborough at Palliser."
While Kavanagh has been honing Te Kairanga's winemaking, he's been helped in improving quality by Shepherd, who's been working his own wonders in the estate's four vineyards, which contain some of the older vines in the region.
Some of the whites from last year's vintage were released a while back, but the big unveiling at the luxury Wharekauhau Lodge - owned by Te Kairanga's new proprietor, the US billionaire Bill Foley - was the first time wine critics were able to taste the whole range, including the winery's all-important pinot noirs.
I was extremely impressed by the wines, which ranged from an elegant off-dry riesling and textural sauvignon blanc, through a duo of great chardonnays to show-stopping pinot noir.
"These are my first wines at TK and everything's a step," Kavanagh acknowledges humbly. "They're not perfect, but they're the start of a progression that we're very excited about."
If this is just the beginning of what we're going to see from Te Kairanga, I'm excited too and would wager the estate could shortly be up there with Martinborough's finest. Kavanagh has risen to the challenge, and last year's wines illustrate the potential that obviously prompted him to make his daring move.

A TASTE OF THE NEW TK
Te Kairanga Estate Pinot Noir 2013 $25
Te Kairanga's entry-level pinot is an attractive introduction to the label. It's a light, lifted and eminently drinkable example of the variety, with its fresh and bright cherry and raspberry fruit and hint of cinnamon spice. Available from New World and Pak'nSave.
Te Kairanga Estate Martinborough John Martin Chardonnay 2013 $37
This is the first John Martin chardonnay to be released by Te Kairanga, which joins the John Martin pinot noir to become the label's flagship white. It's an elegant debut, made from 20-year-old vines, with subtle stonefrui and rich savoury nutty notes balanced by an attractive mineral acid line. Available from New World Victoria Park.
Te Kairanga Estate Martinborough John Martin Pinot Noir 2013 $49
Kavanagh describes this first 2013 release as "work in progress", but this is a stunning wine sourced largely from the winery's home block. Its fruit is in the darker berry spectrum, laced with notes of exotic spice, earth and an iron-like mineral note over savoury gamy nuances, and wrapped in fine tannins that lead to a fresh and fragrant finish. Find at New World Victoria Park and Point Wines.

FOLEY'S GROWING NEW ZEALAND PORTFOLIO
Bill Foley has been busy snapping up New Zealand businesses in the area of wine and food. His strategy has been to purchase underperforming wineries and get them back on track, while securing their wines' routes to market.
Things kicked of with the acquisition of the New Zealand Wine Fund in 2009 and its well-known brands such as Vavasour, Dashwood, Goldwater and Clifford Bay. These were incorporated into his wine company, Foley Family Wine Estates.
He went on to take a major interest in local wine distribution company EuroVintage before taking over Te Kairanga in 2012 followed by the New Zealand Wine Company, with its Grove Mill and Sanctuary labels. Then this year he made a successful bid for Martinborough Vineyard.
As well as his wine interests, he owns the luxury Wharekauhau Country Estate and also has a quarter stake in the Simon Gault-fronted Nourish restaurant chain, which owns Euro, Shed 5 and the Jervois Steak House. Most recently, he dipped his toe into Kiwi spirits when he became proud proprietor of Lighthouse Gin.
Share this:
More Food & Drink / Wine & Drink