Nostalgia-Tinted Banana Mai Tai Recipe
Jacob Briars, the New York-based global advocacy director for Bacardi Group - and former 42 Below "vodka professor" - returned to New Zealand recently to judge the Bacardi Legacy National Finals.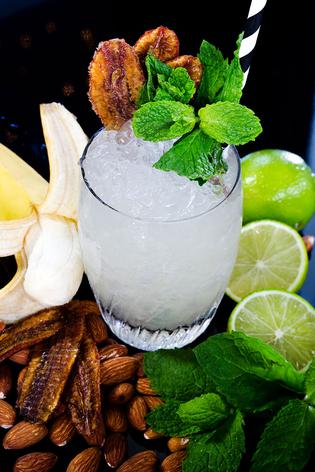 "One of the great luxuries of adulthood is learning to appreciate spirits and develop a taste for adult flavours - from olives to martinis (ideally, both together).
"There has been an alarming trend of late for the 'adult milkshake' and other beverages that look and taste like drinks for people too young to be in a bar. Gin, rum, whisky, vermouth, these are the signifiers of growing up and developing an appreciation for well-made liquor in well-made drinks.
"Cocktails are for adults, and they should taste like adult drinks. If you go out in London or New York, adults drink adult drinks and Kiwi adults should do the same.
"One of my favourite flavours of childhood is the indulgent taste of dried bananas. As a child, I would hit the mean streets of Nelson on a Saturday with my parents, where they would let us loose in the treasure trove that was the organic shop that backed on to the flea market.
"Happily, they go very well with rum, especially a dark, golden rum like Bacardi 8. You can either infuse the bananas with the rum and leave a few days, or, if you are pressed for time, slice them open and infuse in some warm sugar syrup (a 50-50 blend of sugar and water).
"I especially like the dried bananas sold by the guys at All Good Bananas - fair trade, organic and delicious bananas from small farms in Samoa. Worth seeking out.
"The Mai Tai is a classic of the Tiki genre - drinks American bartenders made in the 50s and 60s to sell a fantasy idea of Polynesia.
"There wasn't much that was Polynesian about this drink except the name and, now, the bananas. Mai Tai means 'out of this world' in Tahitian and if you make a round of these for friends on a warm Auckland evening, I'm sure they will agree with you."
BANANA MAI TAI
45ml Bacardi 8
15ml banana sugar syrup
15ml orgeat syrup (Crawley's makes a great version)
30ml lime juice
Garnish
Mint sprig
Dried All Good banana slice
1. Shake Bacardi, banana syrup, orgeat syrup and lime juice well with ice.
2. Strain into a tumbler or rocks glass filled with crushed ice.
3. Garnish with a slice of dried banana and a mint sprig. Be sure to "slap" the mint to bring the aromatic oils to the surface.
Share this:
More Food & Drink / Wine & Drink