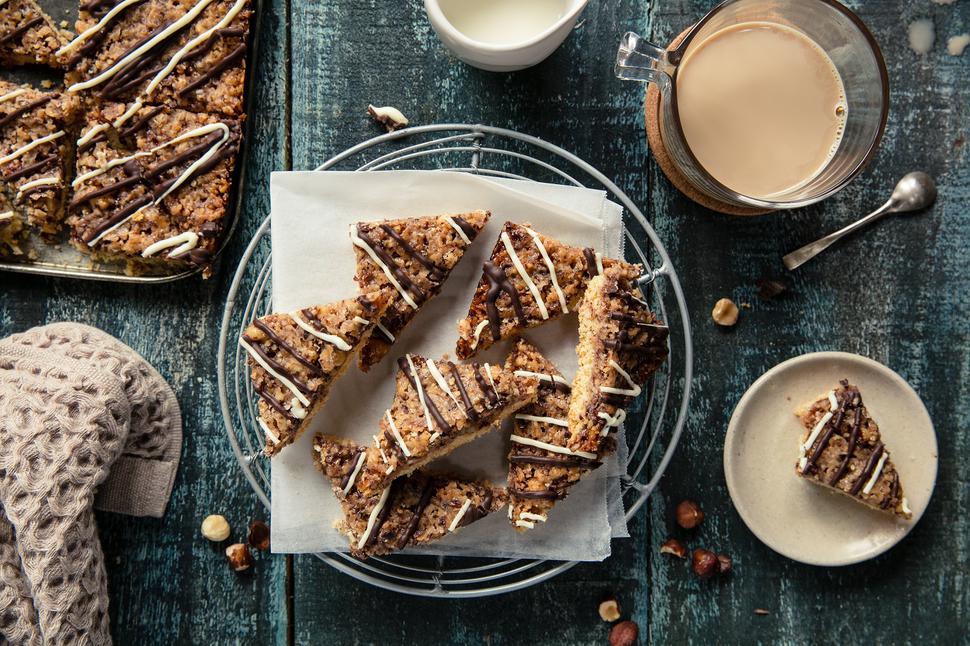 Nussecken (German Nut & Jam Triangles)
These sweet little triangles keep well, if they don't get devoured straight away
Friday March 29, 2019
A crisp base of shortbread is the perfect foundation for these triangles with a jam and hazelnut filling. It reminds me of my grandfather who always had baking like this in the tins, ready for our visits. These should last up to two weeks, if they don't get eaten first!
NUSSECKEN RECIPE
Makes 24
Ingredients
Base
220g flour
½ tsp baking powder
½ tsp cinnamon
80g sugar
100g butter
1 egg
1 tsp vanilla
Topping
¾ cup jam, of your choice
150g butter
150g sugar
¼ cup water
250g ground hazelnuts
80g roughly chopped hazelnuts
50g white
50g dark chocolate
Method
1. Preheat an oven to 170C. Grease the base of a 20 x 30cm tin.
2. For the base, place the flour, baking powder, cinnamon, sugar and butter in a food processor and blitz until it resembles breadcrumbs. Add the egg, and vanilla plus 1 tablespoon water. Blitz until it becomes dough-like. Press the dough evenly into the base of your tin.
3. Spread the jam over the base. Keep in the fridge while you make the remaining topping.
4. Combine the butter and sugar with the water in pot over a low heat. Cook until the sugar has dissolved. Stir through the hazelnuts and ground hazelnuts. Spread over jam. Bake for 25 minutes. Remove and cool for 20 minutes before cutting.
5. Melt white and dark chocolate separately over bowls of simmering water, and drizzle over the slice.
Share this: